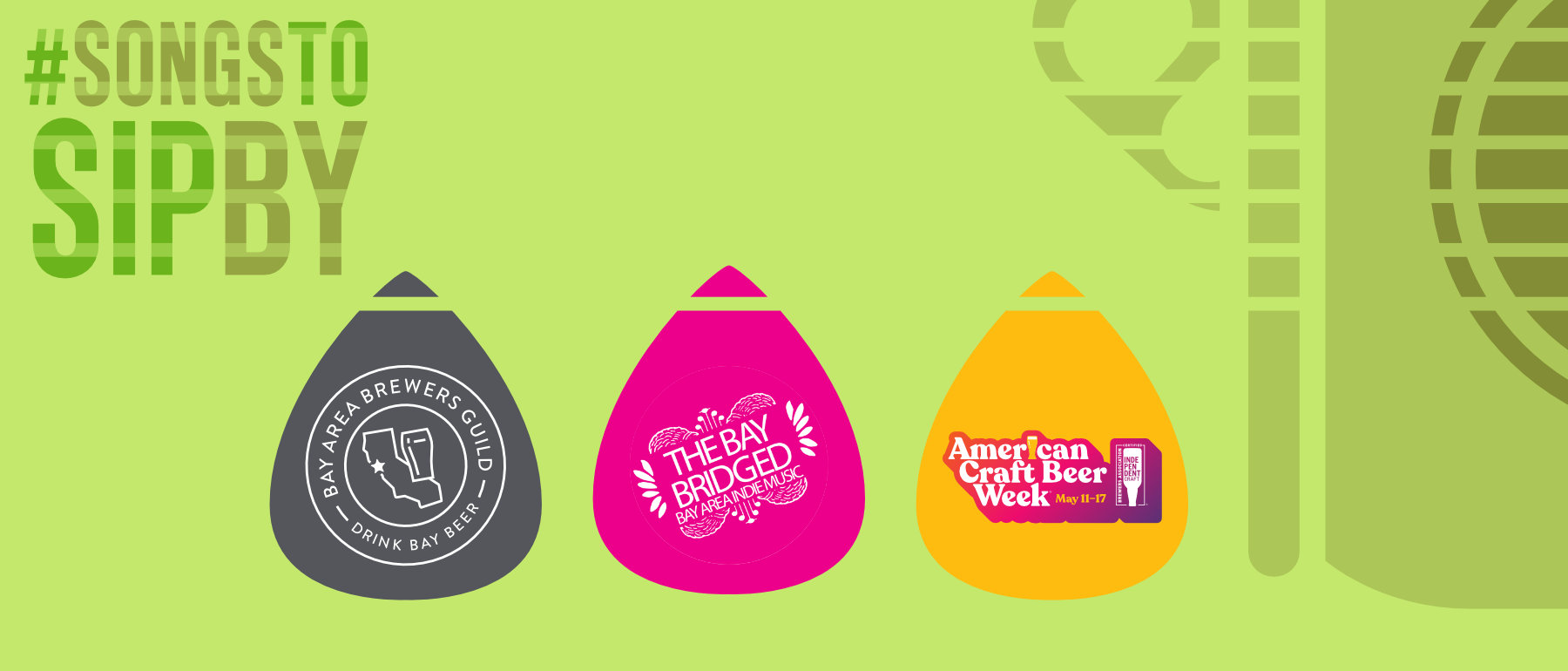 Bay Area Brewers Guild and Bay Bridged Raise a Glass to American Craft Beer Week® with Lunch Time Live Streams Featuring Local Bands and Local Brews
#SongsToSIPby Series to Uplift Bay Area Communities, and Local Music and Craft Beer Scenes
SAN FRANCISCO – Monday, May 11, 2020 — For American Craft Beer Week® (May 11-17), the Bay Area Brewers Guild, The Bay Bridged and their respective members want to give thanks and celebrate the resiliency of Bay Area area communities. 
Starting Wednesday, May 13, through Sunday, May 15, local musicians will perform lunch-time Facebook Live sessions in collaboration with favorite local craft breweries, with a nod to hard-hit local music and craft beer scenes as they strive, survive and help Bay Area residents re-establish community and find its collective voice again. 
Ben Morrison of The Brothers Comatose, who paired with Fieldwork Brewing Co. as they celebrate a collaboration beer release called "Old Technology," headlines this special #SongsToSIPby Series, which is uniting musicians and breweries across the Bay: San Francisco, East Bay, Silicon Valley, North Bay and down the Coast. Other musician-brewery pairings include:
Andre Thierry – East Brother Beer Co King Willow – Woods Beer Co. Down Dirty Shake – Seismic Brewing Co. The Coffis Brothers – Humble Sea Brewing Co. Alvie and the Breakfast Pigs – Ferment.Drink.Repeat Socorra – Camino Brewing Co. & Clandestine Brewing Co. United Defiance – Calicraft Brewing Co. Nicco Weisskoff – Fogbelt Brewing Co.
The week's line up — and launching-off point for musicians' live streams — can be found at DrinkBayBeer.com, the brewers guild's year-round craft beer discovery site.
Running May 11-17, American Craft Beer Week® is an annual national holiday dating back to 2006, organized by the Brewers Association and promoted at CraftBeer.com, and founded to celebrate craft beer and the millions of beer lovers, independent breweries, and craft beer retailers across the country.
You can track news, updates, and beer and performance information by following hashtags:  
#SongstoSIPby #DrinkBayBeer #ACBW
About the Bay Area Brewers Guild Founded in 2004 as the San Francisco Brewers Guild, the Bay Area Brewers Guild is a non-profit trade association whose mission is to promote local craft beer and its 150 independently owned brewery members throughout the greater Bay Area. Stay on top of the region's craft beer scene, and connected with local craft brewers, at DrinkBayBeer.com.
About The Bay Bridged Founded in 2006, the San Francisco-based nonprofit project The Bay Bridged has become recognized nationwide as the leading source for San Francisco Bay Area independent music through its award-winning music blog and podcast series, as well as a series of acclaimed music festival events. This local nonprofit assists artists financially through various services. You can donate to support these efforts at:  https://us.commitchange.com/ca/san-francisco/the-bay-bridged.
About the Brewers Association The Brewers Association (BA) is the not-for-profit trade association dedicated to small and independent American brewers, their beers and the community of brewing enthusiasts. The BA represents 5,400-plus U.S. breweries. The BA's independent craft brewer seal is a widely adopted symbol that differentiates beers by small and independent craft brewers. The BA organizes events including the World Beer Cup®, Great American Beer Festival®, Craft Brewers Conference® & Brew Expo America®, SAVOR™: An American Craft Beer & Food Experience, Homebrew Con™, National Homebrew Competition and American Craft Beer Week®. The BA publishes The New Brewer® magazine, and Brewers Publications® is the leading publisher of brewing literature in the U.S. Beer lovers are invited to learn more about the dynamic world of craft beer at CraftBeer.com® and about homebrewing via the BA's American Homebrewers Association® and the free Brew Guru® mobile app. Follow us on Facebook, Twitter, and Instagram.
Contact:
Joanne Marino 415-915-5173 joanne@bayareabrewers.org
###
Contact Info
Company: Bay Area Brewers Guild
Contact: Joanne Marino
Email: joanne@bayareabrewers.org