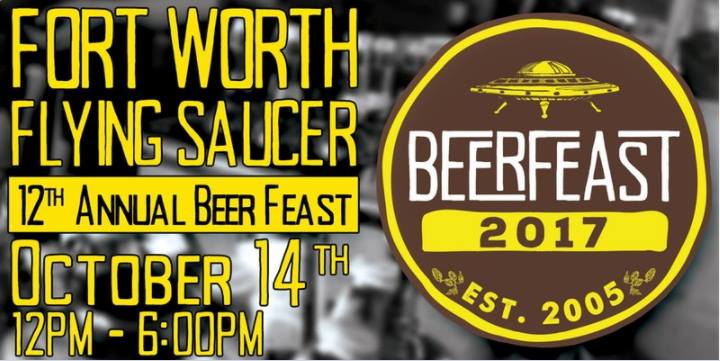 BeerFeast 2017 – VIP Only at Fort Worth Flying Saucer Draught Emporium
Flying Saucer Draught Emporium will host its 12th annual BeerFeast in Fort Worth on Oct. 14. Following a new tradition first begun last year, BeerFeast will once again be a VIP-only event.
BeerFeast has been a loved event in DFW for more than 10 years. Many people look forward to it every year, and the feedback on the VIP-only format in 2016 was spectacular.
Tickets Include
Admission to the festival
2017 BeerFeast t-shirt
BeerFeast tasting glass
tasting card good for 12 samples of any of the more than 120 festival beers
(LEARN: CraftBeer.com's Big List of Beer Schools)
Highlights
A limit of 600 VIP-only tickets
More than 120 beers, including an 80-tap takeover inside Flying Saucer and a variety of bottles and cans on the patio
Catering by Bird Café, featuring chicken lollipops and meat on a stick in addition to bratwurst and pretzels – the traditional BeerFeast fare
Live music throughout the festival
Details
Date: Saturday, Oct. 14
Time: Noon to 6 p.m.
Tickets: Tickets are online only. $68 VIP before Sept. 30 (online only); $78 VIP from Oct. 1 to Oct. 13; $15 designated drivers; M.O.U. members will get a $30 gift card with the purchase of their tickets.
Location: Flying Saucer Draught Emporium, 111 E. 3rd St., Fort Worth, TX 76102
Website: SaucerBeerFeast.com
Contact: 817-336-7470; info@saucerbeerfeast.com
Age: 21 and up
Contact Info
Company: Flying Saucer Draught Emporium
Contact: Kelli Brignac
Email: kelli@obsidianpr.com