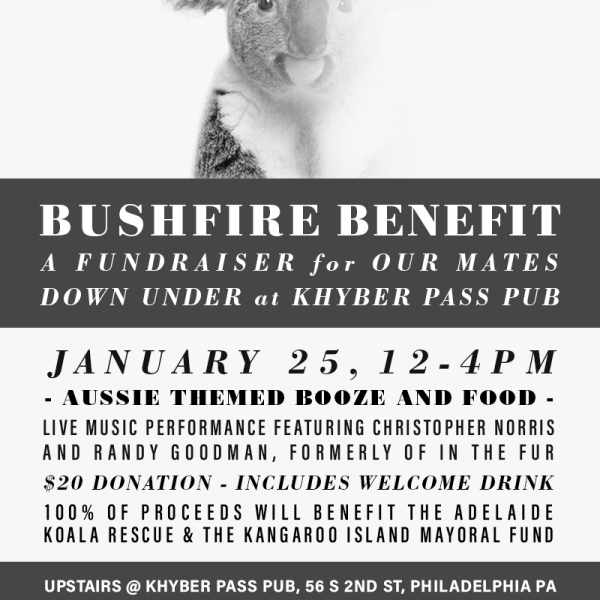 Bushfire Benefit – A Fundraiser For Our Mates Down Under At Kyber Pass Pub in Philadelphia
Philadelphia, PA – Khyber Pass Pub, in partnership with Australian native and local Philly publicist, Kylie Flett, is proud to present Bushfire Benefit — a Fundraiser For Our Mates Down Under on Saturday, January 25. From noon to 4 pm, guests will enjoy Aussie themed booze, fare, live music, and more, while raising much needed funds for victims and wildlife affected by the recent – and ongoing — catastrophic bushfires in Australia.
Attendees will pay a $20 donation at the door and will receive a complimentary welcome beer or wine and entry to the Aussie themed revelry, which will boast house-made Sausage Rolls ($6), as well as beer and wine from Adelaide, South Australia, such as Coopers Pale Ale and Coopers Sparkling Ale ($6) and Freddy Nerks Bianco and Rosso wines ($10). Four'N Twenty Pies, the popular Australian brand of traditional beef pies, will be dishing up the Aussie icon for a suggested donation of $6 with 100% of each meat pie purchase going towards the fundraising efforts.
"The magnitude of devastation and loss my homeland is experiencing is almost impossible to fathom," said Kylie Flett, PUNCH Media Director of PR + Strategy ADL. "Wineries I visited, National Parks I hiked, and koalas I spotted in trees just three short weeks ago no longer exist. It's heart breaking."
In The Fur bandmembers Christopher Norris, Randy Goodman and Daniel Miller are reuniting to perform classic Aussie tunes on the upstairs stage at Khyber Pass Pub and several Philadelphia businesses have generously donated towards what will be a stellar raffle line up. Prizes include gift baskets from Allagash Brewing Company, Philly Loves Beer, W.P.Palmer Distilling, and Shangy's the Beer Authority, tickets from The Arden Theatre Company, a 10-class pass to Northeast Cycle, Healing Mists by Makenzie Flynn, a Four'N Twenty Swag Pack, and more!
Hosted at Khyber Pass Pub, the Bushfire Benefit will be held in the newly-reopened, second-floor bar and performance space – Upstairs at Khyber – and guests in the main restaurant and bar downstairs will also be able to show their support with proceeds of the Aussie themed booze and food (both upstairs and down) being donated towards the Adelaide Koala Rescue and The Kangaroo Island Mayoral Fund. 100 percent of the donation at the door and raffle will provide much-needed financial assistance for these entities during the Australian bushfire crisis.
"Though she hails all the way from Adelaide, South Australia, Kylie is a Philadelphian, and in Philadelphia when you need help, we do our very best to show up!" said Jenny Hobbs, Khyber's Director of Sales and Marketing. "We are looking forward to sending a little Brotherly Love to our friends Down Under."
ABOUT KHYBER PASS PUB
Khyber Pass Pub is a Southern-inspired craft beer bar specializing in Cajun and Creole cuisine with 22 rotating draft lines, an impressive Whiskey selection, and full bar. Upstairs at Khyber features a live music space boasting 6 draft lines, a full bar, and a special menu featuring po-boys, burgers, and other delicious menu staples.
Khyber Pass Pub | 56 S 2nd, Philadelphia | 215-238-5888 | www.khyberpasspub.com
Contact Info
Company: PUNCH Media
Contact: Kylie Flett
Email: kylie@punchmedia.biz