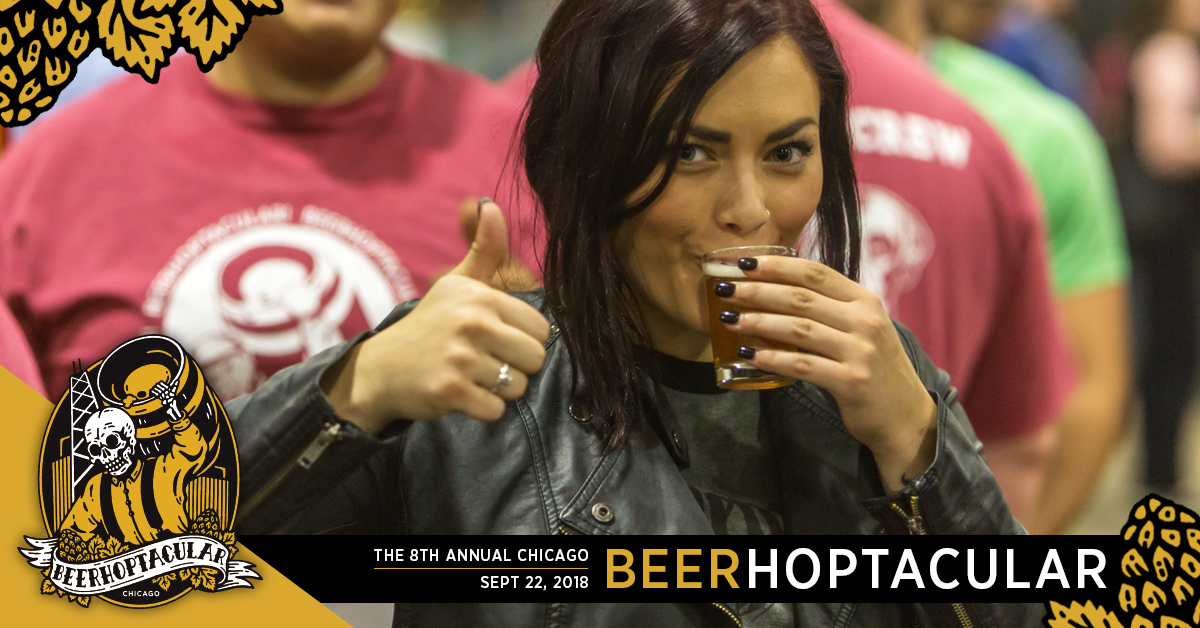 Chicago's 2018 BeerHoptacular VIP Experience
VIP tickets are now available for Chicago's 2018 BeerHoptacular, a celebration of American craft beer, Chicago beer culture and good (mostly) clean fun. The eighth annual BeerHoptacular will take place on Saturday, September 22, 2018 at the awe-inspiring Vertiport Chicago.
If you want to avoid the good beer life at BeerHoptacular, do NOT buy a VIP ticket. If special treatment and barrel-aged beer sound exhausting, the VIP life is not for you. Also, if you hate good food, free limited edition beer t-shirts, and food trucks, we have nothing to offer you.
If you buy a VIP ticket for BeerHoptacular, you will get the following vexatious perks:
VIP hours for the event are 3 p.m. to 8 p.m. Get in an hour early to enjoy the festival before all the regular folks.
2018 limited edition t-shirt, designed by local beer artist and Metropolitan Brewing designer Josh Bucher.
Private VIP area with seating and dedicated bar. Translation = no lines. Access to rare and specialty VIP only beers.
VIP Beer List
Old Nation Brewing Co. – Boss Tweed – Imperial India Pale Ale
Solemn Oath Brewery – Hunted by Vikings – American India Pale Ale
Prairie Artisan Ales – Consider Yourself Hugged – Imperial Stout w/ Peanut Butter & Roasted Coffee
Founders Brewing Co. – KBS (Kentucky Breakfast Stout) – Imperial Stout
Goose Island Beer Company – Bourbon County Stout – Bourbon Barrel-Aged Stout
Perrin Brewing Co. – No Rules – American Porter
Tighthead Brewing Co. – Barrel Aged Barley Wine
Temperance Beer Co. – BA Might Meets Right – Barrel aged Coffee and Maple Imperial Stout
Two Brothers Brewing – Flesh Prickly Pear – Session Sour
Tangled Roots Brewing Co. – City of Green Variant – Fruit infused New England India Pale Ale
VIP tickets are $99 and are very limited: Tickets 
Contact Info
Company: Lou Dog Events
Contact: J Seago
Email: josh@LouDogEvents.com