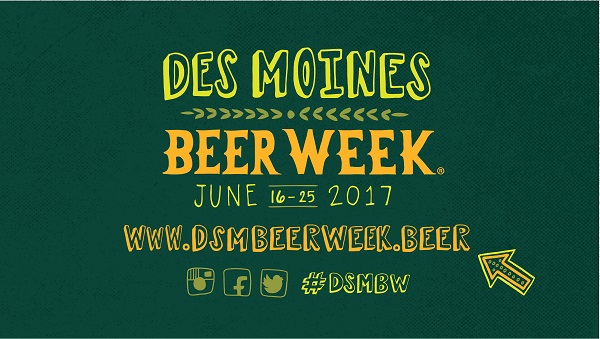 Announcing Des Moines Beer Week (June 16-25)
Established in 2014, Des Moines Beer Week is an annual celebration that aims to highlight the Greater Des Moines' growing craft beer scene. From June 16-25, 2017, businesses around Des Moines will work with local, regional, and national breweries to host a variety of fun & unique events for the community to enjoy. These events include the Des Moines Beer Week kickoff on June 16th at El Bait Shop with the 2nd annual Beer Mile, the Iowa Craft Brew Festival and Run to Exile the following day, a Des Moines Beer Week Golf Outing on June 20th, the 2nd annual Drinking Pants Pageant on the 22nd, a special Kum & Go growler release on the 23rd, and a Beerwood Derby at Confluence Brewing Company on the 24th.
Daily events include activities like organized bike rides, tap takeovers, special tappings, movies, education, meeting brewers, dinners, specials and more! The week also includes the Iowa Craft Brew Festival, where around 60 Iowa breweries, along with a host of regional and national craft breweries, gather in Des Moines to offer beer samples to patrons. One of the most unique aspects to the week is the Des Moines Beer Week Collaboration Beer. For more information about the 2017 DSMBW Collaboration Beers, visit here.
Let's celebrate and support the breweries, bars, restaurants, local organizations & businesses that help make the Des Moines metro one of the top cities in the nation! For more information, visit www.dsmbeerweek.beer !
Contact Info
Contact: Eric Harlow
Email: eric@dsmbeerweek.beer