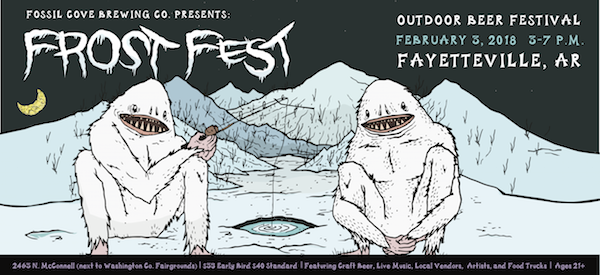 Fossil Cove Brewing Co.'s Frost Fest 2018 Set for February
Fossil Cove Brewing Co. and Apple Seeds Inc. bring you Frost Fest on Feb 3, 2018. Frost Fest is a celebration of craft beer, community, and winter in the Ozarks. Presented by Fossil Cove Brewing Co. (Fayetteville, AR) and benefitting Apple Seeds Inc., Frost Fest is Arkansas' winter beer festival. This is the third year for the Fayetteville, AR based event, featuring 40+ breweries from Arkansas and the surrounding region, live music, food trucks, artists, and vendors. Frost Fest is the premier festival to meet, discuss, and sample craft beer with your favorite breweries. Attending breweries will have representatives on site to provide first-hand knowledge of their products for an unrivaled beer-drinking experience.
DATE: February 3, 2018
TIME: 2-7PM; Beer Enthusiast (extremely limited) 2PM access; General Admission 3PM access
LOCATION: 2463 N. McConnell Ave. Fayetteville, AR
TICKETS: www.fossilcovebrewing.com/frost-fest/
Tickets include a commemorative taster glass and access to all breweries, vendors and food trucks.
Frost Fest offers the best opportunity to sample unique and hard to find beers by showcasing a large variety of Arkansas and out of state breweries with limited availability, a selection of participating breweries are only available in Arkansas at Frost Fest. Local bands Yokohama Drifters, Cadillac Jackson and Sad Daddy are jamming all day, Chad Maupin of Big Bot Design is conducting a live art demonstration, and food trucks and vendors are featured throughout the festival.
Fossil Cove Brewing Co. partners with Apple Seeds Inc., a Fayetteville, AR based non-profit, to bring you Frost Fest. Apple Seeds' mission is to inspire healthy living through garden-based education. They develop and implement programs that educate and excite children about fruits, vegetables and healthy cooking at their teaching farm and area schools. This is the third year Apple Seeds and Fossil Cove have partnered for Frost Fest.
For more Frost Fest info, ticketing and current brewery lineup visit: www.fossilcovebrewing.com/frost-fest/
For more on Apple Seeds: appleseedsnwa.org
Contact Info
Company: Fossil Cove Brewing Co.
Contact: Andrew Blann
Email: andrew@fossilcovebrewing.com