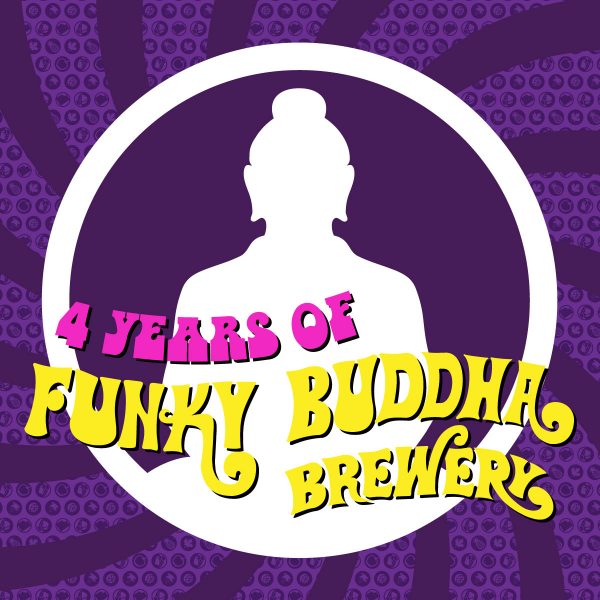 Funky Buddha Brewery Anniversary Weekend
The fourth Funky Buddha anniversary is right around the corner and the suspense is terrible… We hope it will last! Join us in the celebration of our four year anniversary for an epic weekend of great beer, music, and food.
Kick off the weekend by attending a VIP event like no other! The Golden Ticket Tasting event will be held from 7-10pm on Friday, June 2nd 2017 in our private banquet event space. Indulge in unlimited samples of 15 uniquely crafted food and beer pairings, live music, unlimited specialty beer tastings, and an exclusive branded tasting glass to keep.
On Saturday we're throwing a Beer Factory Bash, an all day celebration with special timed tappings, anniversary bottle back release, outdoor beer garden, live music, and food trucks.
The Pure Imagination Brunch will be held from 11:30 am – 2 pm on Sunday, June 4th, 2017 in our private banquet event space. This unique brunch creation includes a full brunch buffet menu and 3 complimentary specialty beers.
For our four year anniversary, we've also decided to brew up four very special beers, each celebrating the spirit of imagination and invention that's at the heart of our beer factory. We will be releasing each beer in 22oz bottles on Saturday, June 3rd – time TBD. Bottles will be sold as a pack of four only (one of each release) for $60 – public limit is TBD. Pre-order bottle pack access is available with any ticket purchase to the Golden Ticket Tasting or Pure Imagination Brunch. Tickets for those events go live on April 18th at 10am – so don't miss out!
Anniversary Beers – sold as a pack of four, $60
Save Some Room For Later: German Chocolate Cake Ale, an imperial brown ale with coconut and chocolate. 8.8% ABV
Juicing Room: Bourbon Barrel-Aged Imperial Stout, this stout spent over a year in Heaven Hill Bourbon barrels before being rolled into the juicing room for a splash of real blueberry juice. 9.5% ABV
Boy, That's Great Stuff: An over-hopped session IPA that whams a lot of flavor into a small beer. 5% ABV
I Want It Now! Tropical Gose: Our classic "snozzberry" gose features a host of tropical fruit flavors, bright salinity, and a citrus-y tartness. 5% ABV
Contact Info
Company: Funky Buddha Brewery
Contact: Funky Buddha
Email: info@funkybuddhabrewery.com