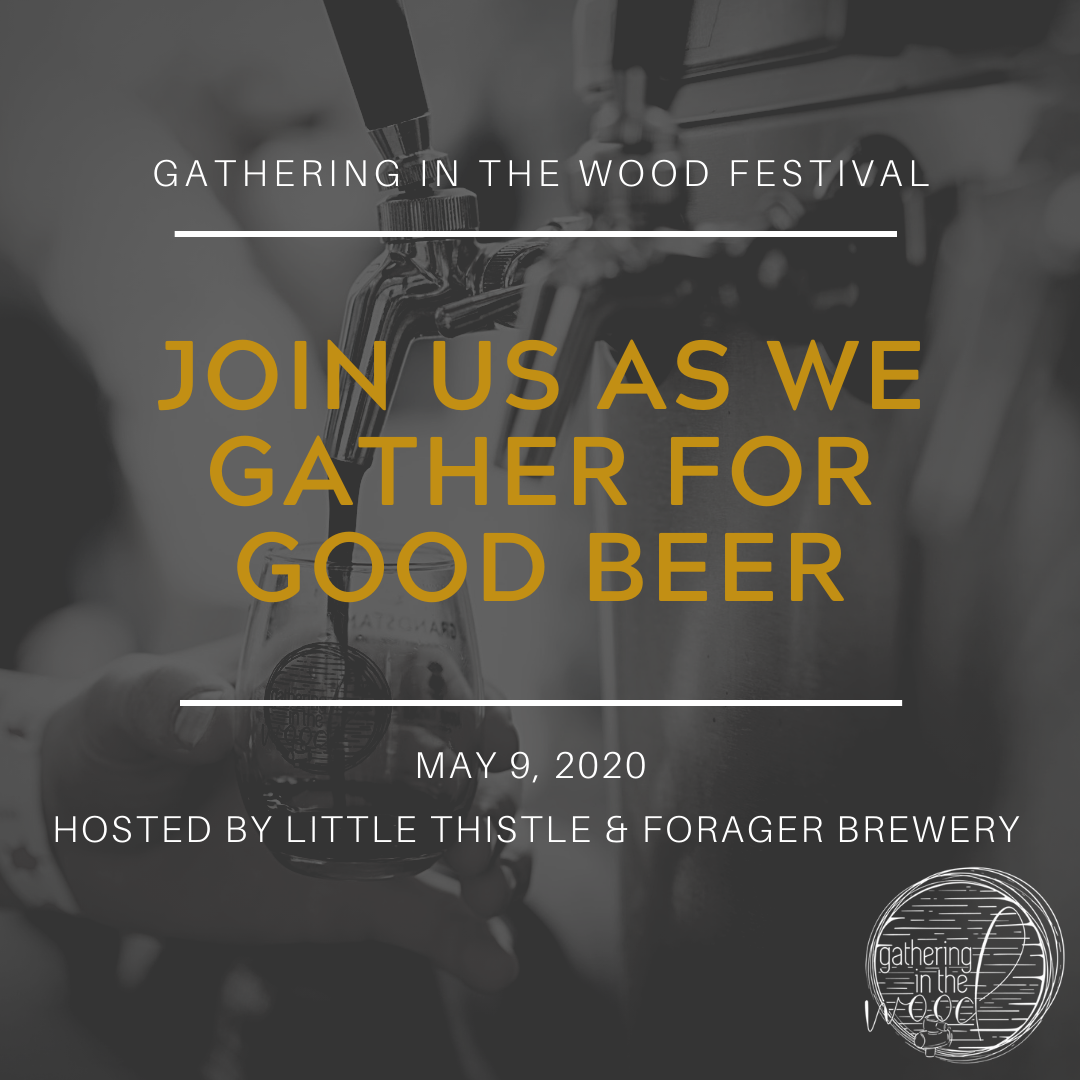 Gathering In The Wood Festival Returns to Rochester, Minnesota
ROCHESTER, MN – More than 30 breweries from across the country (list below) will be gathering in Rochester for the second year in a row. These world-renowned breweries will be pouring barrel aged and wood fermented beer at the second annual Gathering In The Wood beer festival hosted by Little Thistle Brewing and Forager Brewery on May 9th, 2020. The Festival will take place at Little Thistle (2031 14th St NW, Rochester, MN 55901)  from 3pm – 6pm, with a special VIP Hour from 2pm-3pm.
"We are proud to host a beer festival that showcases our friend's amazing brews from across the country.  It has been exciting to better understand and be a part of the collaborative spirit of the brewing industry which has not only helped improve our brewing practices at Forager, but also provided us the opportunity to develop lasting relationships with like-minded folks," says Annie Henderson, owner of Forager Brewery. "These are the same folks that will be attending Gathering In The Wood Festival and we are excited to introduce them to our Rochester community."
In addition to the great beer, festival attendees can enjoy tasty bites from local food trucks all while enjoying live music from local musicians.
When asked why the Festival is focused on barrel-aged and wood fermented beer, Forager Brewery Head Brewer Austin Jevne says that it's due to his passion for craft beer "which lives within the rings and staves of wooden barrels.  The character wood fermentation and wood aging contributes to beer continues to excite me and drives me to be a better brewer and blender.  To share an afternoon at Gathering In The Wood Festival with like-minded brewers and beer lovers fills me with happiness."
Gathering In The Wood is a 21+ event and encourages attendees to drink responsibly and take advantage of the free shuttle from Little Thistle and Forager Brewery to Fairfield Inn and Suites and back, from 1pm-3pm & 5pm-7pm. Designated driver tickets are also available.
As a growing craft beer destination with some of the top breweries in the state, Gathering In The Wood seeks to bring craft beer drinkers together and highlight all that Rochester has to offer. Little Thistle owners, Steve and Dawn Finnie, look forward to welcoming attendees back to Rochester, MN. "For us, it's a celebration of beer and friends, and we're excited to host beer lovers from all over. See you in May, beer friend!"
Tickets:
Tickets on Sale at 5:30pm CST on Friday, March 20, 2020
Tickets can be purchased here via Eventbrite.
Participating Breweries: 608 Brewing Company, Back Channel Brewing, Barrel Theory Beer Company, BlackStack Brewing, Cerebral Brewing, Dangerous Man Brewing Company, Drastic Measures Brewing, Drekker Brewing Company, Eagle Park, Equilibrium Brewery, Fair State Brewing Cooperative, Finnegans Brewing Company, Forager Brewery, Funk Factory Geuzeria, Hidden Springs Ale Works, Horus Aged Ales, J. Wakefield Brewing, Junkyard Brewing Company, Little Thistle, LTS Brewing Company, Lua Brewing, Lupulin Brewing Company, Mikerphone Brewing, Modist Brewing Co., Parish Brewing Co., Phase Three Brewing Company, PINTA, Steel Toe Brewing, Surly Brewing Co., The Brewing Projekt, Thesis Beer Project, Town Hall Brewery, Transient Artisan Ales and more!
Contact: Annie Henderson | annie@foragerbrewery.com | 507.273.6881
Contact Info
Company: Forager Brewery
Contact: Bekah
Email: bekah@foragerbrewery.com