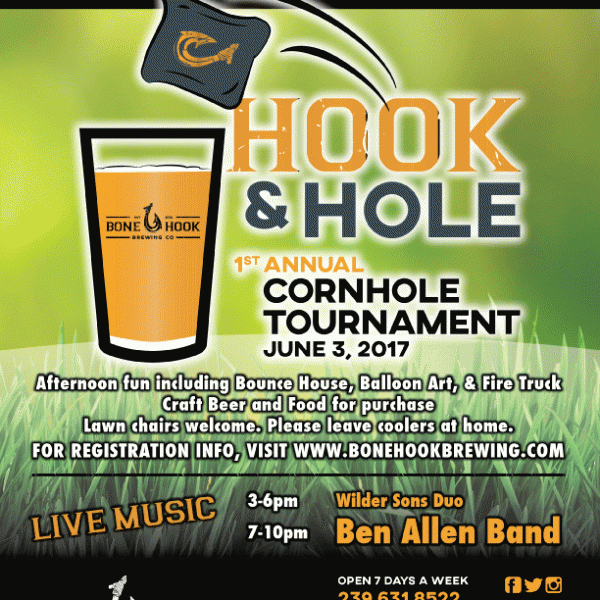 Hook & Hole Cornhole Tournament at Bone Hook Brewing Co
June 3rd – Two Tournament – Sign up online at www.bonehookbrewing.com for our Masters Tournament at 3 pm of see below for VIP Sponsored Tournament starting at 11am.
11:00am VIP Sponsor Corn Hole Tournament
VIP Sponsor Tournament limited to 16 teams. Teams consist of 2 players over the age of 21 years old.
$200 entry fee per team .
Single elimination tournament. Winning team receives $2,000 prize which will be awarded to the charity of their choice. (Must be recognized 501c3 charity. Bone Hook Brewing will distribute cash prize to charity on behalf of winning team).
Each VIP Sponsor will receive promotion including: press release mention, logo on tournament t-shirt, announcement on the speaker during tournament, company logo and link on Bone
Hook website, and space for a sponsor table during event (if desired, sponsor to provide table).
Logo materials MUST be received by May 22 to be included on t-shirt.
Sponsor table must be set up prior to 11:00am on day of tournament. Sponsor may include the charity of their choice at their table.
2 free Bone Hook beers per player on day of event.
TO REGISTER TO BE A VIP SPONSOR, please call Brittany Madden at 239-403-6702 or email bmadden@barroncollier.com. Sponsors will be registered on a first-come, first-serve basis.
3:00pm Corn Hole Masters Tournament Register Online at bonehookbrewing.com
Masters Tournament limited to 16 teams. Teams consist of 2 players over the age of 18 years.
$50 entry fee per team
Single elimination tournament.
1st Place Team receives $100 gift card to Bone Hook Brewing (per player), tournament t-shirt, and bragging rights for one year.
2nd place Team received $50 gift card to Bone Hook Brewing (per player), tournament hat, and tournament t-shirt
All players receive tournament t-shirt
Contact Info
Company: Bone Hook Brewing Company
Contact: Michelle Russell
Email: Mrussell@bonehookbrewing.com