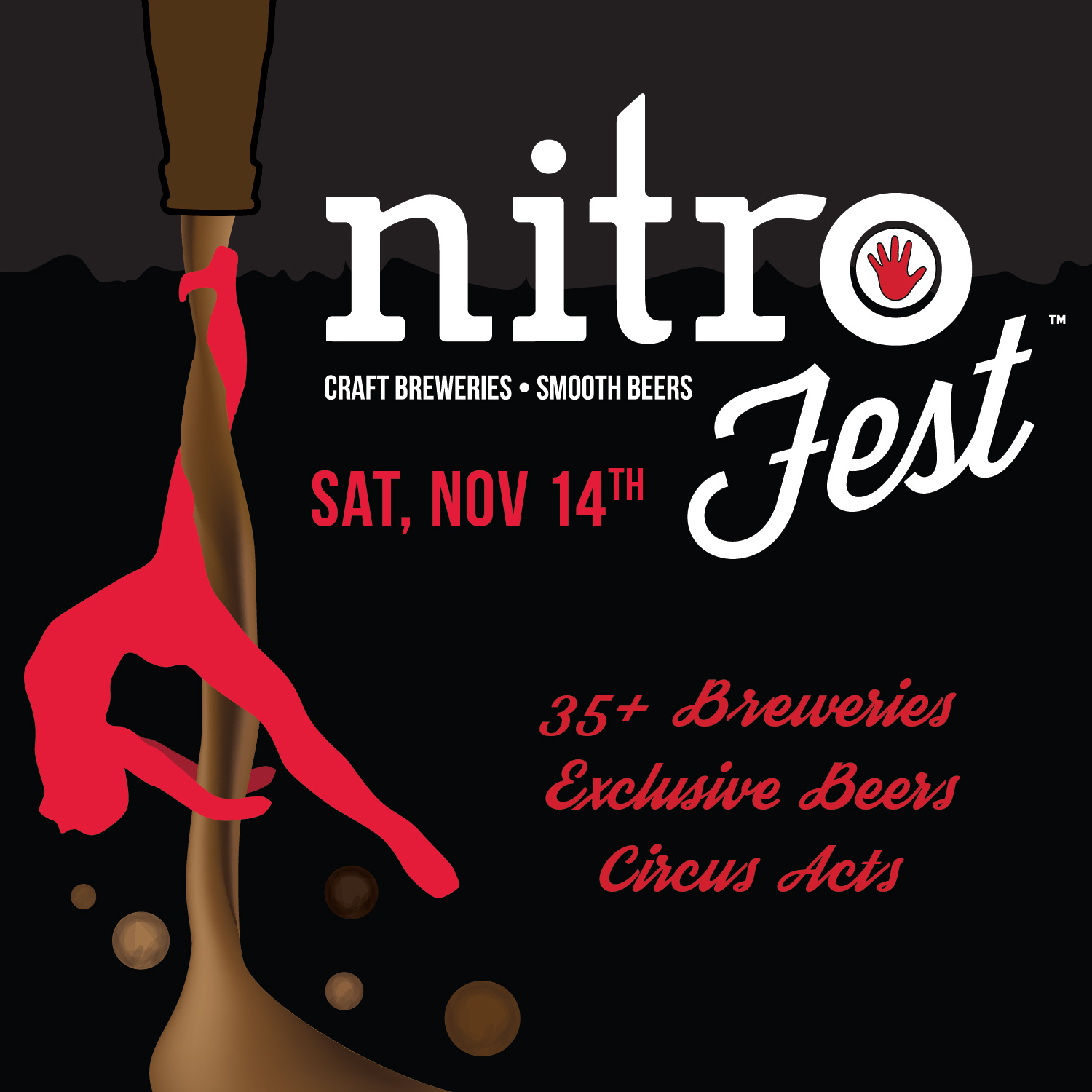 Left Hand's Nitro Fest Pairs Unique Beer with Live Art
LONGMONT, CO • October 20, 2015 – Returning for its second year, Left Hand Brewing presents Nitro Fest on November 14th– America's only exclusively nitro beer fest, bringing together a collection of rare, out of state nitrogenated styles from over 40 craft breweries. With general admission and VIP tickets available, guests are invited to don their best threads and join a collection of the best breweries in the nation for a transcendent evening of unlimited tasting alongside live performance art.
Famous for their Nitro series, Left Hand is a true believer in the unique impact that Nitrogen has on a beer's flavor and mouthfeel, inspiring the brewery to pioneer nitrogenated craft beer in the bottle with Milk Stout Nitro. With the continued growth in the category, Left Hand is excited to showcase a wide offering of nitrogenated beer from the craft community. Nitro Fest guests can sample never-before-seen styles from out of state breweries including Ballast Point, North Coast, Founders, Dogfish Head, Firestone Walker, Victory, Green Flash, and more. "Some of these beers will be nitrogenated for the first time, and many do not make it out of their home brewery tap room. This will be a truly unique opportunity for craft beer fans to get their hands on exclusive styles from 40+ widely acclaimed breweries." comments Josh Goldberg, Community & Event Manager.
From 6-10pm, Left Hand Brewing invites their guests to imbibe under a grand tent with mystical performances from Lunar Fire, Fractal Tribe, and the Boulder Circus School, including fire dancers, stilt walkers and aerial artists. Local fare will also be available, highlighting Longmont's own Samples World Bistro, the Roost and more. Finally, Nitro Fest guests are encouraged to get in on the action, dressing in their best cocktail attire, masquerade and even getting into costume, portraying their own favorite spin on a Left Hand label.
For full event details + tickets, see Nitro Fest on LeftHandBrewing.com. Full brewery beer list attached.
###
2015 Nitro Fest Brewery Participants
Victory | Founders | Dogfish Head | Firestone Walker | Boulder Beer | Dark Horse | Empyrean | Surly| Lagunitas | Ballast Point | Elysian | Stone | North Coast | Sierra Nevada | Breckenridge | Oskar Blues | Deschutes | Bristol| Epic | Mountain Sun | Grand Teton | Hammerheart | Great Divide |Fort Collins | Boston Beer | Flying Dog | Wibby | Coronado | Big Thompson |Crazy Mountain | Odell | Ska | New Belgium | Elevation | North Coast | New Holland | Three Weavers | Zipline | Telluride | 300 Suns
For more information contact: Emily Armstrong Left Hand Brewing Company 303.772.0258×104, emily@lefthandbrewing.com
About Left Hand Brewing Company Celebrating twenty-two years of brewing a well-balanced portfolio of craft beers, Left Hand Brewing Company is located at 1265 Boston Avenue in Longmont, Colorado. Left Hand is one of the most honored and recognized breweries in the state, with over 27 Great American Beer Festival medals, 9 World Beer Cup awards, and 7 European Beer Star awards. Famous for their Nitro series, Left Hand Brewing was the first craft brewery to release a bottled nitrogenated beer.  Left Hand's collection of perennial and seasonal beers are available in 35 states & DC. "Sometimes you're not in the mood for what everyone else is having."
Distribution: AL, AZ, CA, CO, CT, DC, FL, GA, IA, IL, IN, KS, KY, MA, MD, ME, MI, MO, MN, NC, NH, NJ, NM, NV, NY, OH, OK, PA, RI, SC, TN, TX, VA, VT, WA, WI
Contact Info
Company: Left Hand Brewing Co.
Contact: Emily Armstrong
Email: emily@lefthandbrewing.com