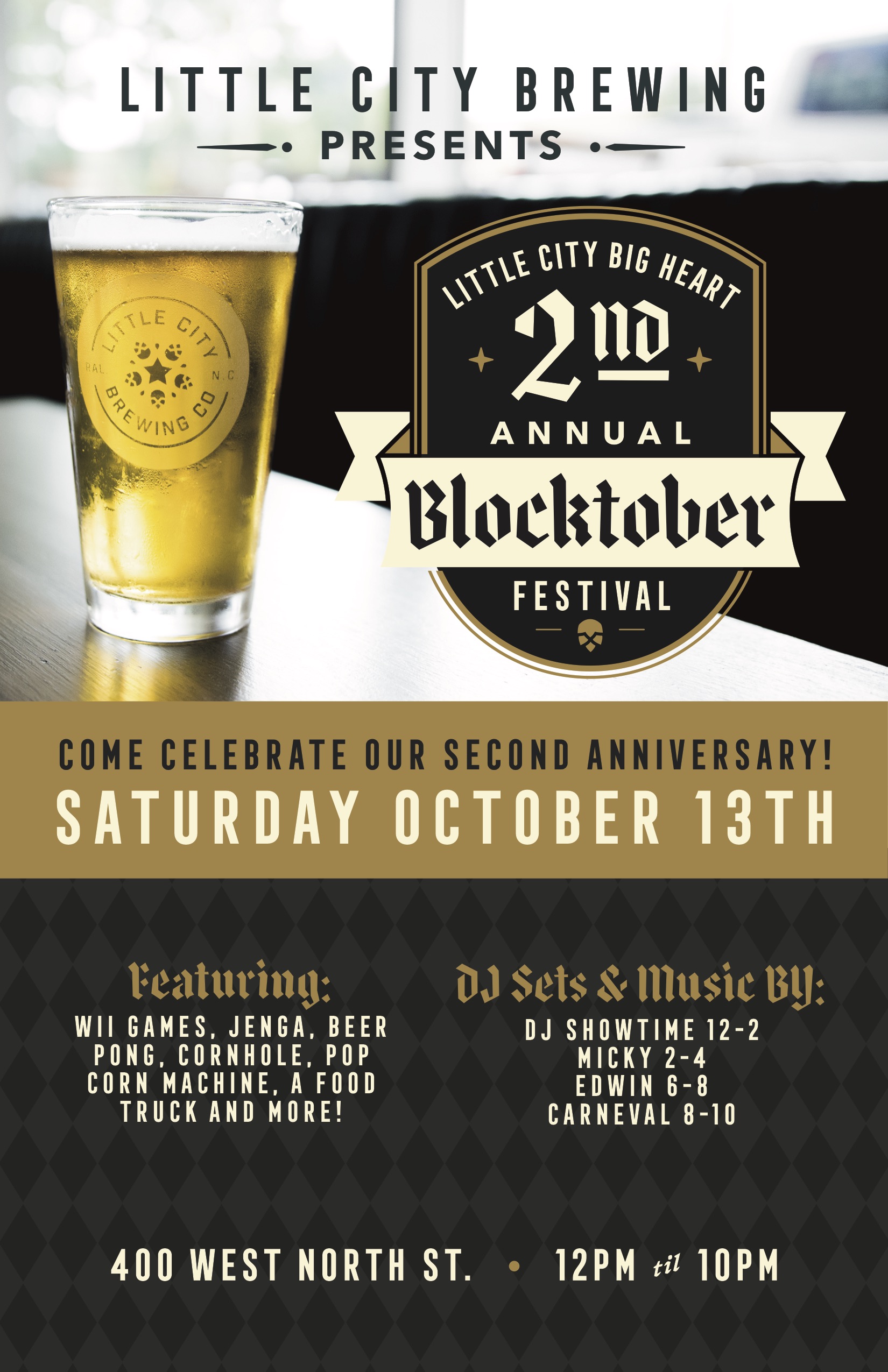 Little City Brewing Blocktober Fest – Saturday, Oct. 13th
RALEIGH, N.C. – Little City Brewing + Provisions, a boutique brewpub located in the Glenwood South neighborhood, is hosting Blocktober Fest, a block party in celebration of its two-year anniversary, Saturday, Oct. 13, from noon to 10 p.m. Supporting the non-profit Dynamic Water, the block party will take over North Street between West and Harrington Street.
"We're thrilled to be celebrating two years of Little City Brewing, and we can't wait to share our excitement with our neighbors at Blocktober Fest," says Little City owner Jon Seelbinder. "We've had a blast bringing a new type of brewery to Raleigh, and we're looking forward to what the next year has in store for us. We hope to continue to brew great beer and provide exceptional hospitality that our guests keep coming back to experience. Big announcements this year include our new brewer, Darryl Wells, Gold and Bronze medals at the US Open, and a Bronze Medal at the Great American Beer Festival (GABF)"
Blocktober Fest attendees can enjoy an array of new beers from Little City Brewing, as well as bites from downtown restaurant Virgil's Original Taqueria, led by Executive Chef Adrian Black.  Additional festivities will include a photo booth, bounce house, giant beer pong, dunk tank, carnival-style games, inflatable boxing and more. The Live music line-up will include DJ Showtime, Scott Carneval, Micky Slicks and Edwin Whitted.
Proceeds from corporate sponsors, attendee donations and beer sales will be donated to Blocktober Fest's charity partner, Dynamic Water, a non-profit focused on changing lives by providing local access to clean water in impoverished countries around the world. The Raleigh-based group will be on site during the party to promote the cause.
"Giving back to the community is a priority at Little City," says Seelbinder. "We've had a longstanding relationship with supporting Dynamic Water, and we hope our contributions from this event make an impact toward their initiatives."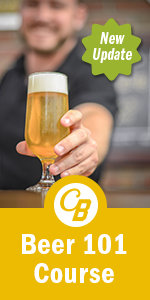 In addition to Dynamic Water, Blocktober Fest is excited to partner with a number of local businesses, non-profits and community influencers.  Here are just a few of the co-hosts and co-sponsors:  Big Mike's BBQ, Virgil's Original Taqueria, Shop Local Raleigh, Elevate, Glenwood South Neighborhood Collaborative, and Barmetrix.
Blocktober Fest is a family-friendly event open to the public, and there is no entry fee. Guests are welcome to purchase food and beverage tickets once they enter the party. For more information about Blocktober Fest, call 919-502-7155 or visit www.thelocalicon.com/little-city.
ABOUT LITTLE CITY BREWING + PROVISIONS
Located in Raleigh's Glenwood South neighborhood, Little City Brewing + Provisions Co. is an award-winning brewery, taproom and cocktail bar with a variety of brewed-in-house beers, plus a full bar with a craft cocktail menu. Little City will soon offer a chef-inspired food program.  The brewpub is located at 400 W. North Street. For more information, call 919-502-7155 or visit www.thelocalicon.com/little-city.  
ABOUT LOCAL ICON HOSPITALITY
Local Icon Hospitality is a Raleigh, North Carolina-based hospitality group with six unique food and beverage concepts including The Architect Bar and Social House, The Green Light, Linus & Pepper's, Virgil's Original Taqueria, Level Up Arcade + Bar + Kitchen, and Little City Brewing + Provisions. Local Icon focuses on providing straight-forward, consistent and quality-based hospitality at each location. In addition, the hospitality group specializes in catering and private events. Local Icon's headquarters is located at 126 S. Salisbury Street. For more information, call 919-833-3866 or visit www.thelocalicon.com.
###
Media Contact
Molley Grubbs
336-473-5228
Lauren Husketh
919-809-4000
Jonathan Seelbinder
919-649-2154
Contact Info
Company: The Local Icon Hospitality Group
Contact: Molley Grubbs
Email: marketing@thelocalicon.com