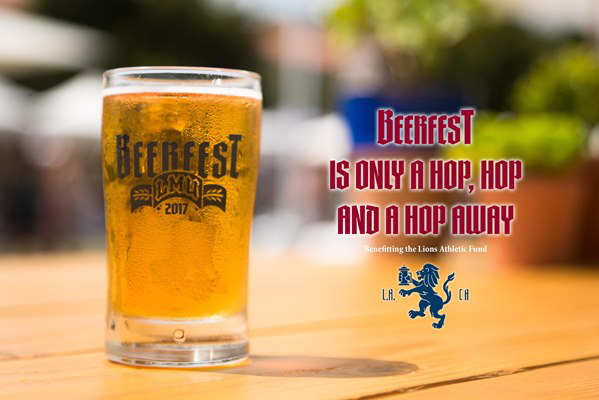 LMU BeerFest Draws Breweries from Across California
Craft beer, food and entertainment will be on tap on Saturday, July 29, during the second annual LMU BeerFest.
Visitors will be able to sample unlimited pours of craft beer and cider from more than 20 breweries – including more than a dozen based locally or in California – and enjoy food truck fare, live music, black jack, giveaways and games.
The event supports the Lions Athletics Fund, which provides scholarships for student athletes and support for LMU's 22 intercollegiate teams.
(MORE: What is a Craft Brewery?)
Participating breweries confirmed so far include Scholb Premium Ales and Enegren Brewing Co. – both owned by LMU alumni – along with 2 Towns Cider, Avery Brewing Co., Beachwood Brewery, Black Market Brewing Co., Bruery Terreux, Common Cider, El Segundo Brewing, Golden Road Brewing, Figueroa Mountain Brewing, Honest Abe, Karl Strauss, King Harbor Brewing Co., Mission Brewery, Ritual Brewing, Rob Rubens Distilling & Brewing, Sierra Nevada Brewing, Stone Brewing, Strand Brewing, The Bruery,  Three Weavers and Uinta.
LMU BeerFest runs from 1-4 p.m. at Hannon Field on LMU's Westchester campus, 1 LMU Drive, Los Angeles, California, 90045. VIP access starts at noon. For tickets, visit www.lmu.edu/beerfest.
###
Contact Info
Company: Loyola Marymount University
Contact: Kristin Agostoni
Email: events@lmu.edu