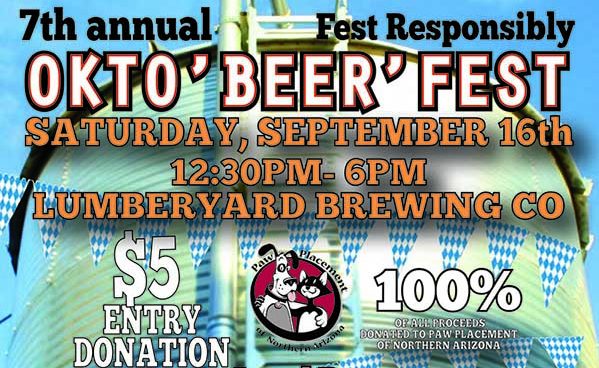 7th Annual Lumberyard Brewing Okto'Beer'Fest
WHAT: Lumberyard Brewing Okto'Beer'Fest sets to highlight Northern Arizona Breweries and the great beer culture around Flagstaff.  The breweries that are attending include: Lumberyard Brewing Company, Beaver Street Brewery, Mother Road Brewing Company, Historic Brewing Company, Wanderlust Brewing Company, Dark Sky Brewing Company, That Brewery, Granite Mountain Brewing Company, Mudshark Brewing Company, and Grand Canyon Brewing Company.  Attendees will get to sample beers, or get a pint or stein filled with their favorite beer to enjoy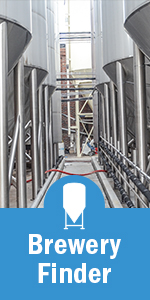 the experience.
As with any Oktoberfest event, it's not only about the beer. Okto'Beer'Fest includes a brat eating contest and a stein holding competition to celebrate the Oktoberfest culture.  Besides contests, there will also be corn hole, giant jenga, giant foosball, and life size beer pong available for attendees to play.
Style Spotlight: German-Style Marzen / Oktoberfest
Traditional German Food will be served by Historic Brewing's Food Truck including bratwursts, and pretzel sticks.
100% of the proceeds will be donated to Paw Placement of Northern Arizona.  $20,000 was raised at this event last year for Second Chance Center for Animals.
WHEN: Saturday September 16th | 12:30pm – 6pm
WHERE: Lumberyard Brewing Company's Parking Lot | 5 S San Francisco St | Flagstaff, AZ
WHY: Oktoberfest events are not only about the beer.  They are about the community and the experience of enjoying each other's company.  Okto'Beer'Fest does just that.  There is something for everyone whether it is their favorite local beer, the great Flagstaff weather and view, or playing a game of giant foosball against someone you have never met.  It celebrates the Northern Arizona beer culture that continues to grow and become part of the community, and gives the brewing industry a chance to give back to that community via one of our local animal charities.   The Northern Arizona community has always been a big supporter of our four legged friends, and the brewing industry a big supporter of community.
MORE INFORMATION:
$5 Entry Donation, Tickets on sale during the event for food and drink.  Commemorative Steins $10 includes first fill.
Website: www.lumberyardbrewingcompany.com
Social Media: Follow on Facebook: facebook.com/lumberyardbrewingcompany/ Twtter: @lumberyardbrew Instagram: @lumberyardbrew #lumberyardbrewery #oktobeerfest
ABOUT:
Lumberyard Brewing Company opened in May 2010 in historic Downtown Flagstaff.  Owners, Winnie and Evan Hanseth rehabilitated on of the last remaining buildings of Flagstaff's lumber era to recreate the community hub that it once was.  The building has given them a unique space for packaging their award winning ales and lagers.  The couple also owns Beaver Street Brewery that is located a block away from Lumberyard Brewing Company and has been open since March 1994.
Save
Save
Save
Contact Info
Company: Lumberyard Brewing Company
Contact: Kelly Hanseth
Email: kelly.hanseth@gmail.com