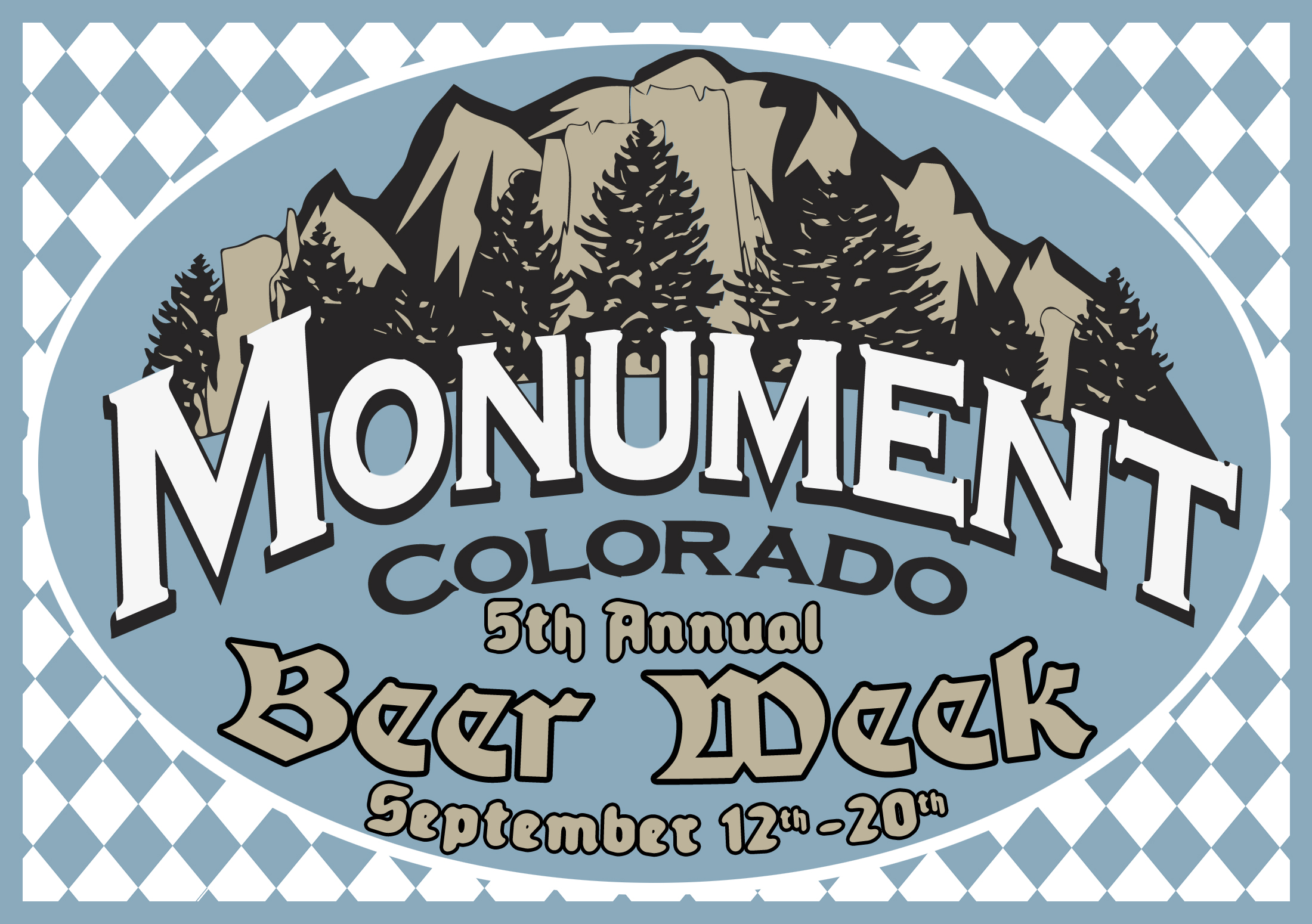 5th Annual Monument Beer Week Kicks off on Saturday September 12th
Saturday, September 12th marks the start of the fifth annual Monument Beer Week with Pikes Peak Brewing Company! 
Every year PPBC gets together with other Monument area businesses to celebrate craft beer for an entire week. From specialty beer tappings and tap takeovers to Oktoberfest and the Bines and Brew Hop Festival, this year will be full of festivities not to miss. Below is a list of events happening between Saturday Sep 12th and Saturday Sep 19th. Some events are for Craft Beer Society members only, some require advance ticket purchases, and some encourage you to come and go any time! We hope you can take some time to join us in celebrating our favorite week of the year!
Sat Sep 12 • Oktoberfest • Doors Open at 11am
Ceramic Oktoberfest Steins Available for sale now!
Oktoberfest Marzen Lager tapping • 11am
German Meals and Giant Bavarian Pretzels Served All Day
Hammershlagen, Stein Holding, and other games throughout the day.
Bavarian Accordianist, Danny Newton • 12-2p
Oktoberfest Firkin Tapping • 5p
Die Volkstanzgruppe German Folk Dancers • 6-7:30p
The Constant Tourists • 8-11p
German Meals • $15.50
2 Nuernberger Bratwursts 1 Small Spicy Braswursts Sauerkraut Spaetzle with Raumsauce Cheesecake
Sun Sep 13 • Tap Takeover at Back East Bar and Grill • All Day
1455 Cipriani Loop, Monument, CO • Join our neighbors at Back East Bar and Grill as they tap several Pikes Peak beers including limited edition seasonal releases. Enjoy the first 2015  regular season Broncos game on their several big screen tvs and get a free pint glass with the purchase of your first beer while they last.
Mon Sep 14 • New Beers Releasing at PPBC
Penrose Private Reserve 1508 • All Day
This full bodied stout is full chocolate, coffee, and roast that blend perfectly with the oak and whiskey characters imparted from barrel aging for several months.
Local 5 Pale Ale • 7p
A Pale Ale with a purpose… this beer has been brewed with and for members of Colorado Springs Professional Firefighters Association Local 5. We proudly release this beer the week of the Fallen Firefighter Memorial gathering to honor all who serve. Proceeds go back to the Local 5 in support of their service to fallen brethren, and their efforts to improve their community. This single hop amarillo pale ale is full of citrus and pine and available in 12 oz cans for a limited time.
Hot Shot Green Chili Ale • This seasonal favorite might even make it's debut Monday too!
Tues Sep 15 • Craft Beer Society Party • 6:30p
Appreciation Party for Craft Beer Society Members Only
Wed Sep 16 • Grain vs Grape • 6:30p
It's the battle of the beverages, Grain Vs Grape. Beer and Wine are at it again and we're putting together the jury to determine which pairs better with food. Buy your summons in the PPBC taproom while they last to enjoy this entertaining 5 course dinner, each course paired with a wine and a beer. After the two beverages present their evidence we're counting on you to reach the best verdict. Hurry, a limited number of seats are available!
Catered by Lil' Tin Can Food Truck
Thu Sep 17 • Half Way To St. Paddy's Day
Special Paddy O' the Peak Irish Stout Tapping
Heavenly Sandwiches and Desserts  are serving up Ireland inspired cuisine. • 5p
2015 Leprechaun of the Year will be making a guest appearance!
Firebomb Firkin, Devils Head Red Ale aged on oak chips soaked in cinnamon whiskey from 300 Days of Shine.
Stubby Shillelagh's Celtic Band • 6:30p
Fri Sep 18 • Prospector Black IPA – Wet Hop Edition Release • 5p
Pikes Peak Brewing is bringing back their popular Black IPA with a twist, or should we say with a bine? This big roasty beer balances out with a nice bitterness and pungent wet hop aroma. This beer was made with freshly picked hop bines grown a mile away. The bines were brought to the brewery and the hops were picked as we were brewing a 10 bbl batch of our 2015 entry to the Bines and Brews Wet Hop Festival.
Sat Sep 19 • Monument Bines and Brews Wet Hop Festival • 1-5p
Local Brews and Local Hops • Limbach Park
Sample beers from several local brewery, including each location's fresh hop beer made with Monument grown Cascade hops. Help vote for your favorite fresh hop beer of the year and help Pikes Peak Brewing Company take home the hop trophy for the second year! Get your tickets at http://www.trilakeschamber.com/bines-brews.htm
Sat Sep 19 • After Party at Pikes Peak Brewing • 5p
Join Pikes Peak Brewing after the festivities at Limbach Park for grub and suds.
Smokey the Pig Food Truck
Contact Info
Company: Pikes Peak Brewing Company
Contact: Aly
Email: aly@pikespeakbrewing.com