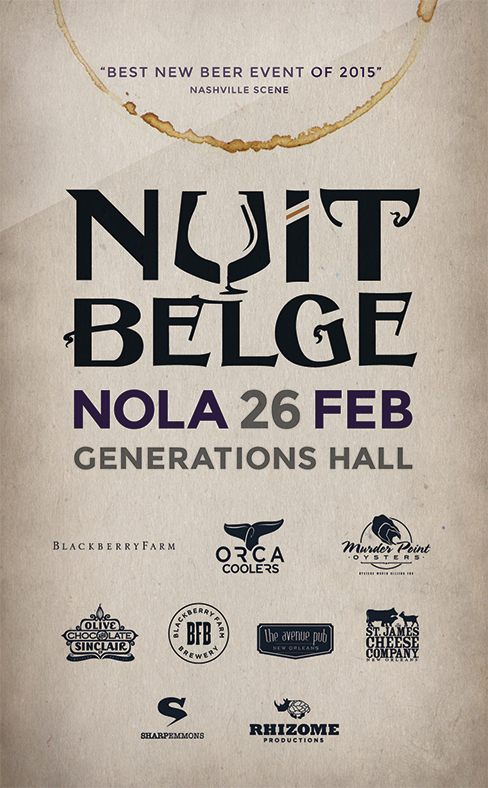 Nuit Belge-New Orleans
Rhizome Productions Inc. is proud to announce that Nuit Belge is coming to New Orleans on February 26, 2016. Nuit Belge is a celebration of Belgian and Belgian inspired beers masterfully paired with small plates from 14 of New Orleans' top restaurants and chefs. Additionally there will be a raw bar provided by Murder Point Oyster Company, chocolate tasting by Olive & Sinclair Chocolate, and cheese tasting by St. James Cheese Company. To top it all off guests will get to experience beer and food pairings from the acclaimed Blackberry Farm in East Tennessee. All guests receive limited edition tasting glass, unlimited samples of food and beer, drinking water, and the chance to be part of NOLA's most unique beer and food event. Nuit Belge will be hosted at Generations Hall and will be limited to 750 tickets to ensure the ultimate guest experience.
Blackberry Farm VIP Session 6-730pm, limited to 50 guests General Session 730-1030pm, tickets still on sale NOW
Tickets can be purchased online at (www.nuitbelge.com), plus full event details/menu can be found. The following partners make Nuit Belge possible: Blackberry Farm, The Avenue Pub, St. James Cheese Company, Orca Coolers, Olive & Sinclair Chocolate, Murder Point Oyster Company, Sharp Emmons Design, and Rhizome Productions.
Participating Restaurants:
Angeline
Balise
Boucherie
Cochon Butcher
Gautreau's
Milk Fish
MoPho
NOLA by Emeril
Primitivo
Purloo
Root
Shaya
Toups' Meatery
Featuring beers and homestead products by: Blackberry Farm
Contact Info
Company: Rhizome Productions Inc.
Contact: Matt
Email: matt@rhizomeproductions.com