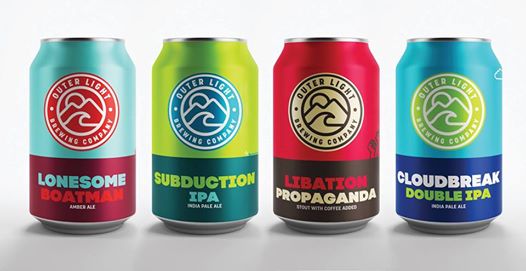 Outer Light Rebranding Summer Outdoor Party June 10th!
Free admission, live music, food truck, four beer releases, three special casks, fun outdoor party!
Outer Light Brewing Company's annual summer party comes with a big announcement this year – we are officially rebranding and set to begin canning. To celebrate, we've planned quite the day for June 10th. Our outdoor event is fun for the entire family. Check it:Free Admission
12+ Outer Light Beers On Tap
Beer Releases – Juicebomb Bull$#!t IPA, Ninja Trail Green Tea Pale Ale, Outerweiss Hefeweizen, Liquid Fun Pilsner
Specialty Casks
Live Music – The Hempsteadys, Motion Radio, The Fake Experience, Lauren Light
Food Truck – Boru Barbecue
Games
Family Friendly
Outdoors
Plenty of Free Parking
About the Brewery
The founders at Outer Light Brewing Company are inspired by life's simple pleasures.  It could be a perfect summer afternoon watching the powdery white clouds contrast a bright blue sky. It could be a fleeting moment in early spring as you sit on your surfboard, waiting for the perfect set to roll in.  A crisp autumn evening shared with friends around a crackling campfire. Or the quiet solitude of a powder run, lips smacking for the hearty stout that lies at the end. OLBC captures the experience of those moments in a can, barrel, or growler.
Contact Info
Company: Outer Light Brewing Company
Contact: Matt
Email: matt@outerlightbrewing.com