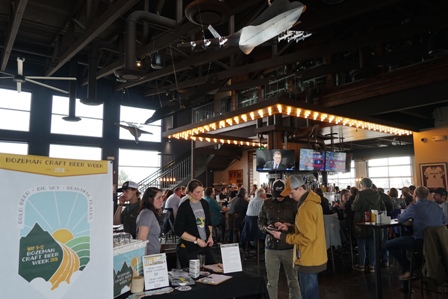 Second Annual Bozeman Craft Beer Week Returns
Bozeman, MT – Bozeman Craft Beer Week is fast approaching and adventurous beer-cationers and locals alike must begin contemplating which events to attend during the Gallatin Valley's biggest annual beer bash. A celebration of craft beer, open space, and trails in its second year, Bozeman Craft Beer Week will take place May 5-12, 2018.
To commemorate the week, 10 local breweries have worked together to create a special collaboration beer appropriately called Gallatin Valley Lager. Brewed with locally-grown malt from Bridger Malt House and hops from Crooked Yard Hops, the beer is a refreshing, crisp Montana Pale Lager bursting with citrusy hop aroma. Craft beer week attendees can expect to find the collaboration lager available on tap and in cans at Bozeman Brewing Company, the host brewery for the beer project, as well as at participating sponsor businesses and retailers starting in late April through the end of craft beer week.
Proceeds from events throughout the week, as well as the sale of the collaboration beer, will be donated to Fermentana's craft beer week nonprofit partner, Gallatin Valley Land Trust, to support their mission of protecting open space and creating trails across the community.
Fermentana rolled out the 2018 craft beer week schedule the evening of Tuesday, April 10th, 2018 with their Official Schedule Release Party at co-presenting sponsor business, Sidewinders American Grill. The following 27 events are slated to take place during the community craft beer celebration over the course of the week:
Saturday, May 5th
Big Brew Day: Learn to Homebrew hosted by Bridger Brew Crew at Planet Natural
Cinco De Mayo Beer Brunch at Red Chair Cafe & Bar
Craft Beer Trivia at Bozeman Taproom
Craft Beer Week Kickoff Party at Sidewinders American Grill
Sunday, May 6th
Kombucha Day at Dean's Zesty Booch
2nd Annual Beer-lympics presented by Fermentana and Map Brewing Co.
Hop Hole Tournament at Outlaw Brewing Co.
Mountains Walking Beer Dinner at Mountains Walking Brewery & Pub
Monday, May 7th
Pint Night for GVLT at MAP Brewing Co.
Burger & Beer Pairing at Copper Whiskey Bar & Grill
Beer'd & Mash-tache Competition hosted by The Barborshop & Shaving Parlor at 406 Brewing Co.
Tuesday, May 8th
Stein Holding Competition at Bridger Brewing
Blazing Paddles Yeti-Style Tournament at MAP Brewing Co.
Pints from the Past hosted by The Extreme History Project at 406 Brewing Co.
Beer Pairing Dinner for Gallatin Valley Land Trust at Montana Ale Works
Wednesday, May 9th
Interactive Brew Day at Bunkhouse Brewery
Bozeman Beer Mile at Bozeman Brewing Co.
Pie & Beer Pairing at Vino Per Tutti
Dive Bar Burgers & Bozeman IPAs at The Haufbrau
Thursday, May 10th
Dee-O-Gee's Yappy Hour with Bunkhouse Brewery and Happy Dog Beer Co. at Dee-O-Gee
Burger & Beer Pairing with Great Burn Brewing at Fuddruckers
Beers & Bluegrass with Bozeman Brewing at Red Tractor Pizza
Cider House Tours & Tasting at Lockhorn Cider
Friday, May 11th
Spring Brewers' Rendezvous hosted by Montana Brewers Association at Haynes Pavilion, Gallatin County Fairgrounds
Rendezvous After Party at Bozeman Taproom
Saturday, May 12th
Prana Buzz at White Dog Brewing
BCBW Awards & Wrap-Up Event hosted by Fermentana at Sidewinders American Grill
Along with the robust events list, Fermentana has also released the official Bozeman Craft Beer Week Passport for 2018 to assist beer lovers with their craft beer week journey. This pocket-sized guide features a full schedule of events and over $100 in special incentives and discounts for passport holders at select sponsoring businesses throughout the week. Additionally, the Passport serves as event-goers' entry into the Bozeman Craft Beer Week Giveaway which consists of over $2000 worth of prizes from participating sponsors, including a brand-new kegerator and YETI Tundra 50 cooler each branded to celebrate Bozeman's Second Annual Craft Beer Week.
Passports are immediately available for purchase on the event website and at select sponsor retail locations around Bozeman after April 16th, including Sidewinders American Grill, MAP Brewing, and Dee-O-Gee. Craft beer drinkers can acquire their official Bozeman Craft Beer Week Passport and merchandise, as well as view complete event listings and ticketing info for the 8-day beer bash at www.bozemancraftbeerweek.com and watch the 2018 promo video on YouTube.
About Bozeman Craft Beer Week:  Bozeman Craft Beer Week is a grassroots collaboration organized by Fermentana. Now in its second year, this 8-day, multi-venue beer bash celebrates the diverse and thriving craft beer culture in southwest Montana's scenic Gallatin Valley through beer-centric events at local breweries, bars, restaurants, and more. With a focus on craft, community, and collaboration, Bozeman Craft Beer Week embodies the best our region's craft beer scene has to offer.
About the Organizers:
Fermentana is events promotions company focused on using fermented craft beverages to create positive change in communities. Featuring Montana-made beers, spirits, ciders, and more, Fermentana's events not only entertain but raise awareness and funds for important social and conservation causes across Montana. Learn more at http://www.fermentana.com/.
Media Contact:
Jesse Bussard, Co-Founder
814-599-5854; info@bozemancraftbeerweek.com
###
Contact Info
Company: Fermentana, LLC
Contact: Jesse Bussard
Email: fermentana@gmail.com