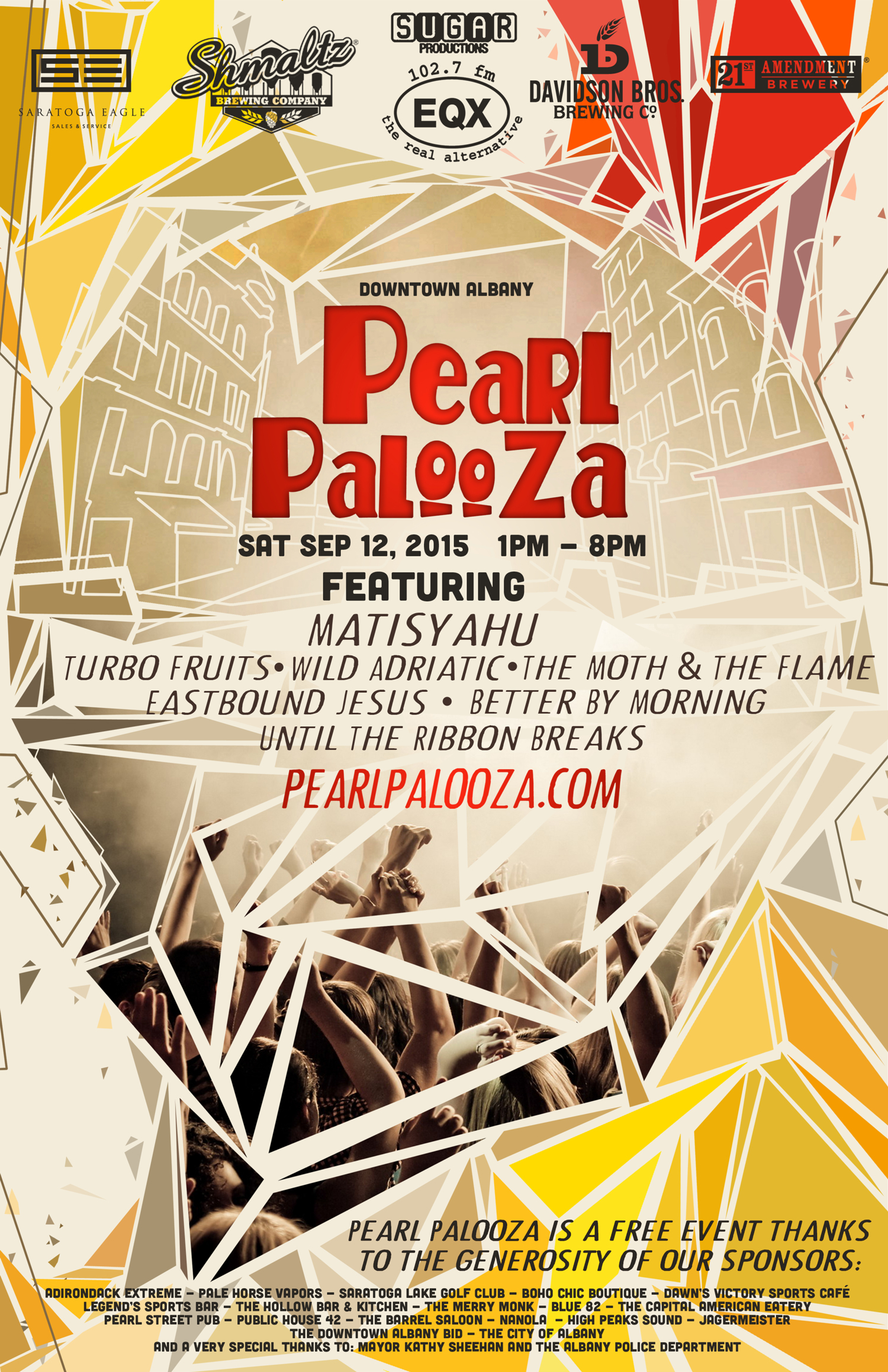 Shmaltz Brewing presents Pearl Palooza featuring Matisyahu
Party with the Shmaltz Tribe + 15,000 of our closest friends in Downtown Albany at PEARL PALOOZA 2015   Saturday, Sept. 12, 1-8pm
Pearl Palooza, Albany, N.Y.: Shmaltz Brewing and friends takes over Pearl Street in downtown Albany for an all-day music and beer festival Sept. 12. Admission to the street is free and includes performances by Matisyahu, The Moth & The Flame, Until the Ribbon Breaks and more. All bars along the street including Dawn's Victory Sports Café, Legend's Sports Bar, The Hollow Bar & Kitchen, The Merry Monk, Blue 82, The Capital American Eatery, and Pearl Street Pub will pour four Shmaltz beers on tap throughout the festival.
DRAFT Magazine says that Pearlapalooza is where you want to drink in September!
Can't wait for Pearl Palooza? Pre-party all week long with us at all these fantastic beer destinations as we lead up to the big event.
DRINK LOCAL, DRINK SHMALTZ + WIN VIP TREATMENT
MONDAY – SEPTEMBER 7
BREW Albany
5-7
 with 518 Belgian Wit 209 Lark St, Albany
Crossgates Mall, 1 Crossgates Mall Rd, Albany
WEDNESDAY – SEPTEMBER 9
THURSDAY – SEPTEMBER 10
FRIDAY – SEPTEMBER 11
Dawns Victory Sports Cafe
5-7
 with Slingshot American Craft Lager, 518 Belgian Wit 10 Sheridan Ave, Downtown Albany
Cafe 217
5-7
 with TBD 12½ Delaware Ave, Albany
The Merry Monk 7-9
 with 518 Belgian Wit and TBD 90 N Pearl St, Albany
Lark Tavern
7-9
 with Bittersweet Lenny's R.I.P.A. 453 Madison Ave, Albany
SATURDAY – SEPTEMBER 12 Stop by our tent on Pearl Street on the day of the event to meet the tribe, Shoot Out Big Beer with our Slingshot Game + enter to win Shmaltz Swag!
ENTER TO WIN AN ALL ACCESS PASS TO PEARL PALOOZA
At each of our upcoming promotional events, Shmaltz will offer attendees a chance to win a pair of VIP tickets, 
YOUR ALL ACCESS PASS
 to the party.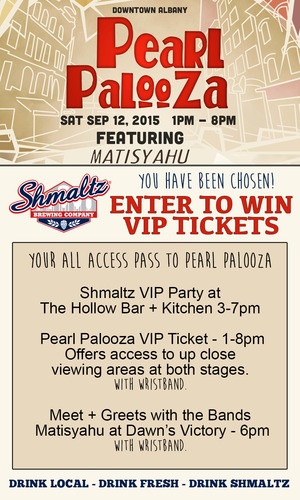 YOUR VIP TICKET INCLUDES ACCESS TO:
SHMALTZ EXCLUSIVE VIP PARTY at the Hollow Bar + Kitchen from 3-7pm.
PEARL PALOOZA VIP WRISTBAND Offers access to up close viewing areas at both stages from 1-8pm.
Contact Info
Company: Shmaltz Brewing Company
Contact: Shelby Schneider
Email: shelby@shmaltzbrewing.com