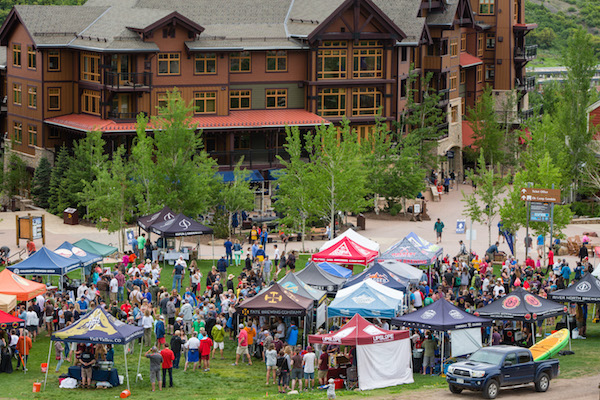 The Snowmass Rendezvous Craft Beer Festival Returns June 10th
What: The second annual Snowmass Rendezvous Craft Beer Festival summons more than 30 Colorado craft breweries to the Roaring Fork Valley for a day of beer tasting and live music. This year's festival includes access to headliner Hot Buttered Rum's slopeside evening concert. Hot Buttered Rum will take the stage on Fanny Hill at 5:00 p.m. with the Aspen Valley providing the scenic stage backdrop.
When: Saturday, June 10 from 3:00 – 6:00 p.m.
Where: The Snowmass Mall and Top of Fanny Hill, Snowmass Village, CO 81654
Why: Snowmass is one of the great Colorado resort destinations that really comes alive every summer, and is the perfect setting for a world class craft beer festival. Snowmass Rendezvous brings two classic Colorado treats, good beer and good tunes into one perfect day in the high country.
Participating breweries include:
Aspen Brewing Company
Bonfire Brewing
Boulder Beer Company
Bruz Beers
Cerebral Brewing
Crazy Mountain Brewing Company
Elevation Beer Company
Epic Brewing Company
FATE Brewing Company
Fiction Beer Company
Florence Brewing Company
Grist Brewing Company
Hideaway Park Brewing
Odd13 Brewing
Odell Brewing Company
Our Mutual Friend
Palisade Brewing Company
Platt Park Brewing Company
Roaring Fork Beer Company
Rock Bottom Brewery
Sanitas Brewing Co.
Something Brewery
Storm Peak Brewing
Telluride Brewing Company
Upslope Brewing Company
Verboten Brewing
Ticket Information: General admission tickets are $30 and include unlimited tastings from 30 Colorado craft breweries and commemorative glassware. To purchase tickets and for lodging information visit https://www.snowmassbeer.com. The Snowmass Rendezvous benefits the Colorado Brewers Guild.
Media Access: To apply for media credentials, please email alex@lexapr.com.
Photos: Visit http://bit.ly/2olyZIF for event photos. Photo credit can be given Two Parts.
About Two Parts
Two Parts is a Denver-based event production and promotions company that coordinates with the best restaurants, bars, music venues, and other fine establishments to create craft experiences. Two Parts produces experiences such as the Collaboration Fest, Denver Flea, Denver Beer Festivus, The Big Eat, and The Passport Program. For more information, visit twoparts.com.
About the Colorado Brewers Guild
The Colorado Brewers Guild (CBG) is a non-profit trade association representing Colorado craft breweries and brewpubs. CBG is dedicated to the improvement of business conditions and is an advocate for its members. CBG sponsors a variety of beer events each year designed to increase the awareness and appreciation of Colorado-brewed beer. Board members include: Brad Lincoln (Funkwerks Brewing Company), Brian O'Connell (Renegade Brewing Company), Chris Wright (Pikes Peak Brewing Company), Eric Wallace (Left Hand Brewing Company), Kim Jordan (New Belgium Brewing Company), Kristen Muraro (Ska Brewing Company), Matt Cutter (Upslope Brewing Company), Mike Bristol (Bristol Brewing Company), Tim Myers (Strange Brewing Company), Tony Simmons (Pagosa Springs Brewing and Grill), Wynne Odell (Odell Brewing Company). For more information about the Guild, visit www.coloradobeer.org.
Contact Info
Company: Lexa PR
Contact: Alexandra Weissner
Email: alex@lexapr.com