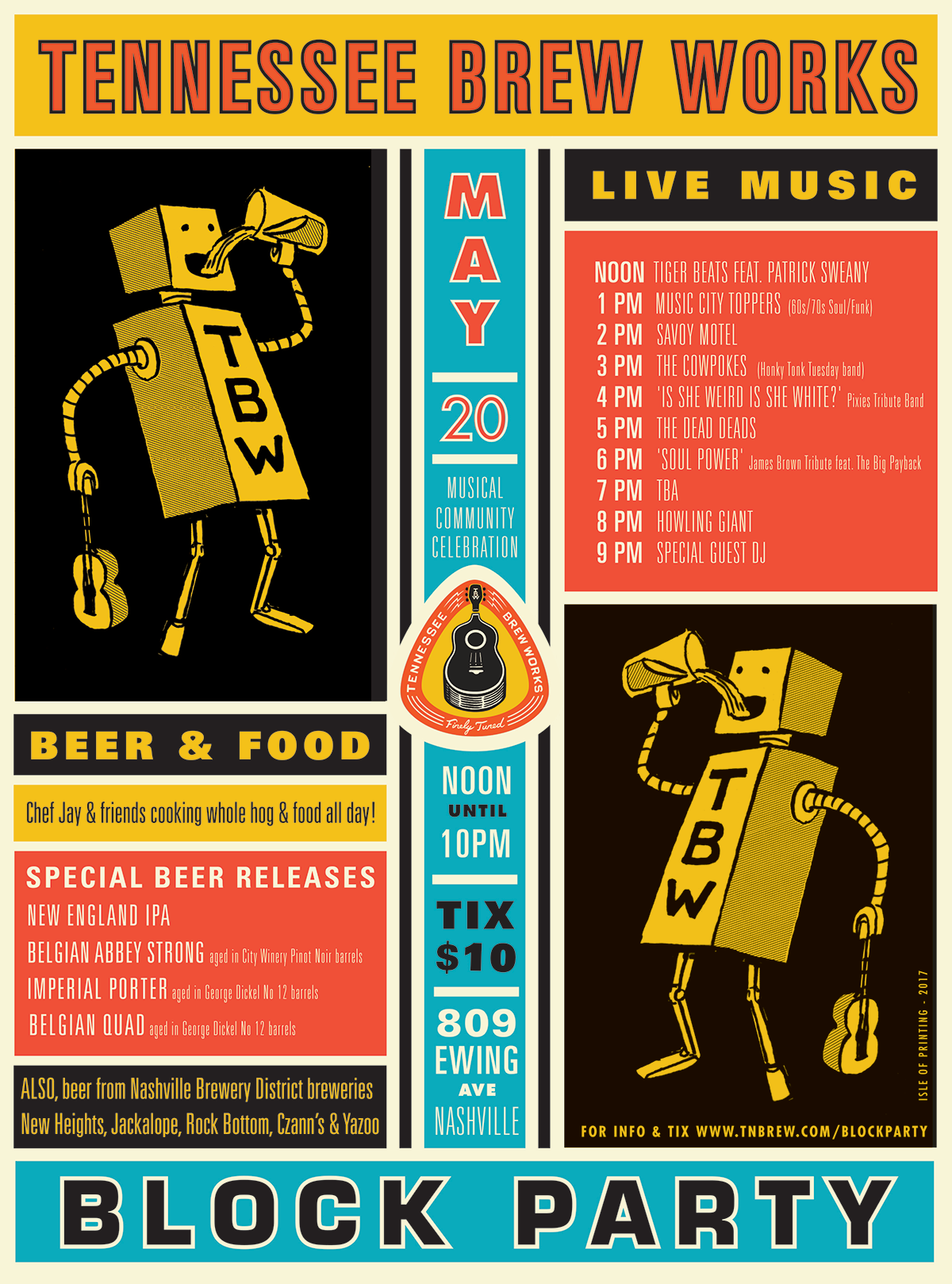 Tennessee Brew Works: BLOCK PARTY 2017!
Tennessee Brew Works: BLOCK PARTY 2017 is here with an amazing music and beer line-up!
The Tennessee Brew Works: BLOCK PARTY returns on May 20th to the Pie Town Neighborhood of downtown Nashville, Tennessee. 
Tennessee Brew Works is teaming up with the Basement East, Freedom Farm Animal Sanctuary, Lightning 100, Nashville Brewery District brewers and neighborhood friends for their annual BLOCK PARTY on May 20 at their Taproom located at 809 Ewing Ave. Working with the Basement East, the Block Party will feature some of the latest premier musical acts. Artists performing will be announced each week by the Basement East. Here are the acts performing:
NOON Tiger Beats featuring Patrick Sweany 1PM Music City Toppers (60s/70s Soul/Funk) 2PM Savoy Motel 3PM The Cowpokes (Featured band on Honky Tonk Tuesday at The American Legion Post 82) 4PM 'Is She Weird Is She White?' Pixies Tribute Band 5PM The Dead Deads 6PM 'Soul Power' James Brown Tribute featuring The Big Payback 7PM TBD 8PM Howling Giant 9PM SPECIAL GUEST DJ
"The Tennessee Brew Works BLOCK PARTY is a musical celebration of craft beer and the community around us. We will be joined by many of our neighborhood friends including Isle of Printing, New Heights Brewing, Jackalope Brewing Co, Yazoo Brewing Co, Rock Bottom Brewing Co and Czann's Brewery and more. This event brings together the community and their love of live music, great food and great beer. Tennessee Brew Works Chef Jay Mitchell, and his culinary fiends, will be cooking up some amazing food for this event," says Christian Spears, President and Founder, Tennessee Brew Works.
The Tennessee Brew Works Block Party is May 20 from 12 pm to 10 pm. The 21+ unless accompanied by an adult event is dog friendly and benefits the Freedom Farm Animal Sanctuary which is dedicated to rescuing abused, abandoned and neglected animals in Middle Tennessee. Tickets are $10 in advance and can be purchased at http://bit.ly/TBWBlockParty. Remaining tickets will be sold at the door.
ABOUT TENNESSEE BREW WORKS
Tennessee Brew Works was born from a love for craft beer. A start-up which began over a home-brew session, they ultimately celebrated their first professional brew in August 2013. Tennessee Brew Works is 100% owned and operated by folks in Tennessee. They are guided by their motto: "We work hard to create high quality craft beer that makes Tennessee proud. Our culture places importance on family, friends, and community, and we hope you'll be a part of it."
ABOUT THE BASEMENT EAST
Opened in April 2015, The Basement East has a reputation for must-see shows in Nashville. As the largest music venue on the East Side, 'The Beast' has played host to nationally touring acts: Dashboard Confessional, Cage the Elephant, MuteMath, The Mavericks, Jenny Lewis, Dawes, Alice Cooper, Chris Stapleton to name a few. The venue's reputation for a multitude of quality shows can be attributed to owners Mike Grimes and Dave Brown's relationships in the Nashville music scene dating back to the 1990's.  The OG Basement, located underneath Grimey's New & Preloved Music, remains a favorite venue among locals. For 15 years The Basement has hosted the best in up-and-coming local acts and also serves as the perfect industry showcase venue, yet out-of-the-way enough to host random secret shows. Metallica stopped by in 2008.
Contact Info
Company: Tennessee Brew Works
Contact: Christian Spears
Email: info@tnbrew.com