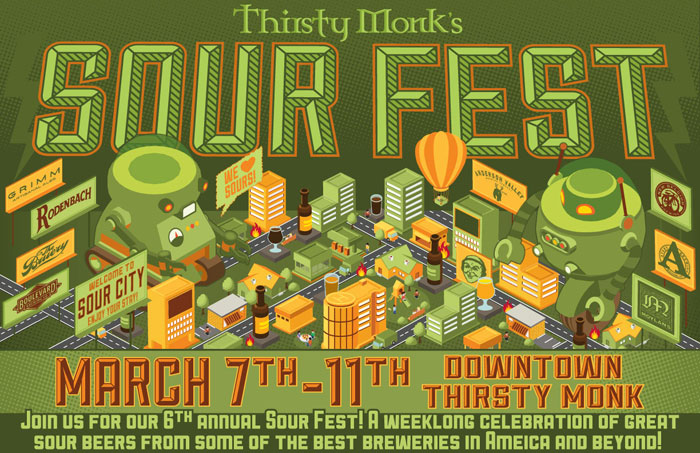 Thirsty Monk Hosts Sixth Annual Sour Fest March 7th-11th, 2016
Thirsty Monk hosts week long celebration of sours and wild ales, March 7th-11th at Downtown location; March 10th, one-day at Biltmore Park and Woodfin locations.
ASHEVILLE, NC – Thirsty Monk is known for innovative events and constantly changing tap lines, and now they're excited to announce their sixth annual Sour Fest, coming up next month, March 7th-11th. The bar, which is currently in the running as one of the top beer bars in the country by USA Today, will hold a week long celebration of sour beers and wild ales.
Sour Fest will kick off a busy spring season for the Monk, taking place at all three locations. "These big annual events, like Sour Fest are really things that we talk about, work on, and look forward to all year," said Chall Gray, Thirsty Monk's VP. "Our Beer Buyer, Joanna Postlethwaite started brainstorming beers for this event last year, and we've got a pretty awesome lineup, thanks to her work," Gray said.
The flagship Downtown Thirsty Monk will feature special sour and wild tappings from Monday, March 7th through Friday, March 11th. The Biltmore Park and Woodfin Thirsty Monk locations will tap their sour offerings on Thursday, March 10th.
Highlights in this year's Sour Fest lineup include The Bruery Oude Tart and Gypsy Tart, Avery Twenty Two and Raspberry Sour, Bells L'Appel Du Vide, New Belgium La Folie and Transatlantique Kriek, Anderson Valley Horse Tongue Thribble Currant, Moylan's Lonely Tart's Club, Grimm Purple Prose, Sam Adams KMF Grand Cru, Rodenbach Vintage 2013 and many more. A schedule of releases will be shared as the week approaches.
Thirsty Monk continues to grow its reputation as one of the Southeast's finest craft beer bars, with recent accolades including Ratebeer's Best Bar in the NC subregion in their annual "Best Of", Southern Living's "South's BestBeer Bars" and more. With events like Sour Fest on the way, followed by NC Beer Month in April, and Asheville Beer Week in May, there will be no shortage of reasons to visit and enjoy a beer. Cheers!
###
Contact Info
Company: Thirsty Monk Pub & Brewery
Contact: Joanna Postlethwaite
Email: joanna@monkpub.com