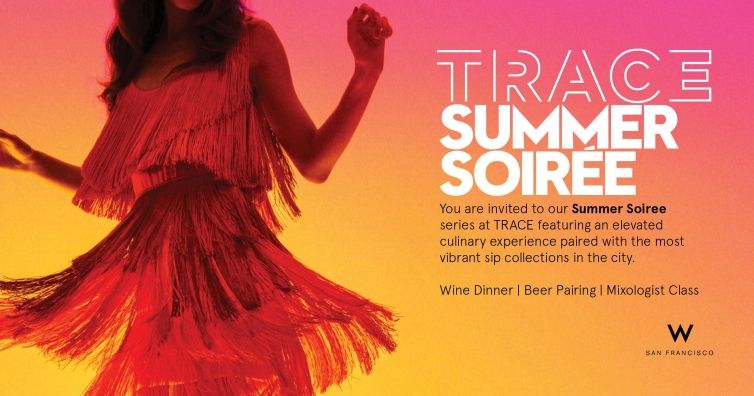 TRACE Summer Soiree: Fort Point Beer Pairing
W San Francisco presents the TRACE Summer Soirée series, an elevated culinary experience paired with the most vibrant sip collections in the city.
You're invited to join us on Thursday, August 10 for an evening beer tasting with San Francisco-based Fort Point Beer Company. Amp up and mingle in TRACE and Hunt Lane, indulging in 6 different beer pairing stations and tunes by one of our resident DJs.
TRACE | FORT POINT BEER TASTING MENU
KSA | 4505 cheddar bratwurst, brown sugar baked sour kraut PARK | texas style bbq beef brisket, mustard sauce WESTFALIA | lamb belly pastrami, harissa coleslaw VILLAGER | whole grilled northern california sierra porcini mushroom, wild mountain huckleberry glaze STANDARD | tenbrink farm's heirloom tomato salad, banyuls vinegar, big rock blue cheese ANIMAL | strawberry and tarragon meringue
TRACE Restaurant @ W San Francisco Thursday, August 10 5PM – 8PM $49 [Tax & Gratuity Included]
About Fort Point Brewing
Fort Point Beer Company is a New American brewery – the product of a thriving American craft beer culture, shaped by deeply San Franciscan values: quality craftsmanship and a spirit of innovation. We create balanced, thoughtful beers that reference traditional styles but are by no means bound to them. For us, brewing is the confluence of creative expression and refined technique. We want our beers to tell a story, inspire an idea, and be thoroughly enjoyable.
Fort Point Beer Company was founded in 2014 by brothers Tyler and Justin Catalana in the Presidio of San Francisco. The brewery resides in an historic Presidio building that was formerly used as an Army motor pool. Being situated in this iconic landscape reinforces our pride in San Francisco and in the beer we brew. Head Brewer Mike Schnebeck has developed a deft and impassioned brewing style over the past years at Mill Valley Beerworks and leads the pioneering spirit of our beers.
Contact Info
Company: W San Francisco
Contact: W San Francisco
Email: whatever.wheneversf@whotels.com