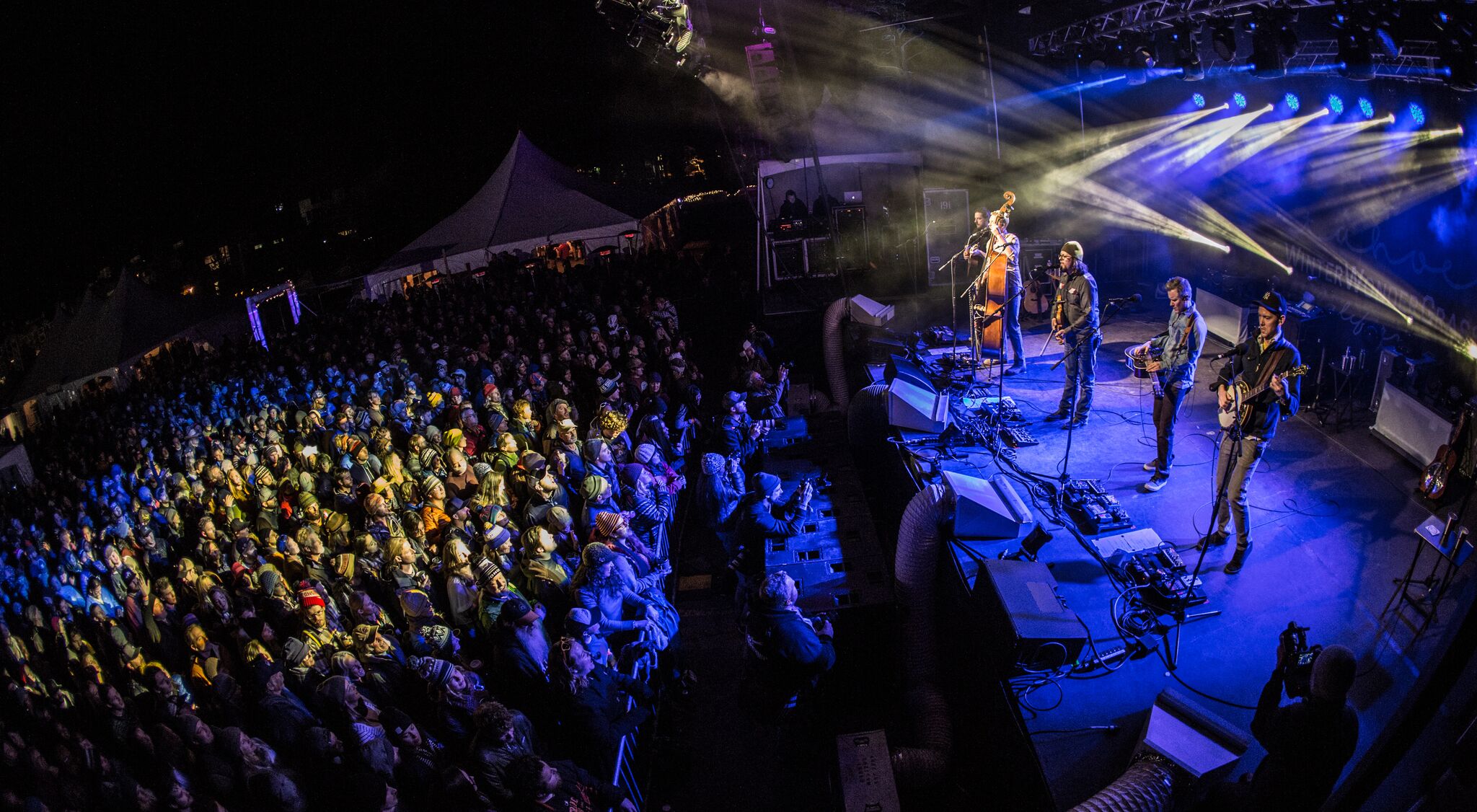 WinterWonderGrass California Announces 2017 Brewery and Band Lineup
Olympic Valley, Calif. – Nov. 17, 2016 – WinterWonderGrass, a sustainable, community-focused, lifestyle-driven bluegrass and craft brew experience, returns to Squaw Valley Alpine Meadows for its third year March 31 – April 2, 2017. WinterWonderGrass has established itself as the premier winter bluegrass music and brew festival in the nation, featuring 25 bands, and more than 12 California and Nevada  breweries including Sierra Nevada Brewing Company, Green Flash Brewing Co., and Stone Brewing.
"Returning to Squaw Valley Alpine Meadows and North Lake Tahoe each winter has quickly become a long anticipated tradition for the WinterWonderGrass family, said Scotty Stoughton, founder of WinterWonderGrass. "Planting and growing the seeds of the festival in a community so richly immersed and protective of the stunning natural beauty and world renowned features fuels our inspiration. It's the people of Lake Tahoe we yearn to revisit each winter, to catch up on stories, create new memories and continue to build the foundation of an authentic, locally focused and sustainable musical gathering."
California and Nevada craft breweries will be pouring their signature brews from 2:00 pm-5:00 pm each day in three heated beer tents. All brew tents include side stages surrounded by hay bales, patio lights, barn wood decor and whiskey barrels, the perfect space for hosting raucous bluegrass jams.
This year's participating breweries include, 2 Rivers Cider Co., FiftyFifty Brewing Co., Bay City Brewing Co., Bear Republic Brewing Co., Great Basin Brewing Company, Green Flash Brewing Co., Knee Deep Brewing Company, Lagunitas Brewing Company, Magnolia Brewing Company, North Coast Brewing Company, Rubicon Brewing Company, Sierra Nevada Brewing Company, Stone Brewing, and more to come.
WinterWonderGrass Festival is the perfect storm of world-class bluegrass, roots and acoustic artists, craft beer and libations under the Sierra Nevada mountains. Paramount to the festival's vision is establishing roots in a setting that incorporates on-mountain activities, environmental awareness and a love for the mountain lifestyle. Throughout the weekend WinterWonderGrass will host pop-up bluegrass jams on the majestic slopes of Squaw Valley Alpine Meadows as well as spontaneous tram jams with WinterWonderGrass artists collaborating for inspired aerial melodies. WinterWonderGrass has also made its debut in the winter lifestyle arena having been featured in the new Warren Miller film, "Here, There and Everywhere" with footage of Squaw Valley's 2016 WinterWonderGrass Festival.
Performing against snowy mountains and star-filled California skies are headlining artists Greensky Bluegrass, Yonder Mountain String Band, Leftover Salmon, The Sam Bush Band, and The Infamous Stringdusters.
Additional main stage artists include Peter Rowan, Fruition, Hot Buttered Rum, The Dustbowl Revival, Everyone Orchestra featuring the WinterWonderGrass Allstars, Mandolin Orange and local Tahoe favorites, Dead Winter Carpenters. Three large heated tents, Jamboree, Pickin' Perch and The SoapBox will flank the main outdoor stage with bluegrass artists The Lil' Smokies, Head for the Hills, Horseshoes and Hand Grenades, Trout Steak Revival, Grant Farm and Jon Stickley Trio.
WinterWonderGrass, Squaw Valley Alpine Meadows and Tahoe Food Hub team up once again to present The Tram-to-Table kick-off dinner, Thursday March 30th. Attendees ride the Tram to High Camp at 8,200 feet, where they will be greeted with an intimate set by bluegrass legend Peter Rowan with Fruition. The event features family style dinner with locally sourced foods from Tahoe Food Hub, accompanied by a cocktail hour of beer, wine and whiskey tastings by festival partners Sierra Nevada Brewing Company, Long Meadow Ranch Winery and Breckenridge Distillery. The Tram-to-Table ticket is a separate ticket with prices starting at $149.
WinterWonderGrass has donated more than $40,000 to local charitable organizations focusing on music and arts education, environmental protection and disaster relief. This year the festival has aligned with local Lake Tahoe organizations The Shane McConkey Foundation, Tahoe Food Hub and Arts for Schools.
WinterWonderGrass is a community and family friendly event with a colorful kids' zone including face painting, hula hooping, acro yoga and craft creation. Children under the age of 12 are free and seniors over the age of 75 are also free.
Three-day general admission festival ticket prices start at $139 and VIP three-day tickets start at $279. Prices will increase as we get closer to the festival  All three-day festival tickets include a commemorative festival beer mug, three hours of beer tastings each day and live music from 2-10 pm.  Tickets are on-sale at www.winterwondergrass.com.
About WinterWonderGrass
Music, brews and mountains is the foundation for the WinterWonderGrass Festival featuring more than 25 bands and 20 Colorado breweries over four days.  WinterWonderGrass Festival is the perfect storm of world-class bluegrass, roots and acoustic artists, craft beer and libations under star filled Rocky Mountain nights encapsulating all things Colorado. WinterWonderGrass packs an incredible amount of fun into its' four day event, offering attendees the spirit of an intimate gathering combined with a contagious high energy. With the unbroken sound of acoustic rooted jams coming from four different stages throughout the weekend, and the 'Grass after Dark' late night shows around the community, the music never stops. For more information on the festival, lodging and ski passes visit www.winterwondergrass.com.
Contact Info
Company: Lexa PR
Contact: Alexandra Weissner
Email: alex@lexapr.com