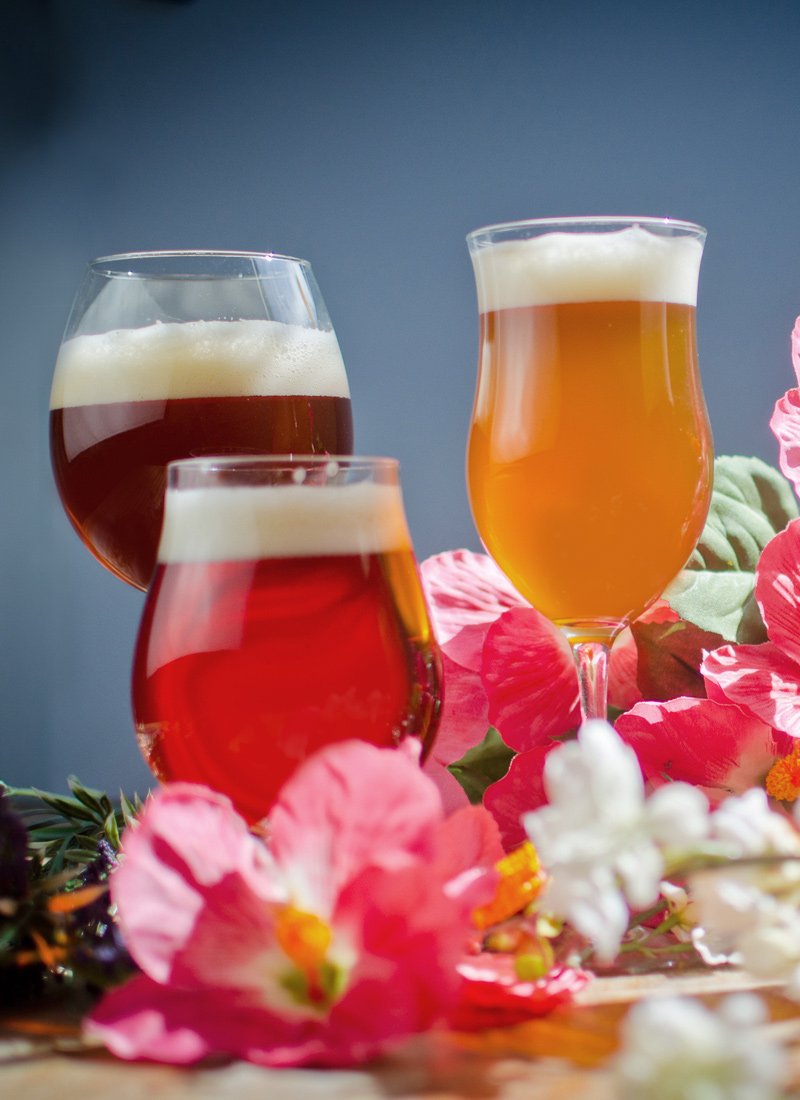 Flower Power: Brewing With Summer's Blossoms
April's showers brings May flower…beers?
Technically speaking, all brewers brew with flowers, as hops are actually the female flowers of the Humulus lupulus plant. Although it sounds like a modern-day concept, humans have been brewing with flowers and other herbs since, well, brewing was invented. In fact, the use of hops as a flavoring agent is the more contemporary technique, only dating back to the 11th century (beer dates back to 9500 B.C.).
Although an ancient practice, using flowers is still a very progressive concept today. With little research available on the subject, it can be difficult for brewers to figure out the what, where, how much and when of brewing with flowers. This knowledge usually comes with experimentation and probably a few muck-ups.
"We learned early on with any beer that you start out very light-handed on the spice, fruit, etc," notes Garrett Marerro of Maui Brewing Co. "You can always add more later (cold side, teas, etc), but if you overdo it, the beer suffers."
Regardless of the challenges, some brewers have mastered the art of brewing with flowers. Here are some of my favorite "flower power" ales.
Rosa Hibsicus Ale | Revolution Brewing | Chicago, IL Beer Description: highly drinkable ale steeped with hibiscus flowers and a touch of orange peel for a natural tartness and slight pink hue.
"Rosa is our summer, beer garden beer and the tartness is great on a hot day. The base beer lets the hibiscus shine, both in taste and color. You'll taste a natural tartness from the hibiscus, which is a great source of vitamin C.  We also use dried orange peel to round out the flavor so it isn't just the hibiscus and you get some fruit. I like to drink it really cold—like iced tea—and it drinks very easy." – Josh Deth, Revolution's Chairman of the Party
Flowers Infusion | Willimantic Brewing Company |  Willimantic, CT Beer Description: saison brewed with wildflower honey, calendula, hibiscus, lavender, roses and a trade secret flower.
"We designed a very simple base beer with a light, flavorful body. We felt that the French Saison yeast strain fermented at a higher temperature would work well with the flowers we selected. The yeast incorporates multiple flavors and aromas that compliment the flowers." – David Wolliner, owner and brewmaster
Nautilus Hibiscus Saison | Pacific Brewing Laboratories | San Francisco, CA Beer Description: saison brewed with coriander, bitter orange peel and hibiscus flowers. Nautilus has a crisp, tart flavor and a reddish, pink hue.
"When used modestly, flowers produce a great color and aroma that compliment the malty and hoppy flavors already in beer. We chose to add hibiscus flowers to our saison because hibiscus adds a tart and fruity flavor that balances out the farmhouse flavor created by the Belgian Saison yeast. Saison is a light style beer, which allows the flower flavor to blossom." – Bryan Hermannsson, owner and Chief Mad Brewer
Saison de Wench | Bison Organic Beer | Berkeley, CA Beer Description: Belgian farmhouse ale brewed with rose petals, rose hips, hibiscus, pink peppercorn and lemongrass.
"In 1998, a fantastic book came out called Sacred and Herbal Healing Beer. It validated some of the herb beers I was already brewing, like my Honey Basil Ale, and encouraged me to go further and experiment with roots and flowers. Lighter beer styles, especially saisons, are a perfect canvas for flowers. Saison de Wench showcases the flowers quite beautifully. It has a bright floral nose, hints of tartness from hibiscus and lemongrass, finishing spicy and dry." – Dan Del Grande, Chief Hoperations Officer
Hops & Roses Brewery | Captain Lawrence Brewing Company | Elmsford, NY Beer Description: Liquid Gold aged in wine barrels with hibiscus, rose hips and elder flowers.
"A sour beer with herbs and flowers just seemed like a good fit in my mind. The beer has a two-part sourness that comes from the Brettanomyces, as well as the flavors of the hibiscus. The aromas are dominated by the elderflower and rose hips, which impart very floral and perfumy notes. Overall the beer is dry, refreshing, tart and lightly fruity…perfect for a spring day in New York." – Scott Vaccaro, owner and head brewer
Hibiscus IPA | Coronado Brewing Company &  Maui Brewing Co. | Lahaina, HI Beer Description: IPA made with Centennial, Chinook and Nugget hops with the addition of hibiscus flower.
"We try to draw on what the local agriculture provides. Hibiscus is very local, as its known worldwide as a symbol of Hawaii. We often use these, dare I say "adjuncts" to enhance the experience by layering subtle flavors much like a good chef does with their food. None are ever a dominant flavor, they shouldn't be—it's beer." – Garrett Marero, owner and brewmaster
Oh Face, Provisional Saison | Trinity Brewing | Colorado Springs, CO Beer Description: wild saison brewed with lavender and aged in French oak barrels.
"Traditional farmhouse versions incorporated a wide range of ingredients outside the realm of the "base four," so brewing with flowers was a natural choice. I also use a few mild brettas (wild yeasts) in this beer, whose character is very compatible with the flavors of lavender. In fact, the combination of the specific yeasts along with lavender flower tips creates a unique cinnamon note, reminiscent of cupcakes."  – Jason Yester, president and brewmaster
Rose Petal Imperial Golden Ale | Caldera Brewing Company | Ashland, OR Beer Description: the beer is like a party at grandma's house with intense, aromatic fragrance of roses. Brewed with real rose petals and Bulgarian rose water.
"I always wanted to brew with real rose petals—wanted that nice aroma. I choose a big golden ale so the alcohol would balance with the rose petals. I also choose this style as it does not contain dark malts, which would not compliment the rose petals" – James Mills, owner and head brewer
Jasmine Pale Ale | Rock Art Brewery | Morrisville, VT Beer Description: amber ale with nice malt sweetness and just a hint of jasmine and hops.
"I like using alternative ingredients, it makes me feel a connection to the past when beers were made with lots different ingredients. Jasmine is unique, aromatic, romantic and some feel an aphrodisiac. Our Jasmine Pale Ale is a soft summer brew, herbal, flowery and aromatic, great for a summer day. There's just enough hop flavor that the beer is not sweet, a little caramel malts for flavor and a light ruby color and jasmine in the aroma and flavor, very unique and both guys and gals enjoy it!" – Matt Nadeau, owner and brewer
Baudelaire Series iO Saison | Jolly Pumpkin Artisan Ales | Dexter, MI Description: red saison
"Farmhouse ales can have earthy spicy notes that work really well with the sweet aroma of many flowers—which often have an earthy note as well. Many flowers have bitter, tart and sweet flavor characteristics which again can work well with farmhouse style beers." – Ron Jeffries, founder and brewmaster
Quick Wit | Fort George Brewery | Astoria, OR Beer Description: Belgian wit brewed with organic pale and wheat malts, ground coriander, organic lemongrass and wild-crafted elderflower.
"I was looking for something local and floral as our not-so "secret ingredient." I looked into elderberries, but was soon sold on the elderflower as the answer. Just the right amount makes for a really interesting and quite delicious compliment to the coriander and wheat malt." – Jack Harris, proprietor and brewmaster
---