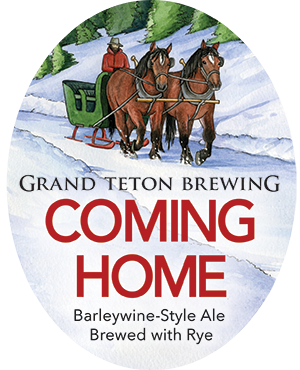 Grand Teton Brewing Releases Coming Home 2016 Holiday Ale
VICTOR, ID – Grand Teton Brewing Company, known throughout the West for their exceptional craft brews, is proud to announce the release of Coming Home 2016 Holiday Ale, the final release in their 2016 Cellar Reserve series. Grand Teton Brewing's intent for their annual Coming Home Holiday Ale series is to release a special beer in November for enjoyment with special friends on a special occasion during the holiday. This year's version is an American-Style Rye Wine brewed with Southern Idaho 2-row pale malted barley combined with German rye and specialty malts. This produces a mahogany to dark ruby red color, generous malt body and peppery spiciness.
The spicy rye is complemented by about five pounds of bold American hops per barrel. Chinook and Galena hops developed and grown in Idaho, along with Idaho-grown Bravos give this strong ale a decidedly American flavor.
Piney floral hops are evident when Coming Home is enjoyed fresh. Cellaring will enable these flavors to mellow, allowing the malt to shine with additional notes of raisin and fig.
Alcohol by Volume: 10.0% • Original Gravity (Plato): 21˚ P International Bitterness Units: 75 • Color (Lovibond): 25˚
Coming Home 2016 Holiday Ale will be available November 1, 2016 in bottle-conditioned 12/750 mL cases1/6 and 1/2 bbl kegs. Grand Teton Brewing was founded in 1988 as the first modern "micro" brewery in Wyoming. Their premium microbrews include the 15x Gold Medal Winning Bitch Creek ESB; 2014 Great American Beer Festival Silver Medal Winner 208 Session Ale; 2009 Great American Beer Festival Gold Medal Winner Sweetgrass APA; and, favorites of the Yellowstone and Grand Teton National Parks Old Faithful Ale, Howling Wolf Weisse Bier and Amber Ale. From their production facility in Victor, Idaho, Grand Teton Brewing beers are handcrafted from only the finest ingredients, including locally grown grains, Idaho grown hops and pure Teton Mountain spring water. Discriminating beer drinkers can find their favorite Grand Teton Brewing brews on tap and in bottles throughout California, Colorado, Idaho, northern Illinois, Kansas, Minnesota, Missouri, Montana, Nevada, North Dakota, North Carolina, South Carolina, South Dakota, Washington, Wisconsin and Wyoming. ###