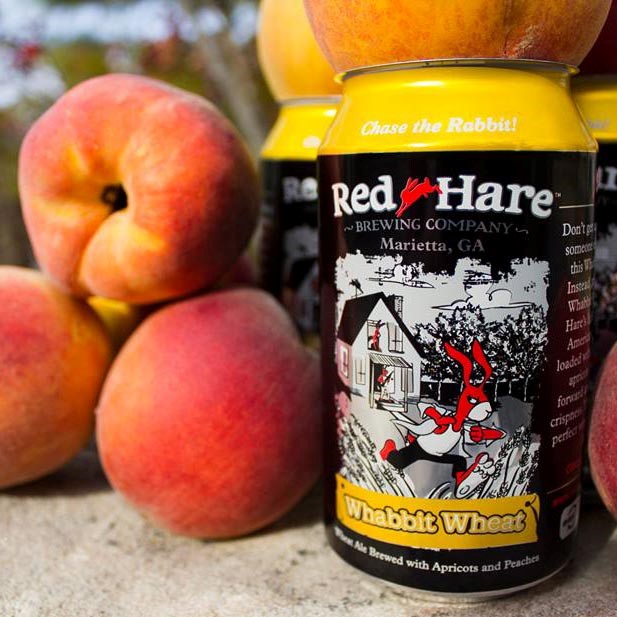 Red Hare Brewing Brings Back Whabbit Wheat Ale
By popular request, Georgia microbrewery, Red Hare is bringing back its fan favorite, award-winning seasonal Whabbit Wheat. The American style wheat ale, brewed with pounds of real peaches and apricots will be available in 12-oz cans and on draught in bars, restaurants and retail stores across Georgia, South Carolina and Tennessee as early as February. It will also be among the Red Hare brands rolling out in Alabama and the Florida panhandle in mid-March of this year, a new territory for the brewery.
Whabbit Wheat takes the Gold. During its successful 2015 launch, Whabbit Wheat was awarded a 93 rating and gold medal by the Beverage Tasting Institute in their World Beer Championship. They described the American wheat ale as having "very tasty and pure fruit flavors with a balanced, drying finish; great fruity, food beer."http://www.tastings.com/scout_beer.lasso?id=211179
Red Hare's head brewer Bobby Thomas used over 5,000 pounds of peaches and apricots to brew this lightly-hopped wheat ale; an ode to Red Hare's Southern roots (Georgia and South Carolina being two of the nation's leading peach producers). Saaz hops add floral notes that play well with the tart crispness of the apricots and slight sweetness of the peaches. At 5.6% ABV it is the perfect beer to enjoy throughout Spring and Summer. The beer will be reintroduced to the general public at its launch party in Marietta, GA on February 20th where a six-pack of Whabbit Wheat will be included in the tour package for each tour guest over 21. For more information about the event, check out: https://www.facebook.com/events/1687341398190751/
About Red Hare Brewing Company Red Hare Brewing Company, the only microbrewery in Marietta, GA, currently distributes their brands throughout Georgia, South Carolina, and Tennessee. They will be expanding their footprint to include Alabama and the Florida panhandle this year. Red Hare brews four year-round beers: Gangway IPA, Long Day Lager, Cotton Tail Pale Ale and Watership Brown. Red Hare was the first craft brewery in Georgia to can their beer and the world's first brewery to use a more eco-friendly can, the evercan, made with guaranteed 90% recycled aluminum. The brewery tasting room is open to the public for tours and tastings Wednesdays through Fridays from 5:30-7:30 and Saturdays from 2-6 pm. For more information visit their website at www.redharebrewing.com.