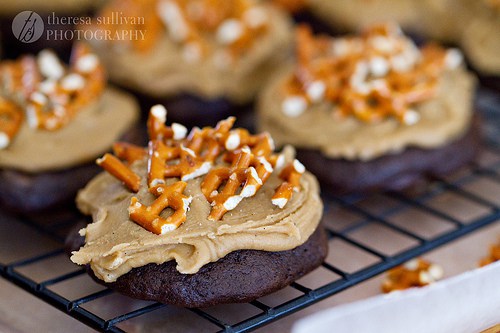 These salty-sweet cookies from The Craving Chronicles combines caramel, chocolate and pretzel with your favorite stout to create a bite-sized gooey treat.
Ingredients
Cookies
1 1/2 cups flour
1/4 cup unsweetened cocoa
1Tbsp dark cocoa
1/2 tsp salt
1/2 tsp baking soda
1 tsp baking powder
1/2 cup unsalted butter, at room temperature
1/2 cup dark brown sugar
1/4 cup sugar
1/2 tsp vanilla
1 egg
6 ounces stout
1 1/2 cups bittersweet chocolate chips
1 batch Salted Caramel Frosting (below)
1 bag of salted pretzels

Salted Caramel Frosting
1/2 cup (1 stick) salted butter
pinch of salt
1 cup packed dark brown sugar
1/4 cup heavy cream
1 tsp vanilla extract
1 cup + up to 4 Tbsp powdered sugar
---
Directions
Cookies
Preheat oven to 350°F. Line two baking sheets with Silpats or parchment paper.
In a medium bowl, whisk together the flour, cocoa powders, salt, baking soda and baking powder.
Beat butter with sugars with a mixer using the paddle attachment until light and fluffy, about 3 minutes. Add vanilla and egg and beat to combine. With the mixer on low, add flour mixture in thirds, alternating with the stout. Beat just until combined. Fold in chocolate chips with a spatula.
Chill dough in the fridge for about 15 minutes, or until firm enough to scoop.
Using a 2-tablespoon cookie scoop, scoop dough onto prepared baking sheets about 2 inches apart. Bake at 350°F for 15-17 minutes or until tops spring back lightly when touched. Cool on pan for 2-3 minutes, then transfer to a wire wrack to cool completely.
 Salted Caramel Frosting
In a medium saucepan, melt butter, salt and brown sugar over medium heat, stirring to combine. Bring mixture to a boil, stirring frequently. Boil unstirred for 1-2 minutes.
Remove from heat and immediately whisk in cream. (Careful! Hot caramel may spatter.) Whisk in vanilla. Cool 5-10 minutes, then stir in 1 cup powdered sugar. Whisk briskly to smooth out any lumps. If needed, add powdered sugar 1 tablespoon at a time (up to 4 tablespoons), whisking briskly between each addition, until frosting is firm enough that the whisk tracks don't sink all the way back into the frosting.
Assembly
Crush pretzels into small pieces in a plastic storage bag using your hands, or with a food processor. Spread pretzel crumbs out in a pie plate or on a small baking sheet.
Only frost cookies once they have cooled completely. Working with warm frosting still in the pan, spread frosting on a few cookies at a time. Dip each cookie frosting side down in the pretzel crumbs, pushing lightly to make sure they stick.
It's best to dip the frosted cookies into the crushed pretzels, that way you pick up more of the salty pretzel flavor on the cookies.
Frosting will dry as it cools, so work with only a few cookies for best results.