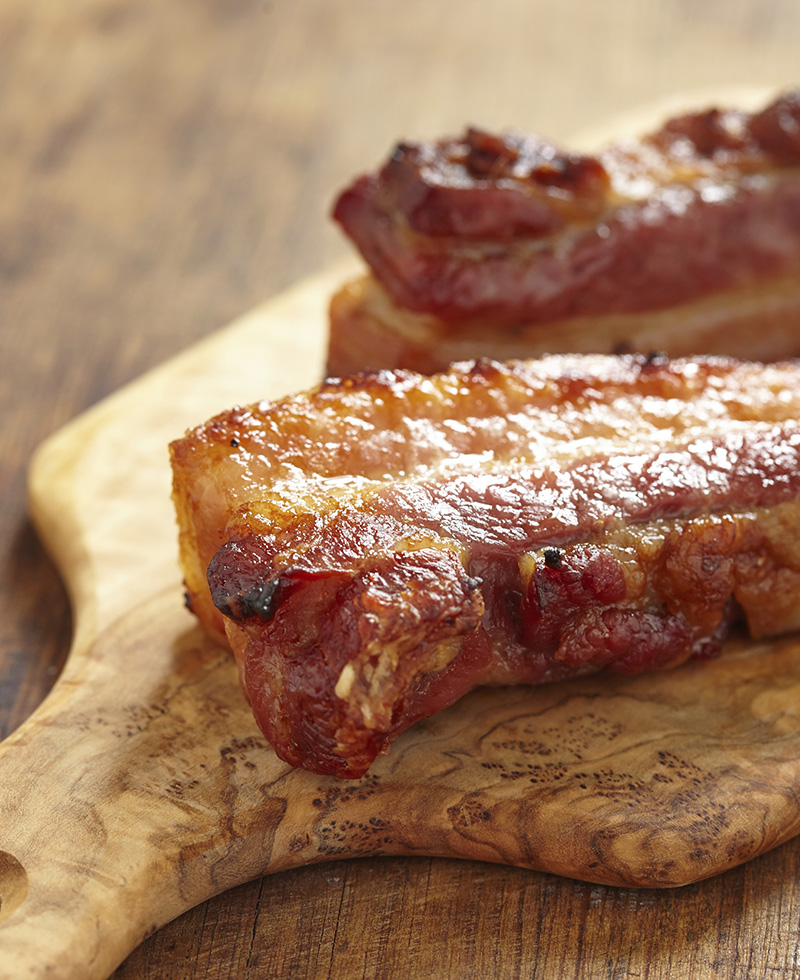 Chef Joe Garcia shares his recipe for kolsch-braised pork belly complete with a fresh herb dry rub made of mustard, lemon zest, rosemary, garlic and red pepper.
Ingredients
Dry Rub
2 Tbsp kosher salt
2 Tbsp dry mustard powder
2 Tbsp mustard seeds
1 Tbsp sugar
1 lemon, zested
2 sprigs rosemary, picked and finely chopped
2 garlic cloves, smashed and finely chopped
Pinch crushed red pepper flakes
3 pounds fresh pork belly, skin removed
Pork Belly
Extra-virgin olive oil
1 onion, julienned
2 ribs celery, sliced on the bias
1/2 fennel bulb, tough middle discarded and remaining bulb julienned
2 garlic cloves, smashed and finely chopped
Pinch crushed red pepper flakes
Kosher salt
2 cups Kolsch
1/4 cup whole-grain mustard
2 to 3 cups chicken stock
Thyme bundle
3 to 4 bay leaves
---
Directions
Dry Rub
Combine all the ingredients in a bowl. Massage the rub all over the pork belly, then cover and refrigerate for 24 hours.
Pork Belly
Preheat the oven to 325°F.
Remove the belly from the refrigerator. Coat a large straight-sided pan with olive oil and put over medium-high heat. Add the onion, celery, fennel, and garlic.
Season the vegetables with crushed red pepper and salt, to taste. Cook the vegetables until they start to soften and become very aromatic, about 8 to 10 minutes.
Add the kolsch and cook for 3 to 4 minutes. Stir in the mustard and 2 cups of the chicken stock.
Taste to make sure it is delicious. Add the pork belly and toss in the thyme and bay leaves. Cover and put in the preheated oven. Braise the belly for 6 hours, checking occasionally. If the liquid level goes down add the remaining stock.
When the belly is done, it will be very tender and succulent. Remove the lid and set the oven to broil. Broil the pork belly until it turns golden, about 3 minutes.
Remove the pan from the oven and transfer the belly, from the braising liquid, to a cutting board. Allow the pork belly to cool completely before cutting.