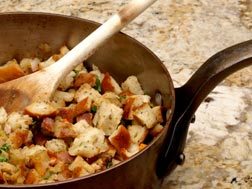 Avery Brewing Company shares an easy way to amp up your Thanksgiving turkey with a special stuffing made using White Rascal, a Belgian-style witbier.
Ingredients
2 French baguettes, cut into 1 inch cubes
4 Tbsp unsalted butter (1/2 stick)
2 cups yellow or Vidalia onions, diced
2 cups celery, diced
2 Granny Smith or Fuji apples, diced
1/2 cup of dried cranberries
2 Tbsp flat leafed parsley, chopped
11/2 tsp rosemary, minced
2 tsp kosher salt
1/2 tsp ground pepper
1/2 cup roasted almonds, chopped
1 1/2 cups White Rascal
One 12-pound turkey 
---
Directions
Crack a cold White Rascal to get in the right mindset.
Preheat oven to 300°F.
Put bread cubes on a 13x18 inch baking sheet. Bake in oven for 7 minutes.
In a large sauté pan, melt butter and add the onion, celery, apples, cranberries, parsley, rosemary, salt, and pepper. Sauté for 10 minutes, until the mixture is soft.
Combine the bread cubes and cooked vegetables in a large bowl and add the White Rascal witbier and almonds.
Place the stuffing into the main cavity of the turkey. This is for a 12-pound turkey for 2 1/2 hours at 350°F in a preheated oven. Make sure the stuffing in the cavity is secured by wrapping the legs tightly with string.