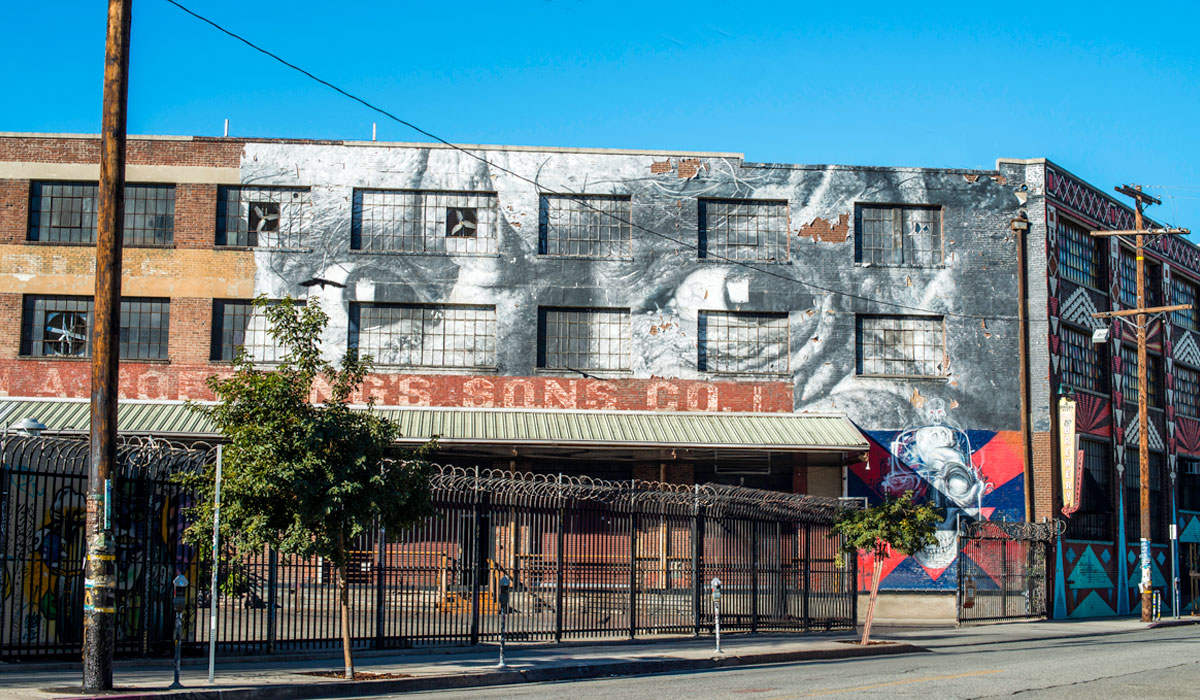 A Beer Lover's Walkable Guide to Downtown Los Angeles
Not too long ago, Downtown Los Angeles was not the place to be seen or to have a successful business. There were few venues for dining and nightlife and locals avoided Downtown like the plague. But in the last decade alone, the population in Downtown has doubled, leading to more businesses supporting the local residents and allowing Los Angeles to catch up on the craft beer scene.
While Los Angeles has always been one of the trendsetters of the food industry, and home to some of the world's most renown chefs, it wasn't until just a few years ago that breweries started making their way to LA. And unlike the majority of the city, it's one of the most walkable areas in town. Walk in LA? Yes, it's possible.
(MORE: Coolship Fever in American Brewing)
This easily walkable route to three breweries in Downtown Los Angeles takes through the bustling Arts District, Little Tokyo and the Financial District, where you'll admire some of the oldest buildings in all of Los Angeles, and bypass people from all walks of life. Downtown Los Angeles is a far cry from what it used to be in the 80s, 90s and even the early 2000s; but with the inundation of new neighbors, new businesses and new trends, it's becoming among the best places to grab a beer in all of the U.S.A.
Angel City Brewery
216 Alameda St.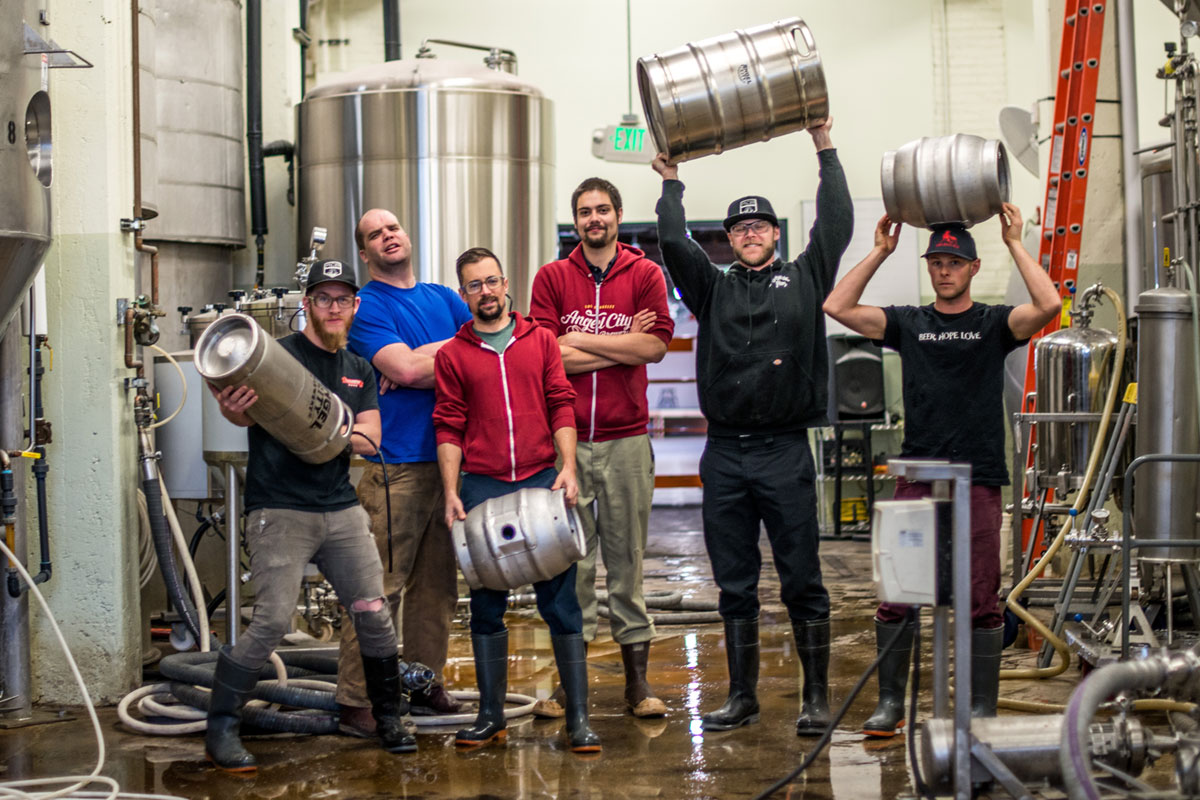 Angel City Brewery was founded in 1997 but was relocated to the John A. Roebling Building in the LA's Downtown Arts District in 2010, where they are currently located. In 2012, it was acquired by Alchemy & Science and started brewing new beers; however, they didn't have their official grand opening until May 5, 2013.
The presence of community shines through each and every part of Angel City Brewery — from the remains of the old warehouse left out of respect for history, and the shelves of board games and multiple bean bag toss stations to encourage customers to interact with each other, to the art displayed and local musicians invited to play, and the suggestion to support other local restaurants by allowing customers to bring in food to enjoy along with the house beer.
At Angel City Brewery, you'll find a diverse group of people. Hardcore beer aficionados will be sitting back to back with visitors taking their first sip of craft beer. You can always find 16-20 beers on tap and a new release approximately every two weeks. The brewery is known for creating many unique and out-of-the-box style beers so they're bound to please any and all kinds of beer lovers.
Mumford Brewing Company
416 Boyd St.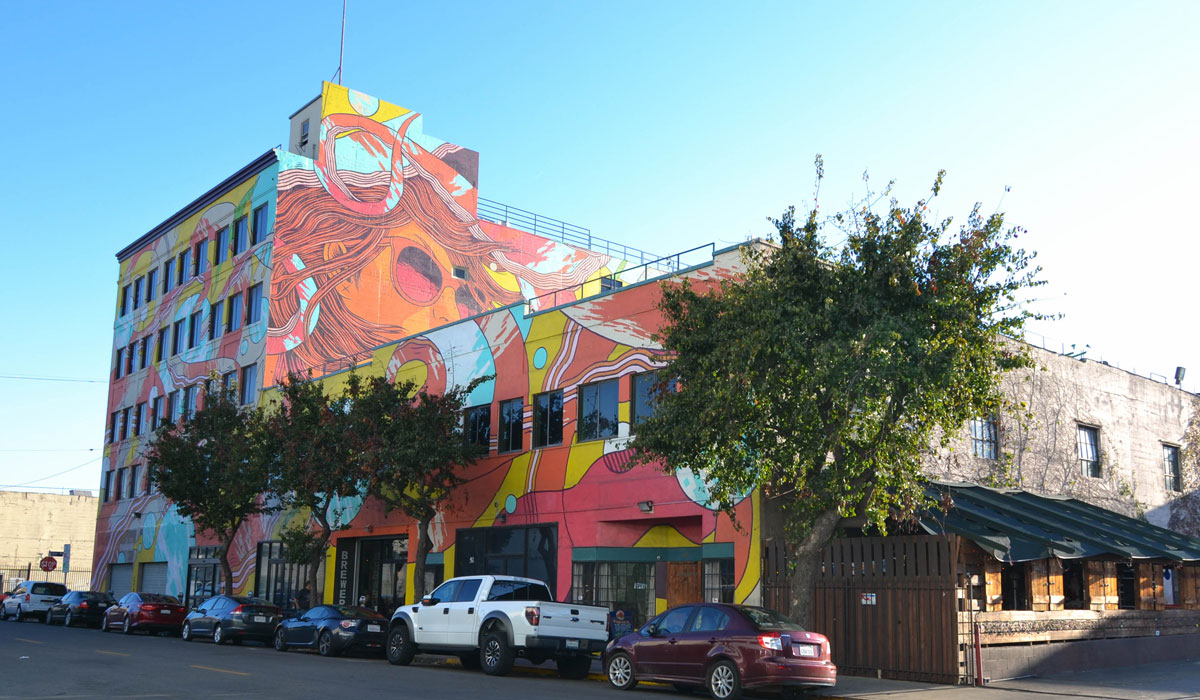 This family-operated brewery is one of the newest additions to Downtown LA, having just opened in June 2015. The company was founded by brothers Peter and Todd Mumford, plus Todd's wife Tien. Peter was a research scientist who spent many years working in Napa wineries, but after experimenting with beer together, the trio decided to open their own space. Nestled between the walls of a vibrant pink, orange, and blue-colored building is the minimalist, stripped-down venue for Mumford Brewing Company. It's only a .3 mile walk from Angel City Brewery and sits on the border between Downtown proper and Little Tokyo.
Choose from a list of approximately 15 beers on tap, all of which are on a weekly rotation; included in the list would be a guest beer or two from other breweries. Mumford is known best for their Northeast IPAs, but you can also find unorthodox techniques in-house such as adding extra nitrogen and infusing the beer with different herbs.
The venue has a similar clientele to that of Angel City Brewery inviting craft beer lovers, tourists, and happy-hour lovers alike. They also allow you to order from nearby restaurants to complement the beer of your choice, but offer a few in-house snacks unlike Angel City Brewery.
(MORE: What "Selling Out" Is Actually About)
Karl Strauss Brewing Company
600 Wilshire Blvd, Ste 100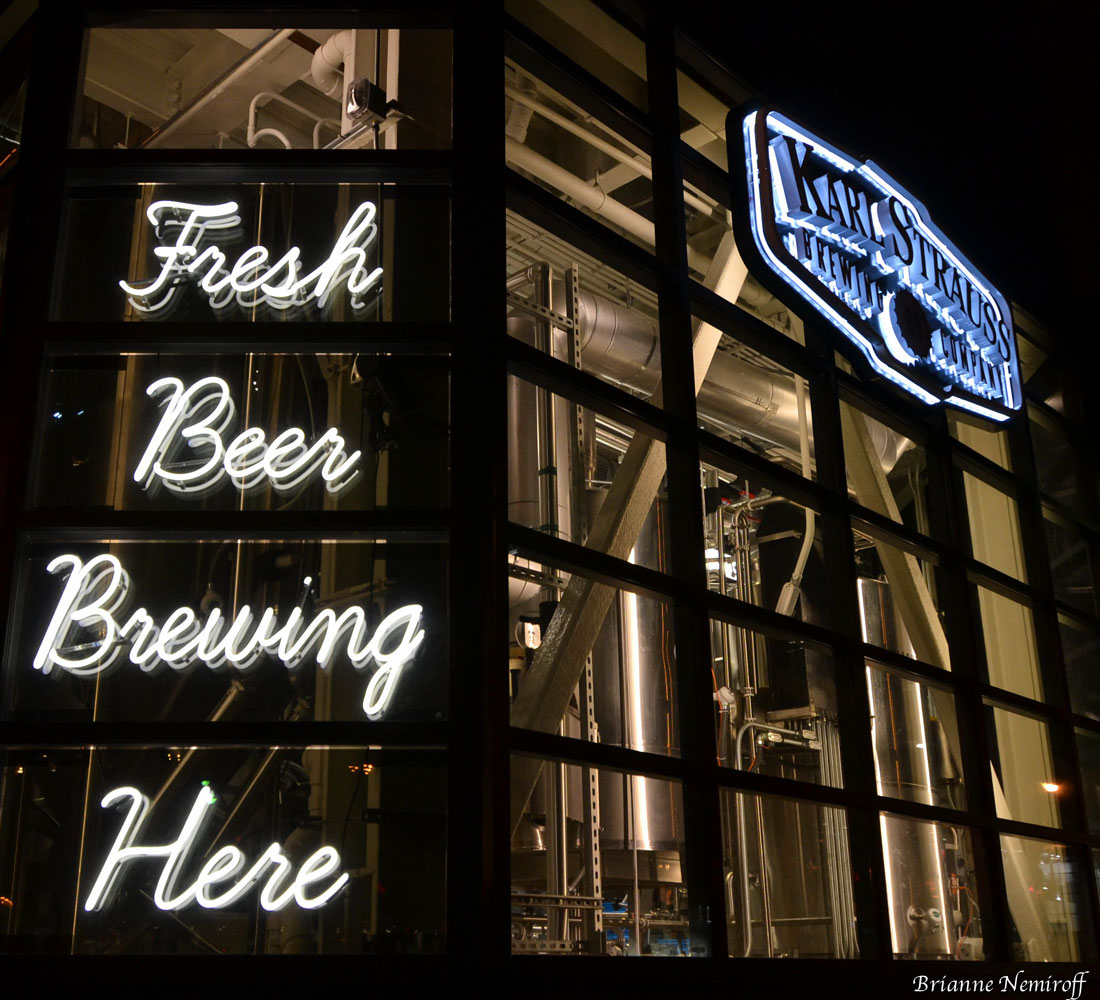 The walk from Mumford Brewing Company to Karl Strauss Brewing Company is one that is the most diverse. Within that one mile walking westward, depending on the route you take, you can pass Little Tokyo, the Bradbury Building, Grand Central Market, The Last Bookstore, Pershing Square and all the best of what Downtown LA has to offer. (It's also recommended to stick to major streets to stick to the safest route.)
This brand-new Karl Strauss location, having just opened on November 21, 2016, functions as a satellite brewery and brewpub, while the headquarters are in San Diego, California, and have been since 1989. Last year, Karl Strauss won Mid-Size Brewing Company of the Year at the Great American Beer Festival and has won 99 medals since 2009 alone. This location is a seven-barrel brewhouse with two 14-barrel fermenters and three 14-barrel bright beer tanks and they release 35-plus small batch beer releases annually.
The most popular brews include Seven Sharks, Red Trolley, Wreck Alley and Windansea, a few of which are found in their year-round selection. No matter your order, this brewpub is truly about a food and beer pairing experience. The menu was created with beer pairing in mind and servers will always recommend a beer to complement your food order. Because of this upscale pub experience, Karl Strauss tends to attract customers in their 30s and older, but can be a great environment for beer-lovers of any age.
CraftBeer.com is fully dedicated to small and independent U.S. breweries. We are published by the Brewers Association, the not-for-profit trade group dedicated to promoting and protecting America's small and independent craft brewers. Stories and opinions shared on CraftBeer.com do not imply endorsement by or positions taken by the Brewers Association or its members.