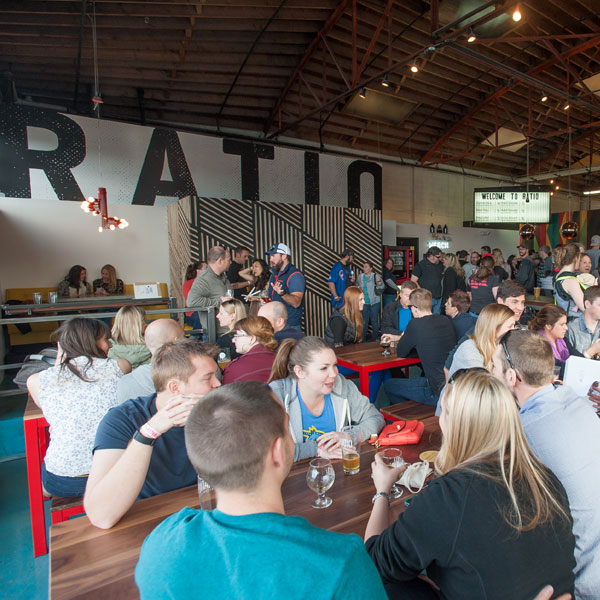 Walk This Way: A Beer Lover's Guide to Denver's River North Neighborhood
No neighborhood in Denver has undergone more change or drawn more attention to itself in the past five years than River North, or RiNo (pronounced "rhino") as the locals say.
Once a railway and industrial district, abandoned and beat up warehouses have become apartments, restaurants and galleries, and no industry has tapped into this potential more than beer. Initially drawn by the abundance of then-cheap(er) production facility space, small and independent breweries are now reaping the benefits of the revitalized neighborhood. Though you're never far from a brewpub in Denver, RiNo is the most concentrated area with 11 and counting.
But there's a small tidbit to be aware of when planning a self-guided walking tour of the breweries. An impassable railyard cuts through the RiNo neighborhood, separating it into two sides, one on Larimer Street and one on Brighton Blvd. Although these clusters are only a few blocks away as the crow flies, not being able to cross through the railyard means that you must make more than a mile journey to go around and circle back (click here to see a map).
One would think the city will eventually build a pedestrian bridge or get rid of the railyard entirely. But until then, visitors on foot will have to take their pick. The silver lining is that both sides have enough breweries for a full day of fun.
(MORE: The Illusion of Choice and America's Craft Beer Lovers)
Path 1: Larimer Street Side
Our Mutual Friend | 2810 Larimer Street
The "mutual friend" in the name is the one thing everyone who steps through the door has in common: beer! This focus on camaraderie sets the tone for the atmosphere of the brewery. With the brew kettles tucked away in the back of the house, the pub itself feels like small neighborhood bar rather than an industrial warehouse or working brewery. The patio is packed with locals during the summer, and the fall and winter is warmed right up with Our Mutual Friend's great collection of dark beers, including a brown, winter warmer and coffee stout.
Ratio Beerworks | 2920 Larimer Street
Former Wynkoop brewer Jason ZumBrunnen is the man behind the bubbling beakers at Ratio Beerworks, and as the newest brewery in RiNo, they've quickly made a name for themselves. After only a year and a half of being in business, Ratio announced plans this summer to more than double their production. That's good news for locals, who can't get enough of the Dear You, a French saison, and Hold Steady, a Scotch ale.
Intertwined with Ratio's love for beer is its affinity for music. The beer menu hanging above looks like a marquee for a concert venue, paying homage to some of the crew's days as part of a punk band. Community-style seating at long tables serves as a tribute to ZumBrunnen's time studying beermaking in Germany. It also makes for a fun, conversation-driven afternoon.
Epic Brewing | 3001 Walnut Street
Salt Lake City's Epic Brewing joined the Denver beer scene in 2013 when it opened a second brewery here in RiNo. They have not had a hard time fitting in, and one could even argue that Colorado's favorable beer laws make it a far better home for Epic than Utah. From the outside, the brewery is a true old-school warehouse, a long rectangular building with a rounded front. Inside, the taproom is bright, clean and airy, loaded with tables and high-tops, feeling much more like a modern bar than a garage-door style brewery. What makes it a hit with locals is that it's an easy place to visit over and over again thanks to a ridiculous 25 beers on tap, including rotating seasonals and cask ales.
Beryl's Beer Co. | 3120 Blake Street
Beryl's Beer Co. has a solid lineup of everyday beers, but the reason to go is for its barrel-aged creations. One of the more creative is the saison aged in white wine barrels. Otherwise, try the Belgian rye aged in rye whiskey barrels (10% ABV), the Schwarzbier in bourbon barrels and blended with coffee (7.6% ABV), or the Baltic Porter in whiskey barrels (12.1%). Want barrel-aged flavor but a lighter ABV? The Oud Bruin is made with plums and aged in red wine barrels yet is only 4.8% ABV.
(Beer Lover's Walkable Guides: Seattle's Ballard Neighborhood | Denver Highlands)
Path 2: Brighton Blvd. Side
Crooked Stave | 3350 Brighton Street
Tucked in the very back of The Source, a former warehouse turned artisan food market, Crooked Stave lacks a true brewery feel (no brewing occurs on site) but makes up for it with an industrial-style, airy, energetic taproom that attracts both beer lovers and curious passersby. The brewery is completely dedicated to sours, creating wine-forward, barrel-aged beers that playfully explore the style like the dry-hopped barrel-aged Saison Vielle. If you don't like sours, you may need to sit this one out, as it's all they serve.
Great Divide | 1812 35th Street
The original Great Divide brewery is still located downtown at the corner of 22nd and Arapahoe. More space was needed, so they expanded with a second location in RiNo in 2015 and built a facility that includes packaging equipment, canning line, barrel-age storage, and, most importantly, a new taproom called the Barrel Bar.
The place is huge, five acres in total, and Great Divide has plans to fill it with a restaurant, beer garden and more brewing capacity over the next few years. It will be fun to watch one of Denver's most regarded breweries take aim at creating such a beer-lovers' destination. Stop in to try all the Great Divide classics, including the many versions of Yeti, and learn about what's to come.
Mockery Brewing | 3501 Delgany St.
Mockery Brewing claims that the only thing they take seriously is their beer. You can feel that carefree attitude from the minute you walk in, and once you try the Salted Scottish Ale, you'll see they are men of their word. While the inside taproom catches your eye with its futuristic, shiny look, the brewery's best attribute is its large outdoor space. There's also a game room, with shuffleboard and other bar favorites. Mockery seems to have a knack for keeping it fun, serving its flights in the holes of cut-out Colorado license plates.
Black Shirt Brewery | 3719 Walnut Street
Sometimes when you leave a brewery, you need some fresh air before going on to the next. I'm assuming you know what I mean. After the first three breweries, embrace a half-mile stroll to the brink of the hood, where you'll find Black Shirt Brewery. They specialize not really in red ales, but in red beer, brewing a long list of red-style beer combinations. It's a classic example of how breweries in Denver have taken to unique styles of specialization in order to carve out a niche for themselves, and Black Shirt Brewery does it with the best of them. The American Red Saison, Colorado Red Ale and Farmhouse Red Porter are continuously appearing staples, and more experimental recipes, like the Pistachio Lavender Red Rye, are always a treat to find on tap.
CraftBeer.com is fully dedicated to small and independent U.S. breweries. We are published by the Brewers Association, the not-for-profit trade group dedicated to promoting and protecting America's small and independent craft brewers. Stories and opinions shared on CraftBeer.com do not imply endorsement by or positions taken by the Brewers Association or its members.