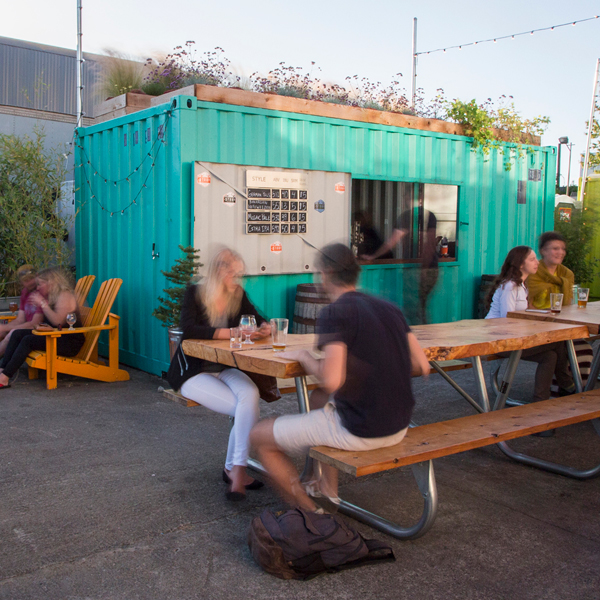 Walk This Way: A Beer Lover's Walkable Guide to Seattle's Ballard Neighborhood
The strip along Leary Way in Seattle could be defined in a handful of different ways. It all depends on who you ask.
Some might say this strip is territory of Fremont — one of the city's most artistic and vibrant neighborhoods. Others may argue that this area is definitely in Ballard's neck of the woods — a neighborhood that exudes class and trendiness through its seemingly endless lineup of restaurants, boutiques and beaches. And then there are those that might throw their hands up in the air, saying that this one is just too close to call, choosing to define it by a bit of both: Frelard. This is not only the most fun to say, but perhaps the most diplomatic, here in the Emerald City.
Whatever it may be, it's true that a rose by any other name would smell as sweet — or in this case, a neighborhood by any other name would be as bustling— at least when it comes to small and independent breweries. This industrial strip is one of Seattle's most vivacious, experimental and consistent neighborhoods in regards to craft. It's also among one of the nation's most walkable spots for beer lovers.
Needless to say, it's time for you to take a visit. We suggest you start with a few of our favorites: Stoup Brewing, Reuben's Brews, Lucky Envelope and Populuxe Brewing.
(Walk This Way: Asheville's South Slope | The Denver Highlands)
Stoup Brewing | 1108 NW 52nd St.
Sure, the strip along Leary Way may cause a bit of confusion thanks to its ambiguous location, but one thing is universally agreed upon: Here in Seattle, no matter who you ask or how you ask it, one of the finest breweries in the neighborhood (and perhaps in the entire city) is, without a doubt, Stoup Brewing.
Started by husband-wife duo Lara Zahaba and Brad Benson in 2013, Stoup has quickly established itself as a brewery to know. Now made up of a small and mighty three-person team (Zahaba, Benson and Certified Cicerone® Robyn Schumacher), Stoup is as humble in nature as it is consistent in quality. It has set a new standard for what it means to be a mouth-watering IPA or a fulfilling porter, capturing the true craft of craft.
Their beer exudes a certain soul that cannot be described, but only tasted. So fill your stoup (which is an old-age term for a drinking vessel) with their Citra IPA, Robust Porter or NW Red.
Reuben's Brews | 5010 14th Ave NW
Just a few blocks away from Stoup is another Seattle beer scene staple: Reuben's Brews. Adam and Grace Robbings, co-founders of the brewery and proud parents to son Reuben, continuously and effortlessly capture what it is to be a fine Seattle brewery. They have an ever-changing line-up, an energetic taproom and genuine intentions. Oh — and a killer resume.
If you've heard of Reuben's, it's no surprise. This family-owned brewery has swept up handfuls of awards since opening in 2012, including two 2015 Great American Beer Festival awards, a gold medal at the 2015 World Beer Cup and over 30 World Beer Championship Medals. So it goes without saying that their beer surpasses good, and instead lands somewhere in the area between "worthy of writing home about" and "pour me another immediately."
Though every beer you have will be worthy of your tastebuds, we suggest paying special attention to Reuben's line-ups of pungent IPAs, rich stouts and smooth ales.
(MORE: Breweries Share Stories Behind Employee Nicknames)
Lucky Envelope Brewing | 907 NW 50th St
They might be one of the younger breweries on the block, opening the tasting room doors in 2015, but Lucky Envelope Brewing has quickly established itself as another Seattle staple. It's a consequence of Brewmaster Barry Chan's lineup being perfected for the Pacific Northwest palate. Expect quite a few IPAs on tap at any given time, with each bringing its own individualities to your table.
Lucky Envelope is still new enough it might not have the universal recognition that their neighbors have earned, but it's only a matter of time before it catapults into the limelight. With recent wins at GABF for the Helles Lager and the 2016 Washington Beer Awards for its ENIAC Mosaic IPA, Lucky Envelope will soon achieve household name status in Seattle. We'll put 20 bucks on it.
We beg you not to leave the taproom without trying any of Chan's IPAs or the Peanut Butter Stout — if it's on tap.
Populuxe Brewing | 826B NW 49th St.
Perhaps the most unassuming brewery on the block, Populuxe Brewing could be easily missed if you're not watching out for it. Keep an eye out for a charming, humble blue abode and you'll know that you've found the spot. This place's beer is a little deluxe here, a little popular there, hence it's title — and it's also a guarantee of a good time.
Populuxe might be the dark horse in Leary Way's race to fantastic craft beer. They are small but mighty, and new but growing. The brewery recently announced an expansion to the lot next door, which will be home to a 7-barrel brewhouse, 15-barrel fermenters and a larger taproom with 20 taps to meet the ever-flowing demand. All of Populuxe's beers are rotating, so expect something refreshing and emerging any time you visit. The expansion should open in the spring.
Pick up one of their beers and play some cornhole, or perhaps cozy up around the fire out on the back patio. All of Populuxe's beers are rotating, so you can expect something refreshing and emerging every time you stop by.
So, friends, put on your walking shoes, because it's time to visit the neighborhood tucked behind Leary Way. And, just so you're completely in the know, Ballard has, indeed, claimed the area. But, let's be honest — that won't stop us from saying Frelard as much as possible.
CraftBeer.com is fully dedicated to small and independent U.S. breweries. We are published by the Brewers Association, the not-for-profit trade group dedicated to promoting and protecting America's small and independent craft brewers. Stories and opinions shared on CraftBeer.com do not imply endorsement by or positions taken by the Brewers Association or its members.