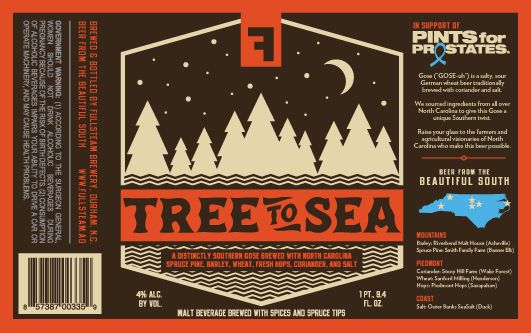 Fullsteam Tree-to-Sea Gose to Support Pints for Prostates
Durham, N.C. – Fullsteam Brewery of Durham, N.C., and The Rare Beer Club™, which ships unique craft beers nationwide, are teaming up on a special limited release beer to benefit the Pints for Prostates campaign.
Fullsteam Tree-to-Sea Gose is being brewed exclusively to create awareness and support the mission of Pints for Prostates, which uses the universal language of beer to reach men with an important health message. This unique Southern Gose is brewed with spruce tips harvested from the North Carolina mountains, barley and wheat from the North Carolina Piedmont, local coriander and Outer Banks sea salt.
"We literally drove from one end of the state to the other to gather ingredients for this distinctly North Carolina beer. This is the first Gose Fullsteam has made and the pine, salt and sour come together for a unique taste of place — the great state of North Carolina," said Sean Lilly Wilson, Chief Executive Optimist of Fullsteam. "Fullsteam is excited to be partnering with Pints for Prostates and The Rare Beer Club™ on this project to help raise awareness about prostate cancer."
The limited edition beer features the Pints for Prostates logo on its label, which includes the blue ribbon to remind people of the ongoing search for a cure to prostate cancer, a leading cause of death among American men. A donation for every 750 milliliter bottle of Fullsteam Tree-to-Sea Gose sold will be made to Pints for Prostates.
"The annual release of a special beer through The Rare Beer Club™ helps us reach men with an important message. Pints for Prostates wants men to take charge of their health and get screened for prostate cancer," said Rick Lyke, a prostate cancer survivor who founded Pints for Prostates after successful prostate cancer surgery in April 2008. "We are extremely grateful to Fullsteam for the time and energy they exerted to create a unique Southern Gose so we can use it as a platform to achieve our mission. "
"This is the fifth year The Rare Beer Club™ has partnered with Pints for Prostates. Our members really look forward to a unique beer each year, largely distributed exclusively through the club.  Fullsteam is an interesting brewery that has picked up quite a bit of buzz because of its approach inspired by the food and farm traditions of the South," said President Kris Calef. "We're donating $1 from every bottle sold and including a Pints for Prostates coaster in each shipment to remind our members to get tested. A little education and early detection goes a long way to save lives."
There are only three ways for beer lovers to try the limited batch of Fullsteam Tree-to-Sea Gose :
Join The Rare Beer Club online or call 800-625-8238 and be sure to start your membership in September or earlier.  The ordering deadline for September is Sept. 15.
Attend the Denver Rare Beer Tasting VI taking place on Oct. 3. Fullsteam will be one of 50 breweries pouring rare, exotic and vintage beers at the event. A limited number of general admission tickets remain for the event.
Visit Fullsteam's tasting room at 726 Rigsbee Ave. in Durham on Oct. 11 from 4 to 6 p.m., when the brewery will release the beer and host a Pints for Prostates awareness event.
According to the National Cancer Institute, prostate cancer will claim the lives of nearly 30,000 men in the U.S. during 2014. Prostates cancer is 33 percent more common in men than breast cancer is in women, yet few men know they should get a prostate health screening at age 40. The Fullsteam Tree-to-Sea Gose release is part of the Pints for Prostates Oktoberfest for a Cure observance that is taking place from August through October.
About Fullsteam Brewery
Fullsteam is a Durham, North Carolina production brewery and tavern inspired by the food and farm traditions of the South. Our mission: to pioneer the art of Distinctly Southern Beer. We brew traditional and experimental beers with a Southern sensibility, often incorporating local farmed goods, heirloom grains, and seasonal botanicals to guide our beer and our quest. Visit www.fullsteam.ag.
About The Rare Beer Club™
The Microbrewed Beer of the Month Club™ offers four different options for consumers. From the very inception of our original domestic beer of the month club in 1994, we've focused on consistently providing three primary product characteristics: Quality, Variety & Freshness. And in that spirit, we now offer you four outstanding beer club options, each dedicated to those same principles. Our owner's favorite club features the finest the world of beer has to offer in limited-release, celebratory, artisanal beers from some of Michael Jackson's favorite breweries. Two different selections are presented each month in 750 ml bottles, often cork finished, and some individually tissue wrapped. Members experience bold U.S. and imported interpretations of Farmhouse Ales, Russian Imperial Stouts, Barley Wines, Belgian Abbey Ales, varied Imperial, Extreme, Strong Ale and Grand Cru offerings, oak-aged ales imparting bourbon and vanilla notes, and much more. Many selections are pushing the envelope of creativity, are not yet distributed in the U.S., and brewed such that they can be cellared and aged.
About Pints for Prostates
Pints for Prostates reaches men through the universal language of beer to encourage them to take charge of their health. The group was founded by prostate cancer survivor and beer writer Rick Lyke in 2008. The grassroots effort raises awareness among men about the importance of regular men's health screenings by making appearances at beer festivals, social networking and pro bono advertising. According to the National Cancer Institute, approximately 240,000 new prostate cancer cases are diagnosed annually in the U.S. More information is available at www.pintsforprostates.org. Pints for Prostates also has a presence on Facebook, Twitter and Instagram (@pints4prostates).
Contact Info
Company: Pints for Prostates
Contact: Rick Lyke
Email: rick.lyke@gmail.com