Beer 101 Course
---
The CraftBeer.com Beer 101 Course is an online course created for anyone looking for an introduction to craft beer. The course is produced by CraftBeer.com and published by the Brewers Association, the leading organization representing America's small and independent breweries.
If you work in retail sales, the hospitality and service industry, or are simply a burgeoning craft beer enthusiast, Beer 101 provides a wonderful introduction to the world of craft beer. The course also makes a great gift for a beer geek who wants to learn more about beer!
Beer 101 Course
---
Beer 101 Covers
History of beer
Brewing ingredients and process
Beer statistics: ABV, SRM, IBU
Beer styles
Tasting techniques and tips
Beer glassware
Pairing beer and food basics
Before You Start!
Beer 101 costs $20.
Reserve approximately one hour to complete the course.
Grab some headphones or turn up your computer speakers–Beer 101 includes narration.
You'll be prompted to download the follow-along worksheet which will help you create a study guide for the quiz.
Beer 101 Quiz
---
There will be a 20 question quiz at the end of the course which must be completed in 20 minutes.
If you pass the quiz with 75%, you will have the option to download a printable certificate of completion.
If you don't pass with 75% or more, you can retake the quiz for a full year before having to re-register.
Certificate of Completion
---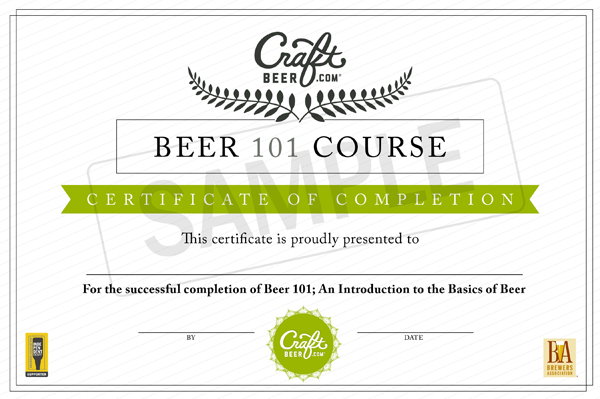 Upon successful completion (>75%) you will gain access to a printable certificate from CraftBeer.com (a certificate will not be mailed to you).
If you lose or forget to print your certificate, it will be available to reprint. Find it by clicking the "Completed Courses" tab on your dashboard.
Questions?
If you have questions about course functionality, the certificate, billing questions and viewing or navigating course files, contact DigitalChalk: support@digitalchalk.com or phone: 877-321-2451 / option 2
All content and test materials © Brewers Association