How can you tell if a beer is made by a U.S. craft brewer? Seek the Seal–the independent craft brewer seal.
The independent craft brewer seal was launched in June 2017 by the Brewers Association, publishers of CraftBeer.com. The Brewers Association is the membership organization dedicated to promoting and protecting small and independent craft brewers in the United States.
Defining "craft beer" can be tricky since enjoying beer is a personal and subjective experience. But as the membership organization that represents independent craft breweries, the Brewers Association does define a craft brewer.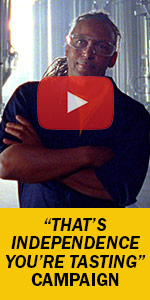 According to the Brewers Association's definition, a craft brewer is small and independent. Any brewery that fits that definition is eligible to adopt the certified independent craft seal.
The certified independent craft seal is designed as an upside-down beer bottle, which symbolizes how the U.S. craft beer movement has turned beer on its head worldwide. Independent craft breweries are known for creating community and innovation, and they've built a worldwide reputation for brewing incredible craft beer.
As global beer makers purchase formerly independent craft brewers, knowing which breweries are independent is confusing for beer lovers. The certified independent craft seal is meant to assure beer lovers they're purchasing craft beer from independently-owned breweries.
"What the seal provides is a clear message to the beer drinker that this beer comes from a small and independent craft brewer," says Paul Gatza, senior vice president of the professional brewing division at the Brewers Association.
At the end of 2018, more than 4,000 craft brewing companies had adopted the seal, representing more than 80 percent of the volume of craft-brewed beer.
When you see the seal, it signals "That's Independence You're Tasting."
In 2019, the BA also rolled out the supporter seal. Hundreds of businesses, retailers, and other organizations who support the independent craft beer community have adopted it.
When you're shopping for craft beer, look for the certified independent craft brewer seal. Independent craft breweries are placing the seal on everything from beer cans and beer bottle labels to t-shirts, tap handles and more.
When you see it, snap and share a photo on Instagram and add the #SeekTheSeal hashtag. CraftBeer.com editors are looking for your photos, and we'll be sharing them on our social channels. Scroll down through the photo gallery to see some of the most recent pictures of the seal from breweries, beer writers and beer lovers. The pictures show some of the creative ways brewers are using the certified craft seal declaring their independence.
Join the independent craft beer movement and #SeekTheSeal.