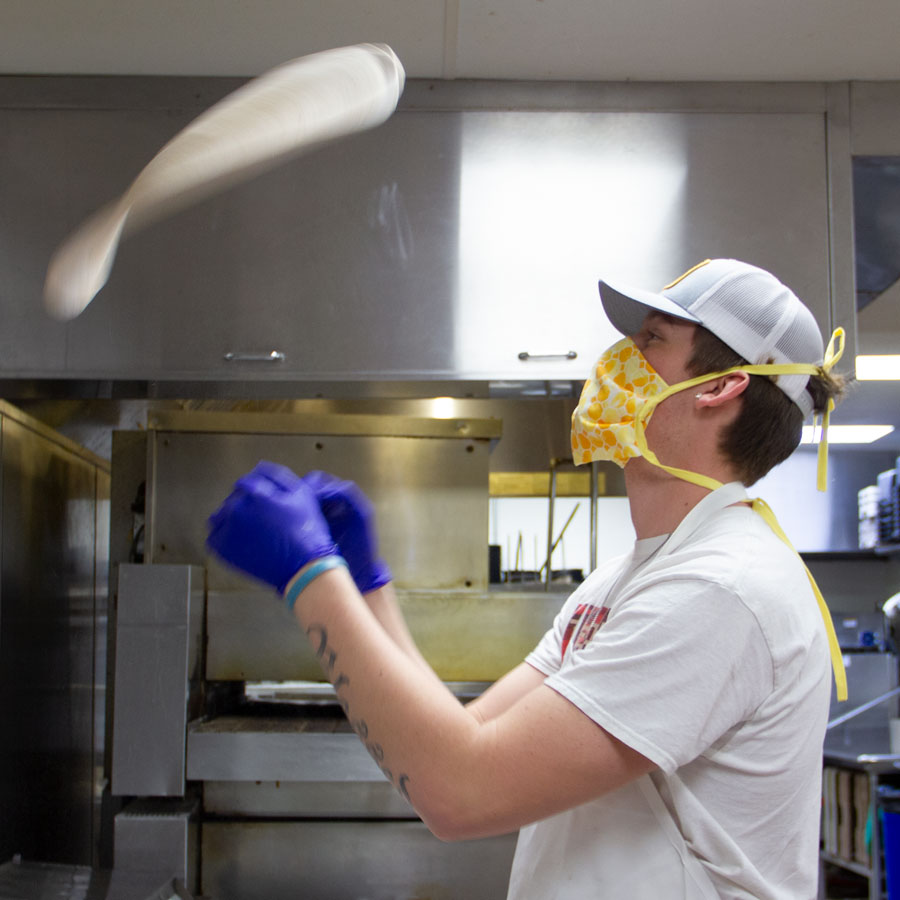 Pizza and beer — they are perfect together. While no one would deny the inherently complementary nature of the two fermented wonders, some brewpubs are taking the pairing a step further. They are adding pours of their prized craft beers to the pizza dough they serve in-house.
For Short's Brewing Company in Bellaire, Michigan, adding pizza to the menu was a must when the pub finally expanded to include a "real kitchen" in 2015, recalls Erin Kuethe, the general manager.
"We finally had the space and capacity to make pizza dough. And this was a top priority with the new space," Kuethe adds. "We have always been a from-scratch kitchen, but we were never able to make dough in the old layout."
Meanwhile, at Stormcloud Brewing Company in Frankfort, Michigan, co-owner Rick Schmitt also felt strongly about the beer-pizza connection. "We started using beer with our pizza dough from the first day we opened in 2013," Schmitt explains. "Our original chef was passionate about the baking process and dough in general."
Testing, Testing
When adding beer to pizza dough — just as when crafting any menu item, or any beer — extensive testing was the key to nailing the perfect recipe. Both breweries landed on the ideal beer only after a lot of experimenting.
For Short's, the recipe was carefully developed over more than a year, which included surveying a slew of taste-testers and eventually bringing in a dough expert to complete the recipe.
"Through all of these tests, there was never a question as to whether or not we would incorporate beer — it was a matter of what kind and how much," Kuethe says. "Our menu is beer-infused. And our dough would be no different."
Ultimately, not only was beer incorporated into the final dough recipe; ingredients from Short's malt supplier, Briess, are also included. Additions such as malt flour and malt syrup help "give the dough the ultimate beer infusion," Kuethe notes.
A Match Made In Kitchens
Years ago, Tom "The Dough Doctor" Lehmann, a pizza industry consultant based in Manhattan, Kansas, had done similar experiments with beer-infused pizza dough in his longtime position as director of bakery assistance at the American Institute of Baking (now AIB International). Even traditional pizzerias were yearning to partner with breweries to take advantage of their crust-enhancing byproducts.
"Back in the early '90s, when microbreweries were becoming more popular, pizzerias would take the dregs at the bottom of the brewing barrels for use in their dough," Lehmann remembers. "It worked really well for making pizza crusts and proved to be pretty successful."
Lehmann notes that improved flavor is the main benefit of adding beer to pizza dough.
"Some people say it adds a more malty flavor," he says. "In our experiments with some mainstream light beers, we found they did not add much in terms of taste, even in blind taste tests—robust or full-flavored beers worked better. Now, with so much advancement in craft beer, there are many more flavorful beers on the market."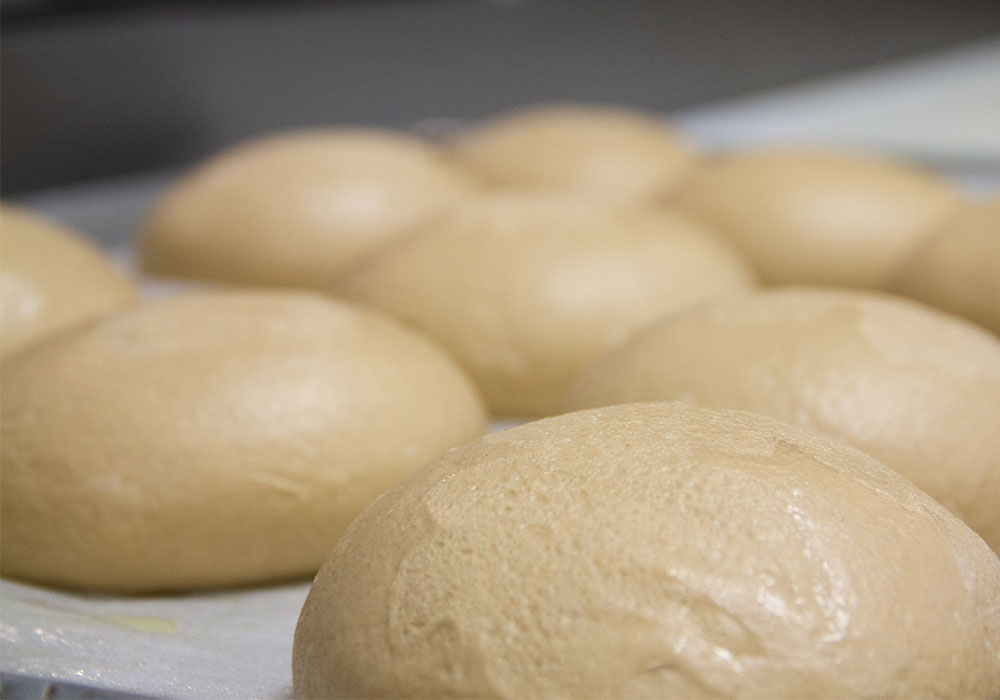 How Beer Affects Pizza Dough Flavor
During the extensive tests at Short's, employees tried plenty of recipes (and ate a lot of pizza in the process). Needless to say, debates raged on.
"Pizza comes in so many shapes, sizes and flavors, and everyone has an opinion on what kind is the best," Kuethe says.
Short's makes its dough with Local's Light, an American lager, because it proved the "most approachable" of its beer range. "We felt it would appeal to the masses," Kuethe explains. "It has a lighter flavor and gives an understated hint of beer in the pizza dough but does not steal the show like some of the other beers we tried."
For example, she says, when staff tried using Bellaire Brown, it gave the dough a rich sweetness, with a hint of caramel flavor and a much darker color.
"In testing, many people thought the darker color meant the dough was whole-wheat or overcooked," Kuethe says. "We also tested with Huma, our flagship IPA, and Pandemonium, a pale ale, both of which added an intense hop flavor. The bitterness was appealing to the avid hop-head, but for our kids' pizzas and people less interested in hops, it was a bit intense."
'Secret Sauce' In the Pizza Dough
Similarly, the original chef at Stormcloud performed extensive tests in the kitchen, trying out different beer types and finding the right malt balance to create its ultimate recipe. "It does make a flavor and consistency difference, and we find our customers can tell the difference," Schmitt notes. "I won't give out the specific beer we use — it's a 'secret sauce' kind of thing — but it's safe to say that it is a more malt-based beer."
For those who do want to add a darker beer to dough, Lehmann agrees that, while it adds a very unique flavor, the crust will darken beyond the normal color one expects from a white-flour crust. For this reason, he recommends balancing out the recipe with a bit of wheat flour. As a bonus, many consumers perceive the addition of wheat as a healthier option.
"We took our regular dough formula and simply replaced 25 percent of the white flour with whole-wheat flour and used beer as 100 percent of the liquid added," Lehmann explains. "The whole-wheat factor adds a darker color already, so the darker color from the beer is right at home and a wonderful accent to the wheat crust."
Getting the Most Flavor
Lehmann recommends adding beer at a rate of at least 50 percent of the total liquid ingredients (and up to 100 percent) to get the most flavor impact from the beer addition.
"You really want to use no less than 50 percent of the total liquid as beer," Lehmann recommends. "Using too-light or delicate beers, or at a rate less than 50 percent, you might find that the flavor is not different enough to justify the expense of adding beer at all."
Short's adds its beer with the other wet ingredients, as pizza makers mix it in with the dry ingredients. Meanwhile, brewers and chefs have learned to work together at Stormcloud, where Schmitt's staff has perfected the formula's timing. "We have a pouring schedule of when to add the beer when mixing the dough batch," he says. "It's not rocket science, but it's very close to that impactful!"
One of the challenges for Schmitt, however, is balancing the production of beer for drinking with the beer needed for pizza dough. "It takes away from the beer availability for the pub, especially during the peak summer season," he explains. "We have a challenge just keeping up with pouring pints for customers, so saving enough beer for pizza dough is tough for about a month out of the year."
Another challenge for breweries, Lehmann points out, may be concern from customers surrounding the addition of beer to pizza. In the past, Lehmann has witnessed parents worried about the alcohol factor in their kids' pizzas, but the concern is unfounded.
"Alcohol is a byproduct of yeast fermentation, so when you ferment a dough for two days, there's already alcohol in it" Lehmann says. "When adding beer to dough, the alcohol burns off before the water does, just like you'd find with dishes such as beer-battered fish."
A Perfect Pairing
Challenges aside, craft breweries who have married the quintessential combination of pizza and beer find that their unique products—combining two of America's favorite indulgences—help them stand out from the crowd and bring in customers who crave an extra flavor boost in their beloved pies.
"Pizza and beer—what's not to love?" Kuethe concludes. "The experience at the pub as a whole, and the atmosphere, is what really stands out in our guest reviews, and pizza obviously plays a huge role. The feeling people get of being comfortable and at home is reinforced by good homemade food, made by people who care. Our pizza is no different, and infusing the dough with beer and beer ingredients gives it a unique touch."
CraftBeer.com is fully dedicated to small and independent U.S. breweries. We are published by the Brewers Association, the not-for-profit trade group dedicated to promoting and protecting America's small and independent craft brewers. Stories and opinions shared on CraftBeer.com do not imply endorsement by or positions taken by the Brewers Association or its members.