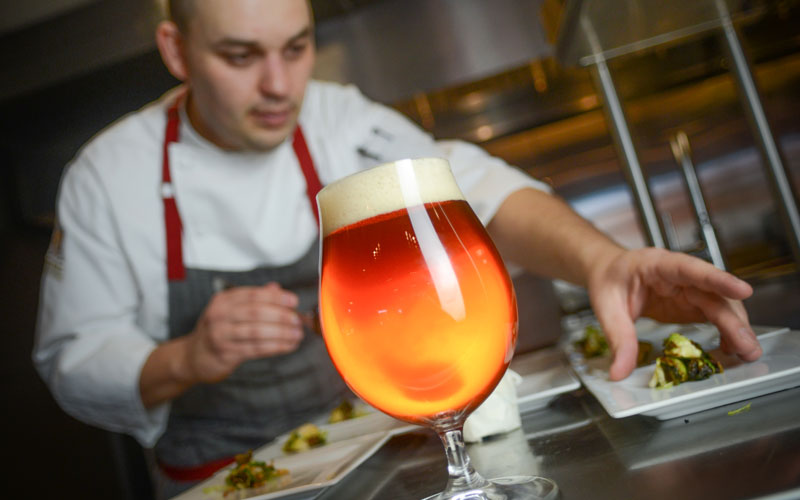 Culinary Institute of America and CraftBeer.com Release New Videos Highlighting Beer and Food Pairing Techniques
You probably pair beer and food at home more often than you realize: an IPA alongside a piping hot pizza covered with mozzarella and soppressata (the fancy Italian salami), or a Belgian-style quad with a blue cheeseburger off the grill.
But how many times have you sat down at a restaurant and the server (or menu) suggests which wine will go best with your meal? Often, right? Now, let me ask you this: How many times have you sat down at a restaurant — a restaurant, not a beer bar — and the server suggests craft beers that will complement your meal? You can probably count the times on one hand, if at all.
Beer is a $105 billion industry, compared to wine's estimated $50 billion, yet beer and food pairing is still largely ignored at restaurants you visit most. But CraftBeer.com has been working to change that.
(RECIPE: Pumpkin & Stout Soft Pretzels)
"What we are seeing in restaurants and from chefs today is the focus on the overall experience," says Chef Adam Dulye, executive chef for the Brewers Association and Culinary Institute of America grad. "It's not necessarily about what you eat, what you drink or where you are. It's the overall combination of everything you experience while a guest at a restaurant. While wine lists and cocktail lists have been the focus of many restaurants what we are seeing now is the rise of the craft beer list to the same level as the wine and cocktail list."
The CraftBeer.com Beer & Food Course is the definitive source of beer and food education for culinary instructors and the chefs of tomorrow. Originally released in 2014, the free 70-some page guide covers basic beer styles, information on the art of pouring and serving beer — yes, it's an art — and advice on how to get the best out of beer and food pairings. The idea is to give restaurant owners, chefs and servers a firm foundation to build menus and experiences with us beer lovers in mind.
This year, we took a big leap towards helping the chefs of tomorrow understand beer and food by working with the Culinary Institute of America to turn slices of our course into videos.
Our work with the Culinary Institute of America is exciting: it signals that culinary educators are beginning to acknowledge the importance of beer from America's small and independent brewers at the table — and that's a platform CraftBeer.com Publisher and Director of the Craft Beer Program at the Brewers Association, Julia Herz, has been working on for half a decade.
"We know that beer sales are the strongest over both wine and spirits," Herz says. "We know that beer is a fantastically powerful ally in the kitchen, next to the plate and on the palate. And when it comes to what customers want, now we have data that is too powerful to ignore."
"We know that beer is a fantastically powerful ally in the kitchen, next to the plate and on the palate." Julia Herz, Brewers Association Craft Beer Program Director
The data Herz is referring to is a 2015 Nielsen survey, commissioned by the Brewers Association, which found that 71 percent of craft beer purchasers gave "complements my meal" as a very or somewhat important selection criteria in their beer choice when at a bar or restaurant. That survey convinces us even further that beer lovers are hungry for beer and food pairings.
(MORE: 3 Overlooked Beer Styles to Pair with Food)
"No longer is the deep wine list a necessity to create the experience," Chef Dulye says. "The shift now is to a deep understanding by every chef and every restaurant that the guest is willing to be guided to new and unique experiences. Here is where you will find craft beer dominating, in its rightful place, paired with great cuisine."
Beer & Food at Home
Everything we do at CraftBeer.com we do with you, the beer lover, in mind, and this course isn't only built for professionals. We wanted to help people who loved to cook at home bring beer and food pairing to their dinner tables, so late this summer we published a second version for the cooking enthusiasts. We now offer the CraftBeer.com Beer & Food Enthusiast Course, which you can download for free here.
If you haven't heard the story, take a moment to hear Chef Adam's "aha!" moment pairing craft beer and food. Whether you're in a high-energy professional cooking environment, or your personal kitchen is where you revel in sanity at the end of the day, we can't wait to help you find your own "aha!" moment.
Cheers! Jess Baker, Editor in Chief, CraftBeer.com
CraftBeer.com is fully dedicated to small and independent U.S. breweries. We are published by the Brewers Association, the not-for-profit trade group dedicated to promoting and protecting America's small and independent craft brewers. Stories and opinions shared on CraftBeer.com do not imply endorsement by or positions taken by the Brewers Association or its members.