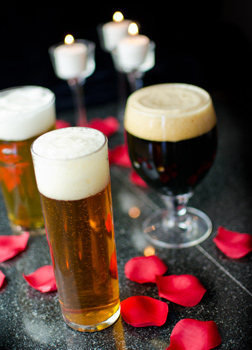 Cupid's Guide: Aphrodisiacs Love Craft Beer
Named after Aphrodite, the Greek goddess of sexual love and beauty, aphrodisiacs are foods or drinks known to stimulate desire—sexual desire, that is. We're all adults here, right?
Although scientific support for aphrodisiacs is inconclusive, the connection between certain foods and increased sex drive has been documented by several cultures for thousands of years.
Casanova was rumored to have eaten 50 oysters every morning while Montezuma was said to have drunk large amounts of chocolate spiced with chili peppers every day—they must have been onto something!
Some foods, such as figs, avocado and bananas, have been deemed aphrodisiacs based on exotic appearance or resemblance to certain body parts. Others, like garlic, ginger and chili peppers increase blood circulation, while foods rich in zinc, like oysters and pine nuts are known to increase levels of testosterone. And some foods, like papaya and aniseed, have estrogenic compounds which can induce similar effects to testosterone.
Alcohol is also considered to be an aphrodisiac as it lowers inhibitions and acts as a social lubricant and confidence builder. But beware, over-consumption of alcohol impedes sexual performance—so moderation is recommended. "It increases the desire, but takes away the performance." – William Shakespeare, Macbeth: Act 2, Scene 3.
In theory, combining the arousal-inducing powers of aphrodisiacs can help to increase their potency and desire-inducing effects. If this theory holds true, beers brewed with arousal-inducing ingredients like chocolate, ginger, honey, chili peppers and oysters should be considered super aphrodisiacs, right?
Here are three simple, desire-inducing recipes that combine the powers of multiple aphrodisiacs. Pair each dish with one of the craft beers I've recommended below for a truly orgasmic Valentine's Day experience.
Ménage-à-Trois Guacamole
This recipe combines the aphrodisiac powers of avocado with an endorphin-enhancing ménage-à-trois of chili peppers for super-powered dip guaranteed to get your blood flowing and your heart racing.
Ingredients
3 ripe avocados 1 lime 1/4 cup red onion, diced 1/4 cup red bell pepper, diced 1/4 cup Poblano pepper, finely chopped 1 small Serrano pepper, seeded and minced 1 clove garlic, minced 1/4 cup cilantro, chopped 1/2 tsp cayenne pepper sea salt and fresh ground pepper
Instructions
Halve avocados and remove pits. Carefully remove avocado from shell, using a spoon. Chop avocado into 1/4 inch pieces and put into a medium-sized mixing bowl. Squeeze lime over avocado, toss to coat. Add onions, peppers and garlic to bowl. Sprinkle with cayenne pepper, sea salt and fresh ground pepper to taste. Using a spatula, stir until all ingredients are incorporated. Optional: mash avocado for a creamier consistency.
Craft Beer Pairing: Chili Ale | American Pale Ale
Although not a category in itself, beers brewed with chili peppers are quickly becoming a trend in the U.S. For this particular dish, I recommended sticking to pale or amber styles. Avoid chili-spiced stouts and porters, which will overwhelm the fresh flavors of the guacamole. Can't find a chili beer? Grab an American pale ale instead! Moderately hoppy with hints of caramel sweetness, the American pale ale cools the heat without overwhelming the bright flavors of the guacamole.
Recommended Beers
---
Broiled Oysters with Garlic-Basil Butter
Scientists recently discovered that a group of shellfish, which includes oysters, are rich in rare amino acids that trigger increased levels of sex hormones in the body. Broil oysters with circulation-enhancing garlic and blood flow-stimulating basil for an even more powerful aphrodisiac.
Ingredients
12 oysters, opened 3 Tbsp unsalted butter, softened 1 clove garlic, minced 1 basil leaf, minced salt and ground pepper
Instructions
Pre-heat broiler. In a bowl, mix softened butter, garlic and basil. Arrange oysters in shells on a baking sheet. Divide garlic butter evenly amongst the oysters. Sprinkle with salt and pepper.
Craft Beer Pairing: Oyster Stout | Dry Stout
The dry stout is by far the most popular and time-tested pairing for oysters. A stout brewed with oysters only enhances this euphoric experience. The first known account of an oyster stout dates back to 1929 in New Zealand. Although not as common as most styles, the oyster stout has seen a mini-revival in the past decade or so—especially in coastal breweries. Some breweries brew with only the shells while others opt to brew with the entire oyster, shell and all. Oyster stouts are typically dark, roasty and dry with a mild brininess or slight gaminess. Can't find an oyster stout? Grab a dry stout for an equally great pairing!
Recommended Beers
---
Chocolate Fig Almond Bark
Worshiped by the Mayans, chocolate is known to have a euphoric and stimulating effect on both the mind and body. Figs are thought to possess aphrodisiac qualities based on a likeness to a female body part. And, according to legend, Samson wooed Delilah with almonds, a fertility symbol throughout the ages. Mix the three together for a super simple and ultra sexy dessert.
Ingredients
12 ounces dark chocolate 1/2 cup chopped almonds 8 dried Mission figs, chopped
Instructions
Preheat oven to 350°F. Toast almonds in oven until they become fragrant, roughly 5-8 minutes. Line a baking sheet or pan with parchment paper. Arrange nuts and fruit on the parchment. Heat chocolate in a double boiler or microwave, until melted. Pour chocolate evenly over the nuts and fruit until fully covered. Put into freezer for an hour. Break into pieces to serve.
Craft Beer Pairing: Chocolate Stout
Roasted malts often give stouts a dark, chocolate-like flavor profile, making them a perfect base for brewing with chocolate. Velvety smooth with rich flavors of roasted malt, coffee and dark chocolate—who needs to eat dessert when you can drink it instead? My thoughts exactly.
Recommended Beers
Myth or truth, most aphrodisiacs are superfood powerhouses boasting a laundry list of health benefits. The healthier people feel the happier they are. And happiness itself is a great aphrodisiac! So, whether you believe in the power of aphrodisiacs or not, share one of the pairings above with someone you love this Valentine's Day!
Be sure to check out Ashley's post "Find Love with Craft Beer Aphrodisiacs," where she shares craft beers brewed with lust-enhancing ingredients like chocolate, chili peppers, oysters and honey.
CraftBeer.com is fully dedicated to small and independent U.S. breweries. We are published by the Brewers Association, the not-for-profit trade group dedicated to promoting and protecting America's small and independent craft brewers. Stories and opinions shared on CraftBeer.com do not imply endorsement by or positions taken by the Brewers Association or its members.