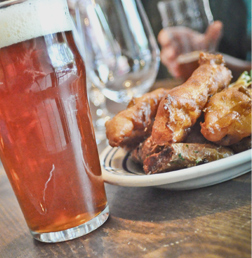 St. Patrick's Day Beer and Food Pairings
Whether you're Irish or not, chances are you'll be celebrating St. Patrick's Day in some way this year. This cultural and religious holiday is often celebrated by wearing green, decorating with shamrocks, and like all great holidays, eating good food and drinking beer.
Before you grab an expected Guinness or dare I even say a green-dyed beer, check out these American craft beer choices that bring out the best qualities of these traditional Irish and Irish-American dishes.
Originating from Northern Ireland, fish and chips simply consist of a battered and fried white fish, accompanied by fried potatoes. In Ireland, haddock or cod are the most commonly used fish.
Fish and Chips | Pale Ale
A pale ale is a balanced beer with enough hop flavor to cut through the thick batter or the heaviness that comes from frying. But, it's not too strong as to complicate the delicate, lighter flavors of the fish.
Pale ales to try with fish and chips:
Soda Bread | Stout
In the mid-1800s, Ireland didn't have much access to yeast, so baking soda was used as a substitute to make bread rise. This bread is still a staple on St. Patrick's Day. A touch of sugar and the additions of raisins, currants or caraway seeds makes traditional soda bread have a delicate sweetness.
Just like a stout, the bread is sweet but not overly done. The flavors of coffee and chocolate in these stouts compliment the soda bread to a tee.
Stouts to try with soda bread:
Corned Beef and Cabbage | Barley Wine
Slow-cooked corned beef with cabbage and root vegetables is a true Irish-American tradition. Irish immigrants used corned beef instead of the usual bacon when they arrived in America. Corned beef gets its robust flavor from a plethora of spices including mustard seed, dill, coriander, allspice, black peppercorns, bay leaves and clove.
The tangy cabbage and a salty, flavor-packed corned beef needs the distinct intensity of a barley wine, so the beer doesn't get lost. The strong taste and heavy alcohol content of a barley wine cuts through the meat and can stand up to the array of spices and textures from this hearty dish.
Barleywines to try with corned beef and cabbage:
Boxty | Wheat Beer
Boxty is a traditional Irish potato pancake that has a thin and delicate in texture, similar to a crepe. You might find it served with scallions or even used as a wrap for a large variety of savory ingredients.
The subtleness of a wheat beer is a good match for this simple dish. Wheat beers are more malty and bready with a clean taste to refresh your palate.
Wheat beers to try with Boxty:
Shepherd's Pie | Brown Ale
Also called a Cottage Pie, a Shepherd's Pie is a layer of ground meat, like lamb or beef, and a layer of vegetables, topped with an iconic Ireland ingredient, a layer of mashed potatoes.
A hearty dish requires a hearty beer to match. The toasty flavor of toffee and nuts from a brown ale fits nicely with the combination of vegetables, meat and potatoes. The slight bitterness from the brown ale cuts through the heavier ingredients in this comfort food.
Brown ales to try with Shepherd's Pie:
CraftBeer.com is fully dedicated to small and independent U.S. breweries. We are published by the Brewers Association, the not-for-profit trade group dedicated to promoting and protecting America's small and independent craft brewers. Stories and opinions shared on CraftBeer.com do not imply endorsement by or positions taken by the Brewers Association or its members.