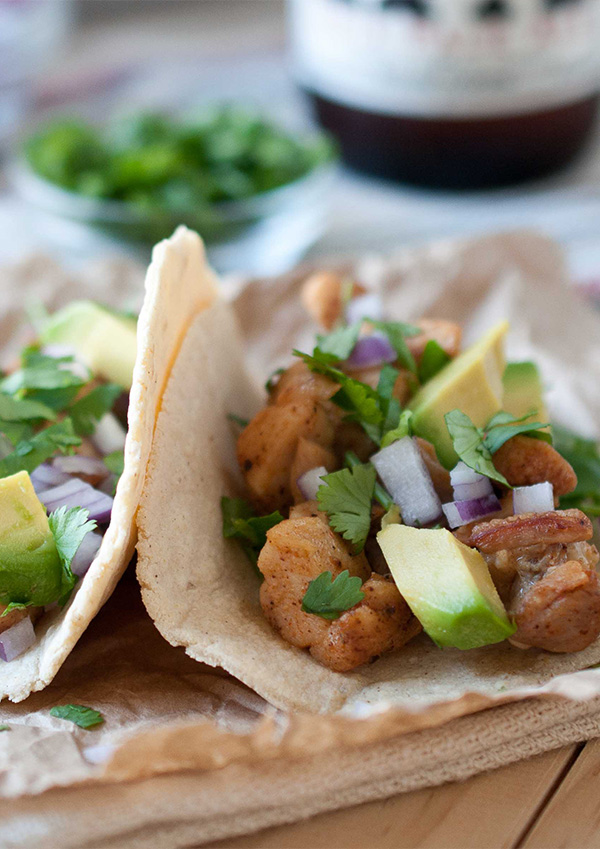 Taco and Beer Pairings to Celebrate Cinco de Mayo
When it comes to pairing tacos with craft beer, there are two major aspects of the dish that I take into consideration: first there's the type of protein and how it's cooked; then there's the toppings, sauces and garnishes.
Now, some people might argue that the vessel in which the taco is served—hard corn shell, soft corn tortilla, flour tortilla, fried tortillas, etc.—also plays an important role in the overall pairing experience. This may be true, but my rule of thumb is to choose the shell you like best and focus on pairing your beer with the ingredients inside.
Here in central California, I have no less than ten authentic taquerias and taco trucks within a three-mile radius of my house (tough life, I know). But for those of you looking for a new recipe for your Cinco de Mayo festivities, here are two of my favorite super yummy, super easy and super quick taco recipes and the beers I like to wash them down with.
Tacos de Chorizo con Papas
Tacos with spiced Mexican sausage and potatoes—a great dish that I discovered at a nearby taqueria. Super easy to make at home!
Ingredients
8-10 oz. Mexican (or vegetarian) chorizo, casing removed
Beer for deglazing
1 yellow onion, diced
1 lb red potatoes, skinned and diced
1 jalapeño, minced
2 cloves garlic, minced
Soft flour tortillas
Chopped onion and cilantro garnish
Instructions
Boil the potatoes for a few minutes until soft enough to stab, but still crunchy. Drain and set aside. Heat oil in a large skillet, add onions, garlic and jalapeños. Sautee until onions are translucent. Add potatoes and continue to sauté for 3-5 minutes, stirring frequently. Add chorizo, breaking up clumps as needed. Season with salt and pepper, cook for roughly five minutes and then deglaze the pan with a splash of the beer you are going to drink with the dish. Serve in soft flour tortillas and top with the traditional mix of freshly diced onion and cilantro.
Pairing
Chorizo is almost always made with pork, and I'm a big fan of pairing pig products—especially roasted pork loin, ham and pulled pork—with amber ales and lagers.
Pork has a certain sweetness that works really nicely with the caramel malt sweetness of amber-hued beers. Pair a crisp amber lager with the recipe above or make a kicked up, extra spicy version of it and pair with an American amber ale!
Recommended Craft Beers
Baja-style Fish Tacos
Beer-battered fish lightly fried and topped with a zesty coleslaw and refreshing fruit salsa. This recipe is equally delicious with grilled fish.
Ingredients
Beer-Battered Mahi Mahi
1 lb Mahi Mahi (or tofu), cut into 1 inch strips
Oil for frying
Soft corn tortillas
Beer batter: ¾ cup beer (pilsener or Belgian wit), ¾ cup flour, ¾ tsp salt
Coleslaw
1 Tbsp lemon juice
1 tsp lemon zest
¼ cup mayo
1 cup shredded cabbage
Fruit Salsa
1 cup fresh tomatoes, diced
1 cup pineapple, diced
1 cup red onion, diced
1 serrano chile pepper, minced
1 clove garlic, minced
¼ cup cilantro, roughly chopped
Juice of 1 lime
Instructions
Mix salsa ingredients together until blended, set aside. Mix lemon juice and zest with mayo, toss with cabbage until evenly covered, set aside. Stir batter ingredients together until smooth. Add fish pieces to beer batter and coat thoroughly. Heat canola oil in a tall pot over medium-high heat. Slowly add battered fish to oil and fry 3-6 minutes total. Remove from oil and drain on a paper towel. Sprinkle with sea salt. Assemble tacos fish first, followed by slaw and finally the fruit salsa.
Beer Pairings
This recipe can go several ways, which is what makes it so exciting. My top three choices include pilsner (a classic pairing for tacos), Belgian wit and American IPA.
Fruity, refreshing and slightly zesty, the Belgian wit is a good match for the sweet pineapple salsa and lemony flavors in the slaw.
American hops also love citrus flavors, spicy foods and anything fried—making the American IPA a solid choice. Any way you go, you can't go wrong.
Recommended Craft Beers
What is your favorite beer and taco pairing? Share your favorites in the comment section below!
CraftBeer.com is fully dedicated to small and independent U.S. breweries. We are published by the Brewers Association, the not-for-profit trade group dedicated to promoting and protecting America's small and independent craft brewers. Stories and opinions shared on CraftBeer.com do not imply endorsement by or positions taken by the Brewers Association or its members.