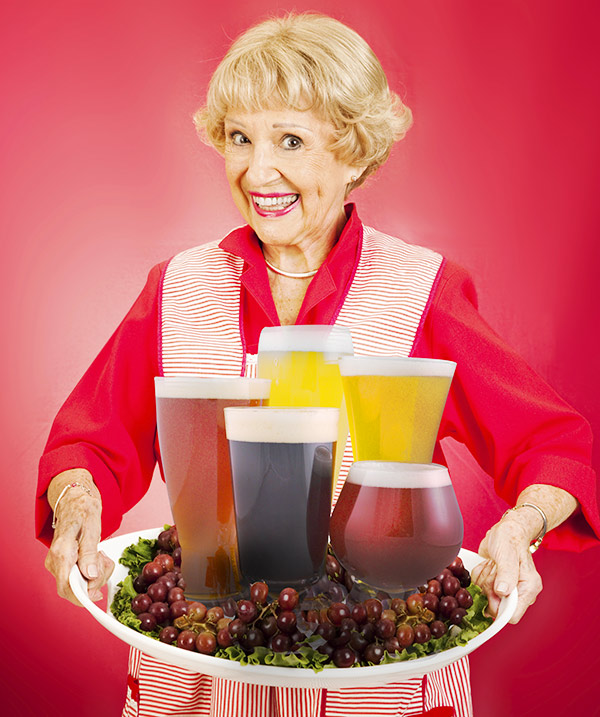 Thanksgiving Stuffing and Beer: 10 Pairings from Across the Nation
While the turkey may be the star of the show, a Thanksgiving meal just isn't complete without the stuffing (or the dressing or filling, depending on your chosen term). If you had any doubts about the popularity of this side dish, consider that Stovetop Stuffing alone sells 60 million boxes around Thanksgiving.
And just as every American region has its signature sandwich, the same is true for stuffing. You may use your grandma's recipe or one of your own, but everyone's stuffing recipe seems to be a bit different, and usually with certain regional themes. In honor of everyone's favorite Thanksgiving side dish, here are 10 stuffing and beer style pairings from around the country:
Oktoberfest with Southern Cornbread Dressing
Don't call it "stuffing" in the South—it's "dressing" here. And it usually starts with a cornmeal foundation, often with pork sausage and other ingredients. Since the cornmeal and pork both can have a slight sweetness, reach for a malty Oktoberfest with a toasty, slightly sweet profile to match.
Try it with these Oktoberfests from the South: 
---
 Milk or Oatmeal Stout with Deep South Biscuit Dressing
If you're in the Deep South—Alabama, Mississippi, Louisiana, Georgia and South Carolina—you may trade out the cornmeal dressing for one with buttermilk biscuits instead. To go along with the buttermilk and heavy cream that's in abundance with biscuit dressing, pair the texture with a full-bodied, creamy Milk Stout. The addition of oats in an Oatmeal Stout make the brew super smooth and a great match for the richness of this dressing.
Try it with these milk and oatmeal stouts from the deep South: 
---
Sour Beer with California Sourdough Stuffing
Sourdough is a bread staple in the Golden State, so it makes perfect sense as a go-to for stuffing. The lactic acid in the bread produces a mild sour taste, so play it up with a robust sour beer. You'll often find licorice flavors in the stuffing from the addition of fennel and leeks, which also pair well with a tart sour.
Try it with these sours from California: 
---
Pilsener with Pacific Northwest Seafood Stuffing
The Pacific coast has seafood in abundance, and it even shows up in the Thanksgiving stuffing. Clams and mussels are popular additions, along with hazelnuts for an extra roasty taste. Shellfish can have a slightly sweet, slightly salty flavor that's rather mild, so a clean, dry pilsener is a good choice to not overpower the subtlety.
Try it with these pilseners from the Pacific Northwest:
---
 Fruit Beer with Midwestern Dried Fruit Stuffing
Dried fruit often adds a sweet, tart pop to stuffing recipes in the Midwest. Add traditional fall fruits like apples, or choose a berry to represent your favorite Midwest state. Cranberries give a shout-out to Wisconsin, which produces more cranberries than any other state. Cherries or blueberries lend more of a Michigan flavor – the state is the leading producer of both. Whichever fruit you fancy, it's only fitting to accompany that sugary, bright flavor with a fresh-tasting fruit beer.
Try it with these fruit beers from the Midwest: 

Chile Beer with Southwestern Chili Stuffing
The unique climate of the Southwest–specifically New Mexico and parts of Colorado–makes it the ideal place to grow green chilies. This spicy staple adorns menus in the region at breakfast, lunch, and dinner. For stuffing recipes, green chilies are often added along with corn, cumin, and other smoky spices. Highlight the bold, piquant taste of chilies with a peppery, zesty chili beer to intensify that heat even more.
Try it with these chili beers from the Mountain West: 
---
Pumpkin Ale with Pennsylvania Dutch Filling
A simple filling of potato and bread (often rye) can be found throughout Pennsylvania, harkening back to the Dutch roots among much of the state's population. Recipes will also include classic Turkey Day stuffing ingredients like celery, onions, and poultry seasoning. To accompany the heavy potato-based filling, you'll want something malty and maybe even a little starchy, such as a pumpkin beer. The seasonally appropriate style livens up the stuffing with flavors of nutmeg, clove, cinnamon and allspice.
Try it with these pumpkin beers from Pennsylvania: 
---
Brown or Amber Ale with Minnesota Wild Rice Stuffing
Minnesota has more acres of wild rice than any other state in the country. Sage, water chestnuts, and mushrooms are just a few of the common ingredients found in wild rice stuffing recipes. To compliment the earthiness of sage and mushrooms and the starchiness of the rice, an amber ale will bring a nice toasty nuttiness that can round out the dish.
Try it with these amber and brown ales from Minnesota: 
---
 Oyster Stout with East Coast Oyster Stuffing
There's no shortage of oysters off the East Coast, so, of course, they find their way into stuffing recipes. They're often accompanied by the addition of powerful flavors like bacon, thyme, parsley, sage, and turkey giblets. Don't stray from tradition on this one – stouts and oysters have been inseparable since the 18th century. Oyster stouts are full-bodied beers with a distinct taste that matches this stuffing recipe like nothing else.
Try it with one of these oyster stouts from the Northeast:
---
 Pale Ale with Louisiana Cajun Rice Dressing
Staying true to the state's Cajun roots, a spicy, flavorful rice dressing is often prepared in Louisiana. Rice, which is widely produced here, is blended with sausage, seafood, garlic, onions, and traditional spices such as paprika, cayenne pepper, black pepper, and dried oregano. A hoppy Pale Ale can handle the heat without drowning out the mild flavors from the seafood or the rice.
Try it with one of these pale ales from Louisiana:
Save
Save
CraftBeer.com is fully dedicated to small and independent U.S. breweries. We are published by the Brewers Association, the not-for-profit trade group dedicated to promoting and protecting America's small and independent craft brewers. Stories and opinions shared on CraftBeer.com do not imply endorsement by or positions taken by the Brewers Association or its members.