It's not hard to see why the average traveler is attracted to Charleston, South Carolina. It's a Southern city full of charm, harboring historical landmarks, shopping and restaurants galore. It's also a coastal city, beckoning you to its beautiful beaches, waterfront views and palm-lined palisades. The smell of jasmine perfumes downtown as the vines carefully creep up walls and columns.
The Holy City is a historic town that has withstood the test of time, surviving war and fire. Now the craft beer revolution is bringing new light to this city making Charleston a beercation destination. Charleston boasts 10-plus breweries with several more in planning. Many have been around for five or more years, including Coast Brewing, Holy City and Palmetto. These veterans have paved the way for several of Charleston's newer small breweries, and these newbies are gaining major notoriety in the industry. It also houses several other establishments that make locally brewed beer a top priority. Here's how beer lovers can make the most of a stay in Charleston.
The Holy City is a historic town that has withstood the test of time, surviving war and fire. Now the craft beer revolution is bringing new light to this city making Charleston a beercation destination.
The Peninsula (a.k.a. Downtown Charleston)
Downtown Charleston is referred to as the Peninsula. If you look at a map, this historical section of the city is surrounded by water on three sides. The amount of activities and landmarks to explore here are countless. For the craft beer enthusiasts, downtown Charleston boasts several spots worth checking out.
Start off your morning with a stop at Kudu Coffee & Craft Beer. Kudu is a favorite spot for locals and travelers alike. Inside you will find hand-roasted craft coffee beverages, 22 beers on tap, a daily cask ale, and delicious pastries and other foods from local bakeries. Inside is quaint and comfortable, outside is a private courtyard with sparkling string lights and occasional live entertainment.
After your morning coffee (or beer, we won't judge) walk over to King Street and head south to see the glory of downtown Charleston. Many attractions to explore include the Charleston Farmer's Market on Saturday mornings in Marion Square, Rainbow Row on E. Bay Street (13 pastel colored Georgian Row Houses that date back to the 1700s), and the Charleston City Market where locals sell a vast array of handmade goods and art. There is also endless shopping on King Street. If you find yourself vacationing with someone who enjoys shopping, you can find relief at Closed for Business, a well-known craft beer bar on King Street.
Before heading out of downtown to explore the breweries, stop by the Charleston Beer Exchange, a small but mighty bottle shop. Here you will find local, national and international beers that have been carefully selected to cater to the Charlestonians. They also have a selection of beers on draft for growler fills. The guys who run this place are knowledgeable about craft beer and willing to help customers find their way around their massive selection.
As you head north out of downtown, there are several breweries to check out. Palmetto Brewing, the veteran of breweries, has been operating right outside of downtown for more than 20 years. Right down the road you'll find Revelry Brewing, a hip spot not too far from downtown where locals like to hang outside and enjoy a pint and a cheese plate. Cooper River Brewing recently opened in 2015 and has received love from the locals looking for new establishments to explore. Continue a little further north and you'll find yourself heading to the middle of nowhere (or so it seems). But I promise amazing beer awaits in the abyss.
(MORE: Beercation Destination: Nashville)
North Charleston
North Charleston is the area just north of the Peninsula. This area has been home to a majority of Charleston's most well-known breweries for many years. Holy City Brewing is a cool spot to hang out on Sundays for their Sunday Brunch with tons of TVs to catch an NFL game. They also boast a huge tap list with anywhere from 20 different beers. You will find a variety of beer on tap ranging from their core beers to more experimental brews for those who enjoy interesting and different flavors.
Many of Charleston's best-hidden secrets are just that, hidden. Located inside of an old navy yard you will find Coast Brewing. Open since 2007, these guys have been brewing honest, straightforward beers that will impress anyone's palate. Coast Brewing is family friendly, as are all of the breweries in Charleston. On any given Saturday, you'll find families from all walks of life sitting outside the brewery enjoying a 32/50 Kolsch or HopArt IPA.
To conclude your brewery tour of North Charleston, swing by Frothy Beard Brewing, the darling brewery of Charleston. Locals have been in love with them from the beginning, and now Frothy Beard is gaining major notoriety in the craft beer world. The types of beers they create could be likened to the love child of Coast Brewing and Holy City Brewing. Frothy Beard's head brewer Joey Siconolfi has turned classic beer styles into something completely different by adding non-traditional ingredients and pushing the limits on flavor profiles. Their most exciting beer is their Andale!, a jalapeño cilantro pale ale. This beer is savory and spicy, and will coat your tongue with pepper flavor. Another favorite among locals is the seasonal Melon Collie & The Infinite Seedless. This watermelon wheat beer has a strong watermelon taste without being artificial or candy-like. It is extremely refreshing in the Charleston summer heat.
Frothy Beard will soon be moving to the West Ashley area of Charleston. They recently acquired an investor from Charleston-based Push Digital and are looking forward to growing into a bigger space with new equipment so that they can create more exciting beers for us to try. Also located in their new building will be Zombie Bob's Pizza. What could be better than pizza and craft beer?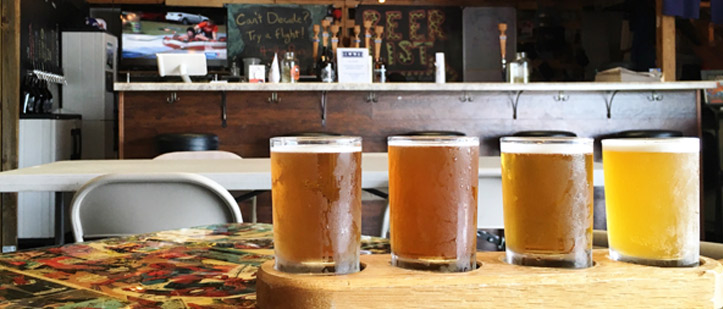 After a day of exploring Charleston's well-known breweries, make your way back downtown for dinner and beers at Edmund's Oast. Open since 2014, Edmund's Oast has gained national recognition for the farm to table menu and their impressive tap list, which includes their own in-house beer. The Peanut Butter & Jelly beer has become quite famous, but be sure to try any of their sour beers if they have any on tap.
(MORE: 7 Beer-centric Hotels You'll Want to Visit)
Mount Pleasant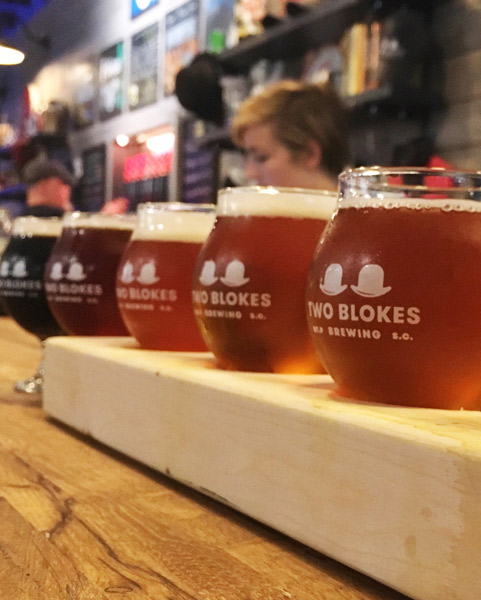 Depending on your length of stay and space in your stomach for more beer, an easy drive over the bridge out to Mount Pleasant will not disappoint. There are a few well-known breweries in this area and new ones are opening all the time. The newest breweries in Mount Pleasant are Two Blokes Brewing and Ghost Monkey Brewing.
Two Blokes boasts a spacious taproom with bar seating, couch seating, and even a fun little play area designed specifically for children. You'll probably meet the owners/brewers behind the bar, proudly pouring their beer to patrons. Bushfire, a chipotle amber ale, stands out among the rest with its smoky back note and spiciness at the forefront. Bushfire would be absolutely amazing with a pulled pork sandwich or brisket. These blokes are trying to bring tasty, honest beer to Mount Pleasant and they are succeeding.
Right down the street is Ghost Monkey Brewery. A trip to this newbie is worth it just to discover what the name Ghost Monkey means. And to finish your Mount Pleasant brewery tour, stop by Westbrook Brewing Co. for a tour of their impressive production facility and taproom. Westbrook has one of the largest barrel programs in the state, and if you're lucky you might even see Mexican Cake aging in one of those barrels.
After another day of exploring breweries, check out Dog and Duck in Mount Pleasant for some of the best local wings. They also carry local beer on tap, such as Low Tide Brewing which is located on John's Island. Another option is to swing by Swig and Swine in West Ashley on your way out of town. Swig and Swine has become a local favorite over the last few years for the best barbecue in the Charleston area. They smoke their own meats in house and provide the best southern sides anyone could hope for when eating barbecue (I'm looking at you, mac & cheese). They also have a modest tap list with local and statewide beers to choose from, if you can handle it.
CraftBeer.com is fully dedicated to small and independent U.S. breweries. We are published by the Brewers Association, the not-for-profit trade group dedicated to promoting and protecting America's small and independent craft brewers. Stories and opinions shared on CraftBeer.com do not imply endorsement by or positions taken by the Brewers Association or its members.