There's never been a better time to be a craft beer lover. Not only are there over 7,000 craft breweries to choose from, but you can also find craft beer almost anywhere you go, amusement and entertainment parks included. Read on to find out about five amusement or entertainment parks where sipping that beer may prove to be just as thrilling as any of the rides, no matter how big or fast.
New Glarus Brewing Co. at Timber Ridge Lodge & Waterpark | Lake Geneva, WI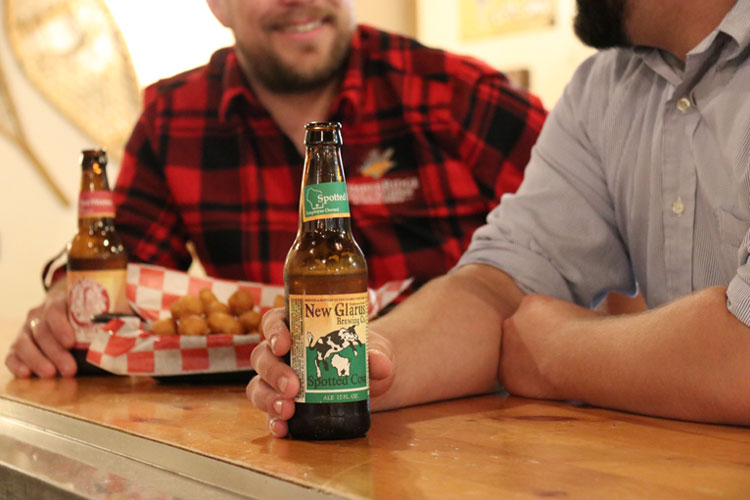 You can't buy New Glarus anywhere but in Wisconsin, and the one beer you shouldn't miss is the Spotted Cow, an American cream ale that many refer to as the state's beer. This is one reason Timber Ridge made it the main craft beer it carries. "We're always looking to support local businesses, and it's a win-win for us, as our guests love the 'only sold in Wisconsin' Spotted Cow," says Jesse Kearns, resort manager of Timber Ridge. But that's not your only choice here. After a long day at the Moose Mountain Falls Waterpark, you can also kick back with a Bits & Pieces Mosaic IPA from Public Craft Brewing Co. or a Fresh Haze IPA from Deschutes Brewery.
Grove Roots Brewing Co. at LEGOLAND Florida Resort | Winter Haven, FL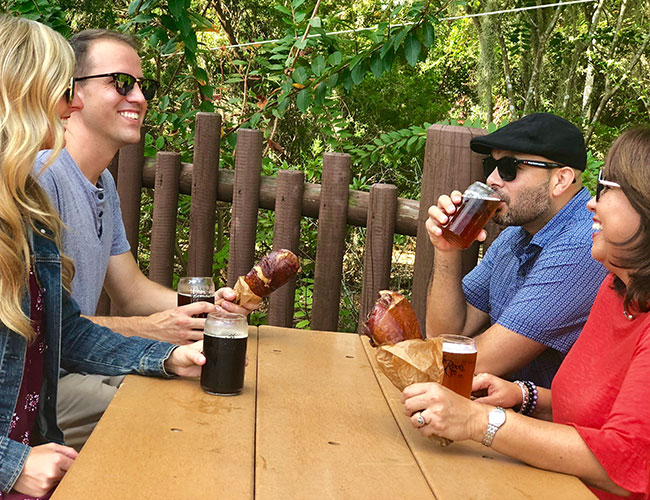 Travelers are always looking for local connections in food, drinks and activities, which is why LEGOLAND, a major Florida tourism destination, reached out to Grove Roots. "They wanted to partner with their hometown brewery, and we're excited to bring in artisanal beers inspired by central Florida," says Joe Dunham, owner and founder of Grove Roots. Three areas of the park currently offer its beers – the Water Park, Fun Town Pizza and Pasta Buffet, and Dragon's Den in the Lego Kingdoms – and among those locations, guests can always find three flagship beers (Wakes of Grain American Amber Ale, Slanted Ladders White Pale Ale and Rind & Shine Citrus Witbier) and one seasonal. Since September 2018, Grove Roots' beer has been well received by beer-loving guests who not only get a local experience but a tasty one at that. "Because the brewery is right down the road, the beer is always fresh," Dunham adds.
Yuengling Brewery at Hersheypark | Hershey, PA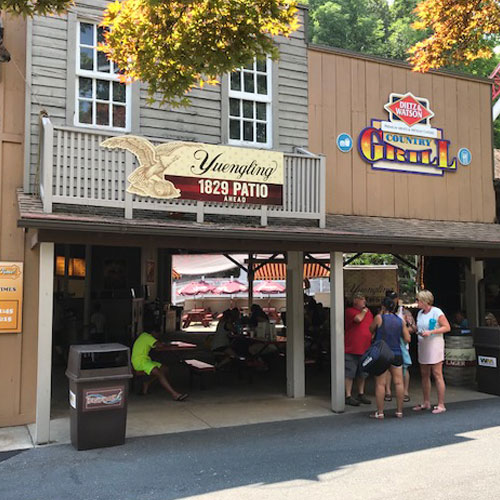 Pennsylvania takes a lot of pride in Yuengling, one of America's oldest breweries, and one that's still independently operated by the family today. Ten years ago when Hersheypark–another name synonymous with Pennsylvania–began selling Yuengling Traditional Lager on draft, the relationship couldn't have been any more ideal. "As two iconic Pennsylvania brands, it felt like a natural fit to partner with Hersheypark," say Debbie and Wendy Yuengling, sixth-generation family members at the brewery. In 2018, the park opened its 182 Pavilion in Pioneer Frontier that now offers a wider selection of Yuengling beers, including the Traditional Lager, Light Lager, Black & Tan, and Golden Pilsner.
Yee-Haw Brewing Co. at The Island | Pigeon Forge, TN
Yee-Haw opened its location on The Island in June of 2018, and business hasn't slowed down since then. "This location generates high traffic flow, which is great for getting our brands exposed to consumers and allowing sampling opportunities," says Steve Montano, vice president of sales and marketing at Yee-Haw. The brewery has five core brands, including a dunkel, IPA, Kolsch, pale ale, and its Eighty Shilling Scottish Ale, which are always available. You'll also find the brewery's seasonal and high-gravity beers on tap, giving you plenty of reasons to say yee-haw.
Sycamore Brewing at Carowinds | Charlotte, NC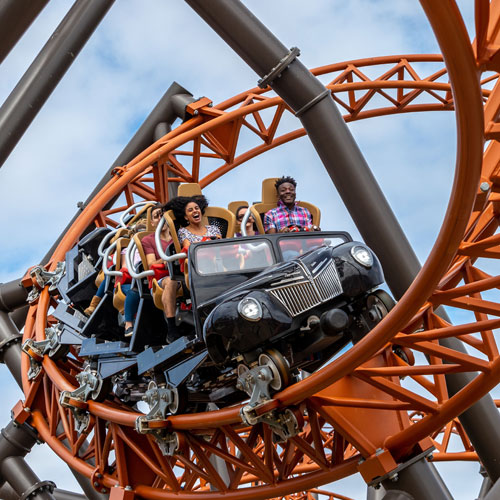 When an amusement park opens a new roller coaster, it often wants to do so with a bang – or in this case, a beer. "The Copperhead Strike is a cool, unique ride and the park wanted to find a way to get the word out in a new and unique way," says Archie Gleason, vice president of sales with Sycamore Brewing. Because Carowinds' guests were becoming more interested in craft beer, the park decided to create a special beer and went looking for a Carolina-born partner, hence the connection to Sycamore. The brewery crafted the Copperhead Strike IPA, which is available at all three of the park's restaurants and its general market. Although this is the first season for the coaster and its accompanying beer, all signs are pointing to this beer flying high.
Of course, these five amusement and entertainment parks aren't the only ones in the country where you can find craft brews. They're just the ones that popped up on our beer radar first. The good news from all this? Craft beer lovers now have another venue where they can sip – and support – local.
CraftBeer.com is fully dedicated to small and independent U.S. breweries. We are published by the Brewers Association, the not-for-profit trade group dedicated to promoting and protecting America's small and independent craft brewers. Stories and opinions shared on CraftBeer.com do not imply endorsement by or positions taken by the Brewers Association or its members.