Beer is a beverage brewed to meet the seasons, so it's no surprise that summer beers in 2017 are seeing an array of fruit-infused recipes. From 21st Amendment's watermelon sour inspired by a popular predecessor to a raspberry sour Berliner Weisse meant to take you "Back to the Future," if you're digging the fruit craze, here are the seasonal releases you'll want to grab.
Peach Bum | Indeed Brewing Company in Minneapolis, MN
Peach Bum is a 6% ABV summer IPA packed with the flavors of peach cobbler, mango, apricot and blueberry. The brewery says the flavors come from a strain of yeast that produces big peach-like flavors. Then they added more peach to give it extra juice.
Tarty McFly | War Horse Brewing Company in Geneva, NY
Tarty McFly is a rotating seasonal sour made with a heap of fresh raspberries from Red Jacket Orchards, which is a few miles away from War Horse.
"We make Tarty McFly as a rotating sour to show off some of the awesome local ingredients we can find fresh here in the Finger Lakes," says brewery manager Jon Mansfield. "Also, the name is awesome, right?!"
(TRAVEL: Find a U.S. Brewery)
Watermelon Funk | 21st Amendment Brewery in San Leandro, CA
Watermelon Funk is a slightly hazy beer with fruity esters and farmhouse aromas. The idea for this summer beer was born out of the brewery's wildly popular Hell or High Watermelon Wheat.
21st Amendment's Stephenie Medina says the inspiration for Watermelon Funk was born in 2006 at San Francisco's Toronado beer bar.
"Shaun O'Sullivan and Vinnie Cilurzo from Russian River Brewing Company were enjoying beers. Shaun was tactfully urging Dave Keene, the owner and proprietor of the Tornado, to put on Hell of High Watermelon Wheat," Medina says. "Dave was reluctant to add a fruit beer to his list, and as the brewers talked around the idea, Vinnie turned to Shaun and said: 'I have an idea. We'll funkify it.' And the idea was born."
Summertrip | Braxton Brewing Company in Covington, KY
The northern Kentucky brewery says its Summertrip, a passionfruit Berliner-Style Weisse, is one of its most popular beers meant to remind you that "Summer isn't a season. It's a state of mind." The summer seasonal beer rings in at a sessionable 4.2% ABV. You can find it in cans in the brewery's distribution area.
(BEER TRAVEL: How to Get the Most Out of a Beer Trail)
Grapefruit Gose | Grand Teton Brewing in Victor, ID
Grand Teton Brewing used a traditional gose recipe and then added its own touch: natural Yellowstone mineral salt and one half-pound of ruby red grapefruit puree per barrel of beer. As a result, Grapefruit Gose is a flavorful, low-ABV (4%) summer beer.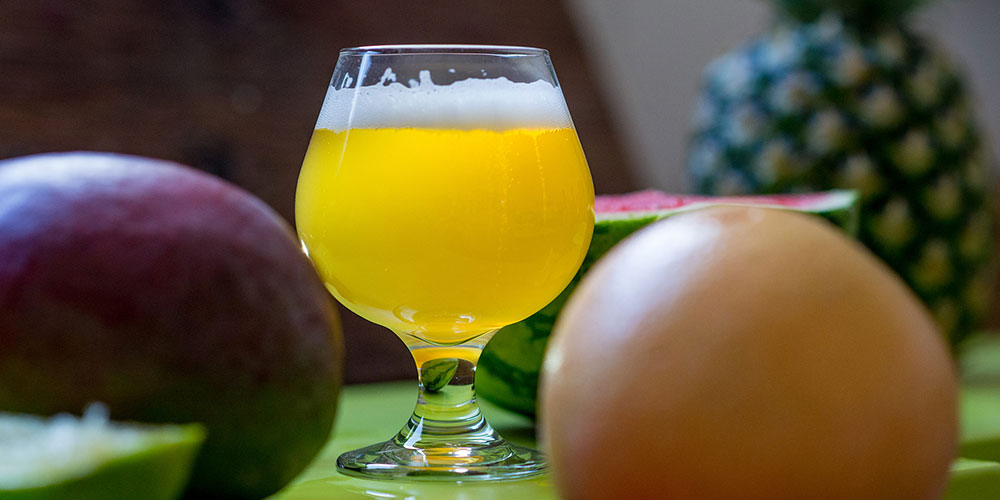 Blood Orange Blonde | Anchor Brewing Company in San Francisco
Blood Orange Blonde is the new release in Anchor Brewing's Pacific Siren Series.
"This refreshing, crisp craft brew gets some of its citrusy aroma in the brewhouse, where California orange peels are added to the brew kettle," explains brewmaster Scott Ungermann. "Most of the action is in the cellar where the blood orange fruit—the Sanguinello cultivar variety—is added during secondary fermentation. The result is a fruit-forward blonde ale with a tangy citrus tartness, hints of sweet malt and honey notes and a dry orange peel bitterness at the back end."
Angry Red Hawaiian | Lovelady Brewing in Henderson, NV
Lovelady created Angry Red Hawaiian by blending Love Triangle Belgian Red with 9th Island Pineapple Sour. Then they aged the blend on fresh jalapeno peppers. The 5% ABV ale has aromas of fresh pepper, pineapple, sour and spice.
"One of our regulars came up with the name for it," explains co-founder and brewer Richard Loveland. "The label depicts the Tikis for the God of anger with a Hawaiian fire dancer."
(LEARN: Discover 75+ Popular Beer Styles)
Blueberry Hefeweizen | Wasatch Brewery in Park City, UT
Summer is the season for blueberries in Park City, Utah. The aromatic fruit makes a pleasant addition to Wasatch Brewery's hefe. The brewery describe this summer beer as "juicy blueberry meets melted wheat."
Lemon Ginger IPA | Garage Brewing Company in Temecula, CA
Garage Brewing Company takes a different route with its Lemon Ginger IPA. This American IPA has a spicy ginger flavor, while on the nose you're greeted with the aroma of lemons from lemon zest added to the recipe. But don't worry IPA fans: they assure us the hop aromas and flavors still rule.
Amra Mango IPA| DESTIHL Brewery in Central Illinois
DESTIHL's first non-WiLD Sour Series seasonal release of 2017 is Amra Mango IPA. The brewery says both hopheads and hop shy drinkers will enjoy the beer's flavor profile. The sweetness from the malt combined with the juiciness of the mangoes dampen the bittering hops.
"The hop characteristics are already chock full of tropical fruit, so accompanying it with juicy mangoes was a very natural pairing," explains Matt Potts, DESTIHL's founder, CEO and brewmaster.
CraftBeer.com is fully dedicated to small and independent U.S. breweries. We are published by the Brewers Association, the not-for-profit trade group dedicated to promoting and protecting America's small and independent craft brewers. Stories and opinions shared on CraftBeer.com do not imply endorsement by or positions taken by the Brewers Association or its members.