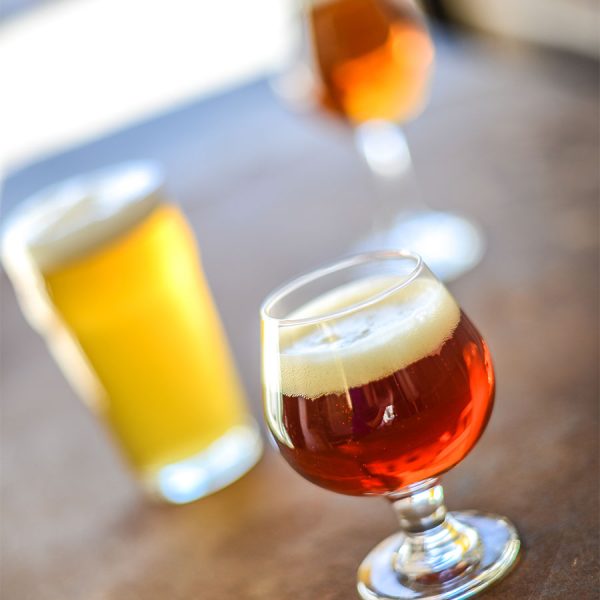 5 of the Biggest Beer Releases of 2015
Aerosmith frontman Steven Tyler said it best: "Life's a journey, not a destination." That same philosophy applies to the wonderful world of craft beer. While getting one's hands on a coveted special-release beer feels like winning the lottery, just experiencing the release events themselves is enough to inspire many beer lovers to make great sacrifices in search of craft brewing's top prizes.
"It's like a right of passage, a badge of honor," says Russian River Brewing's Natalie Cilurzo about the two-week line that snakes through Santa Rosa, Calif., during the annual release of Pliny the Younger.
Highly-Anticipated Rare Beer Releases of 2015
Barrel-Aged Abraxas
Who: Perennial Artisan Ales When: Late Summer Where: St. Louis, Missouri
The Beer: An 11 percent ABV imperial stout aged 12 months in Rittenhouse Rye barrels with cacao nibs, vanilla beans, ancho chiles and cinnamon sticks.
Limit: In 2014 it was two 750 ml bottles per person at the brewery, and one bottle for online lottery winners.
The Event: While details of this year's release have yet to be finalized, the June 2014 event featured a first-come, first-served single-day release party at the brewery. Fans lined up outside the brewery for a bottle share, and once inside they enjoyed draughts of Barrel-Aged Abraxas and other unique brews like Perennial's Barrel-Aged 17 Mint Chocolate Stout. A limited amount of Abraxas also was released via an online lottery system.
Like several of his craft-brewer brethren across the U.S., Phil Wymore could not have foreseen the reaction his Barrel-Aged Abraxas would receive upon its first public release event in 2013. With a perfect 100 score on both BeerAdvocate and RateBeer, and a No. 4 ranking on BeerAdvocate's Top 250 Beers of the world, Abraxus set Perennial Artisan Ales on the fast track toward beer-release stardom.
"We had no idea how to anticipate how many people would show up," says Wymore, brewmaster and founder. "But after it started getting such high ratings and became such a high trade-value type of beer on a lot of lists, we knew that we needed to sort of change our game in 2014."
Last year Perennial took steps to better organize the line for entering the brewery for the Barrel-Aged Abraxas release, and implemented an online lottery system for those unable to attend the release event. And while the odds for bottle scoring were trimmed by the rush of 10,000 entries, "at least people have a crack at it," Wymore says.
The brewery bumped up production by 50 percent this year to meet the ravenous demands of Abraxas fans, who no doubt will again be lined up in advance, with thousands more poised over keyboards for an online shot at one of the beer world's rare treasures.
Dark Lord
Who: 3 Floyds Brewing Co. When: April 25 Where: Munster, Indiana
The Beer: A 13 percent ABV Russian-style imperial stout brewed with coffee, Mexican vanilla and Indian sugar.
Limit: "Probably three or four" 750 ml bottles per person.
The Event: Details of Dark Lord Day and ticket sales will be announced by St. Patrick's Day. Co-founder Nick Floyd says the brewery plans to offer a general admission ticket and a "beer lover's" ticket that will include the chance to purchase up to "probably three or four" 750 ml bottles of Dark Lord. There will be a "huge lineup" of musical acts and other variants of Dark Lord stout available.
Dark Lord Day is the most iconic single-day release event in the craft beer industry.
Last year about 10,000 Dark Lord diehards flocked to the brewery grounds, and this year – having purchased more property in the industrial park it calls home – 3 Floyds should be able to accommodate another 3,000 to 4,000, says company co-founder Nick Floyd.
When asked if 3 Floyds would ever consider expanding to a full weekend event, Floyd chuckles and says: "For one day it stops traffic for miles around. I don't think we could do it two days without getting run out town."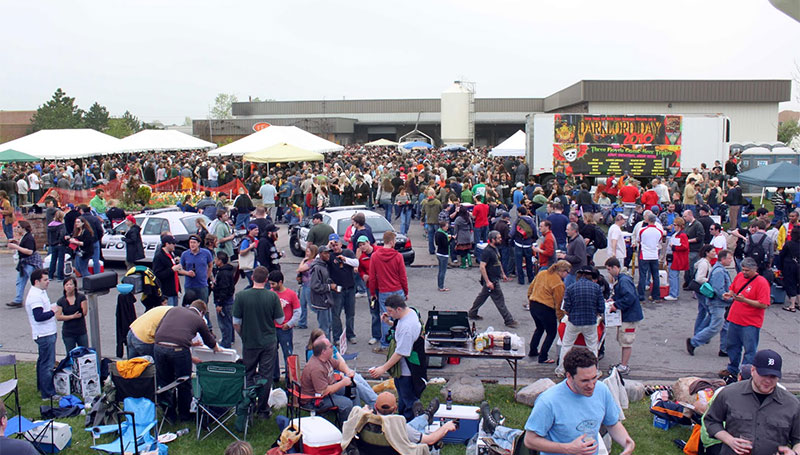 This is the 12th year overall and 10th in bottles for Dark Lord, which the brewery bills as a "demonic" Russian-style imperial stout. For those fortunate enough to score a few bottles, Floyd recommends laying them down for a while.
"If I bought Dark Lord," he says, "I wouldn't drink it for probably two years."
KBS
Who: Founders Brewing Co. When: March 9-14 Where: Grand Rapids, Michigan
The Beer: An 11.2 percent ABV imperial stout made with massive amounts of coffee and milk chocolate, cave-aged for one year in oak bourbon barrels.
Limit: Two 4-packs per ticket holder.
The Event: Founders will host a second annual KBS Week, featuring five consecutive bottle-release days at the brewery via an online, pre-ticketed reservation process on EventBrite. KBS also will flow on draft throughout the week at 15 select bars and restaurants in Grand Rapids (three each day). KBS Week will culminate with a Founders taproom release party where the beer will be poured all day.
For more information visit: KBSWeek.com
Tickets go on sale at 11 a.m. Feb. 14 at: EventBrite.com
Thanks to the popularity of the most sought-after bourbon-barrel-aged beer in the world, and the support of "Beer City USA" Grand Rapids, KBS Day became KBS Week in 2014.
"Having a few thousand people show up at the brewery is really quite taxing on our staff, who are doing their best to try to manage the crowds," says Founders co-founder and president Dave Engbers. "As far as the release of the product itself, honestly our hand was forced a bit to turn it into a ticketed event. Spreading it out over a week really allows us to manage the whole release a lot better and all the folks have a heck of a lot better time."
With the addition of KBS tappings at 15 locations around town, this year's event is a shout-out to the ongoing support of Founders by local bars and restaurants, and gives legions of KBS fans from across the country and around the globe the chance to enjoy all of Beer City. Last year folks traveled from far and wide to attend KBS Week, including Europe and Australia.
"It's just so much fun to see the beer enthusiast community come out in droves and support something like this," Engbers says. "It's honestly so humbling that we get to be a part of this, and it's just fun to see the length that people will travel for beer."
Engbers recalls that back in 2003 or 2004, when KBS was first packaged, Founders was using only 24 bourbon barrels compared to the 4,700 it is now filling with beer. He believes that makes Founders the largest bourbon barrel-aging brewery in the world.
Founders' brewers utilize both young and old barrels, drawing unique characteristics from each that blend together into the harmonious nectar that is KBS. The barrels are stored in 40-degree former gypsum mines 85 feet beneath Grand Rapids for an average of 12 to 14 months.
But despite the aging process, Engbers strongly prefers drinking KBS fresh. "The chocolate and coffee notes," he insists, "will continue to dissipate over time."
Pliny the Younger
Who: Russian River Brewing Co. When: Feb. 6-19 Where: Santa Rosa, California
The Beer: A 10.25 percent ABV triple IPA brewed with seven hop varieties.
Limit: Three 10-ounce drafts per person per day at the brewpub (no bottles or growlers).
The Event: For 14 consecutive days Russian River will pour Younger in the pub during normal operating hours until each day's allotment runs out. Lines form outside the brewpub with an average wait time of eight to 12 hours.
For a list of rules to follow while in line and once inside the pub, and for more information on the event, visit: RussianRiverBrewing.com
As Russian River co-owner Natalie Cilurzo says, the Pliny the Younger release is not technically an event. "The line outside has become the event," she says. "Once you're inside, it's pretty much business as usual, other than the fact that we have Pliny the Younger on tap."
Oh, yeah: That beer. It's on every beer lover's must-have list, and pretty much every publication's top-10 list of the world's finest brews. Which is why, for two solid weeks, people stand in line for hours and hours – last year in the pouring rain – to sit in the brewpub and enjoy a couple glasses of the triple IPA.
A Sonoma County economic impact study a few years ago on the two-week release window found that those 14 days of Younger-mania contributed $2.3 million to the local economy. "We're really proud of that," Cilurzo says. "It's really cool that this one beer from this one little brewery in northern California can do so much for the local economy. That's something we don't want to take lightly."
Nor should Younger fans take the beer lightly. It's a 10.25 percent ABV hop-head's delight that Cilurzo's husband and fellow co-owner, Vinnie, tweaks from year to year. "There's a lot of malt used to make it boozy," Natalie says, "but it's not sweet at all. It's deceptively dry and balanced and smooth, given the high alcohol content and the quantity of hops."
Younger has never been bottled, and it's not available in growlers. About half the beer's production will be tapped at the brewpub and the other half distributed to bars and restaurants.
Who: Foothills Brewing Co. When: Jan. 30-31 Where: Winston-Salem, North Carolina
The Beer: A 9.75 percent alcohol by volume (ABV) cocoa-infused imperial stout.
Limit: Six 22-ounce bottles per person.
The Event: Foothills will host a Bottle Share Pre-Release Party at 7 p.m. on January 30 in the brewery portion of the brewpub, during which Sexual Chocolate will be available on draft. The line to purchase Sexual Chocolate bottles will begin forming on the sidewalk outside the front door of the pub once it closes at 2 a.m. on January 31. The pub will re-open at 8 a.m. and bottle sales will commence at 9 a.m.
For more information on the event and wristband distribution, visit: blog.foothillsbrewing.com
Sexual Chocolate is a brilliant name, especially for a beer released right before Valentine's Day, and it's enhanced by the red-toned '70s retro label. However, Sexual Chocolate is much more than a clever marketing gimmick.
"I've been drinking craft beer for 20 years," says Foothills marketing director Ray Goodrich, "and Sexual Chocolate is probably the only beer that has almost brought me to my knees. It's a fantastic beer, but it's ironic that the beer almost takes a back seat to the Sexual Chocolate community for the release weekend."
Just like with Pliny the Younger, the line that forms outside Foothills on the last Friday night in January has become an event unto itself, with folks traveling from across the country to partake in the festivities.
"The pre-release party is really fun because it's a huge bottle share," Goodrich says. "We don't sell tickets, and the only requirement to come is that you bring something to share with the group. It's been hugely successful and it's one of the most fun things about Sexual Chocolate weekend."
Last year Foothills began auctioning off the first few spots in line with all proceeds donated to local charities, and the first one sold for $700.
Once inside the brewery, fans will be able to enjoy Sexual Chocolate on tap, lots of giveaways for the 10th annual release, and the chance to purchase bottles of Sexual Chocolate at a $15 price tag has remained unchanged since its debut a decade ago.
CraftBeer.com is fully dedicated to small and independent U.S. breweries. We are published by the Brewers Association, the not-for-profit trade group dedicated to promoting and protecting America's small and independent craft brewers. Stories and opinions shared on CraftBeer.com do not imply endorsement by or positions taken by the Brewers Association or its members.