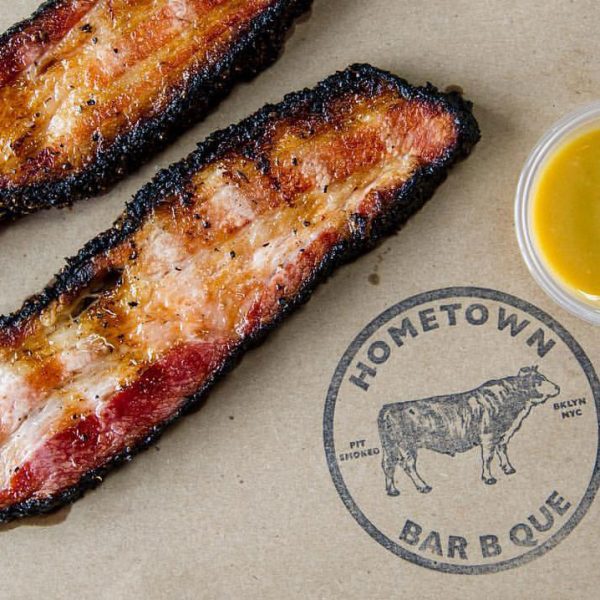 5 Brooklyn Restaurants with Amazing Beer Lists
There's a reason why Brooklyn is the hippest, trendiest and most popular area of New York City, and it's not only because I live here! Amazing music, art, shopping and parks will keep you busy, while the following restaurants will serve you world-class food with beer to match. Remember, like all good bars and restaurants, the tap and bottle lists change frequently. Be sure to ask your server for suggestions!
1. Ganso | Downtown Brooklyn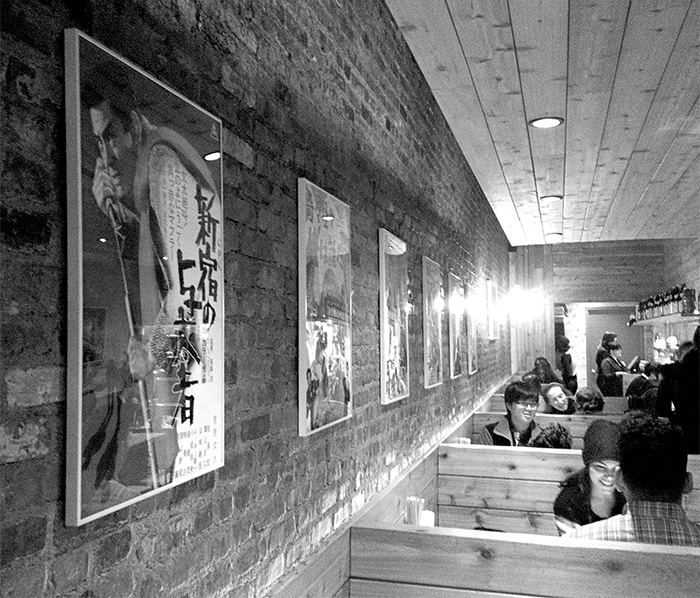 Ramen is big in NYC, but one of the few places to put great craft beer on the menu (along with amazingly authentic food) is Ganso in downtown Brooklyn.
Start with the Ganso Wings, some of the best wings I've ever had. Lightly fried but not breaded, they stay crunchy even though they're doused in a delicious, tangy, slightly spicy house sauce. With perfectly balanced flavors of soy sauce, honey, garlic, ginger and chili peppers, it's so good it should be bottled. (Really, Ganso: Please bottle it!)
An American pale ale like Maine Beer Co.'s Mo (Freeport, Maine) brings out the nuttiness of roasted garlic in the sauce, yet doesn't compete with the sweetness or heat of the wings.
The ramen entrees are equally good and make for hearty comfort food. The broth, a "double soup awase" (pork and chicken broth) cooks for nine hours. The best seller is the Ganso ($13), with a soy sauce broth, a huge piece of pork belly that's so tender chewing isn't needed, an egg, and tasty greens. If you want a mild spice, the beef short rib ramen ($15) is a good choice. For more kick, try the spicy miso ramen ($14)—hot but not overwhelming, salty but not overly so, and it offers the same tender pork belly, egg, and greens. This one also features a bit of charred cabbage that gives a delicious smoky flavor to the dish.
The ramen pairs great with Sly Fox Brewing Co.'s Pikeland Pilsner (Pottstown, Penn.). The bready malts enhance the flavors in the ramen, while some hoppy, grassy bite helps wash out the silky pork fat in the broth that coats your mouth.
---
2. Hometown BBQ | Red Hook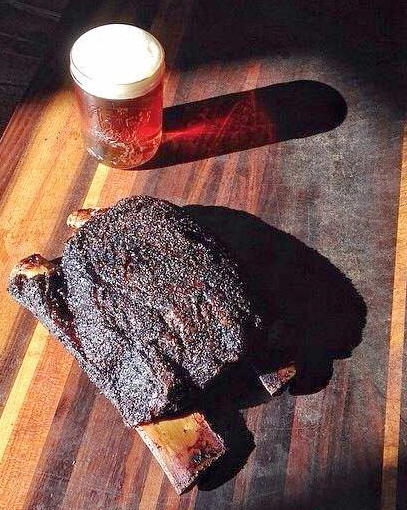 You'd never know it after tasting his barbecue, but Hometown Bar-B-Que owner Billy Durney grew up not in the Hill Country of Texas, but in Flatbush, Brooklyn. His influences come from his childhood there and his travels to barbecue meccas in Kansas City, the Carolinas and Texas.
His beef rib and brisket are both must-try dishes. Sourced in Nebraska, the rib is smoked for six hours and is incredibly moist, smoky, crispy on the outside…just perfect. And huge: My one rib weighed in at more than a pound. The brisket, like all good Texas brisket, is served without sauce—and doesn't need any. Avery Brewing Co.'s Ellie's Brown Ale (Boulder, Colo.) goes great with both. The chocolate, brown sugar and vanilla notes enhance the rich, juicy meat.
Chicken is usually overlooked in barbecue, but Hometown's chipotle chicken is incredibly juicy, flavorful, and not overly smoky from the subtle cherry wood. Sixpoint Brewery's Sweet Action (Brooklyn, N.Y.) is a lighter, slightly sweet (but still nicely hoppy) cream ale that makes for a perfect crispy accompaniment. Bonus: It's brewed right down the block!
---
 
3. Mile End | Boerum Hill
A Montreal-style Jewish deli with craft beer in Brooklyn? Not sure how Mile End Deli got here, but I'm glad it did. Instead of pastrami, it's smoked meat. Instead of fries, poutine. That's my standard meal here, with some house-made pickled vegetables added in.
The smoked-meat sandwich is simple: rye bread, mustard and smoked brisket. Dry-cured for 12 days, then smoked over white oak for 16 hours, it's freshly cut per order and comes out piping hot and very moist.
Off Color Brewing's Apex Predator (Chicago, Ill.) is the perfect beer for this sandwich. A hoppy saison, it's strong enough to stand up to the smoke and salt from the meat, the spice from the mustard, and the rye from the bread. The yeasty funk and touch of lemon cleanses your palate for the next bite.
Poutine, another Montreal classic, is done excellently at Mile End. The delicious mixture of hand-cut fries, chicken gravy and cheese curd pairs perfectly with an India pale ale like Sculpin IPA from Ballast Point Brewing & Spirits (San Diego, Calif.). The hoppy bitterness and sweet malt backbone complement the salt of the fries and the creaminess of the cheese curds and gravy.
---
 
4. Rosamunde Sausage Grill | Williamsburg
Sausage and beer is a classic combo done right at Rosamunde Sausage Grill. With two dozen grilled sausages, a seasonal house-made special, and four vegan sausage options, any beer lover can find something amazing here.
The sausages are char-grilled and served on warm french rolls with a choice of two toppings (sauerkraut, grilled onions, sweet peppers, hot peppers or spicy beef chili), along with house-made condiments (curry ketchup, garlic-pepper mayo or honey-wasabi dijon). There's also a huge selection of beer, with 24 tap lines, including two nitro lines and a hand-pumped cask.
One of my favorites is the cheddar brat, a pork sausage stuffed with New York state sharp cheddar and topped with grilled onions and hot peppers. Grab a pint of Hercules Double IPA from Great Divide Brewing (Denver, Colo.) to wash it down. The hops cut through the spice and aroma of the toppings and the richness of the brat.
I also love the duck and fig sausage, topped with mango chutney and grilled onions, next to a can of Westbrook Brewing Co.'s Gose (Mount Pleasant, S.C.). The beer doesn't overpower the light duck flavor, and the salt and coriander enhance the mango garnish.
---
5. Barboncino | Crown Heights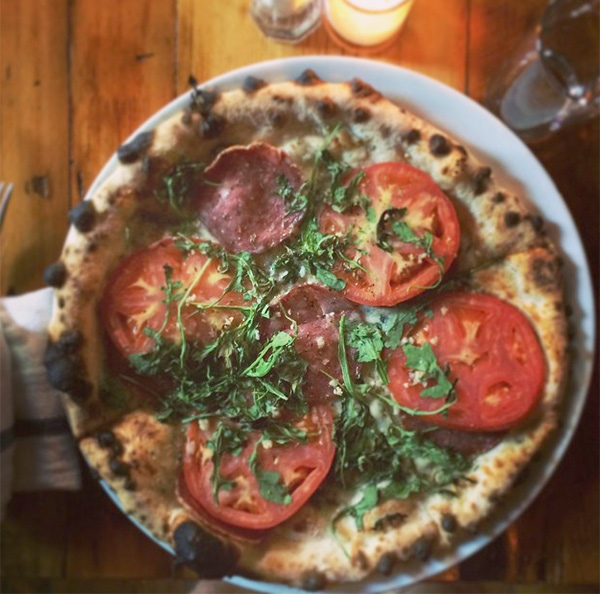 Brooklyn is famous for pizza, but finding both excellent pizza and excellent beer in one place can be a challenge. Barboncino answers the call. A Neapolitan pizzeria, Barboncino's pies are made in a wood-burning oven imported from Italy that cooks the pizza at 900 degrees in under two minutes. The result is a delicious pie with a slightly charred crust and a crispy outside edge.
I recommend the Neapolitan meatball pizza, showcasing the house marinara made from Italian tomatoes and topped with fior di latte (a delicious local mozzarella), house-made meatballs, extra virgin olive oil, parmigiano reggiano cheese and basil.
The pizza pairs perfectly with Founders Brewing Co.'s All Day IPA (Grand Rapids, Mich.). The citrusy hop notes complement the spiciness of the meatballs, and the generally bold flavor stands up to the pie.
The arugula pizza is also a customer favorite. It's made with fior di latte, fresh sliced cherry tomatoes and garlic. Once out of the oven, it's topped with fresh arugula, shaved parmigiano reggiano and extra virgin olive oil.
A lighter pizza like this pairs well with Allagash Brewing Co.'s White (Portland, Maine), a Belgian-style wheat beer or 'witbier.' Unlike the All Day IPA, Allagash White has minimal bitterness, so it won't overpower the fresh and delicate arugula, which is complemented by the coriander and orange peel in the beer.
CraftBeer.com is fully dedicated to small and independent U.S. breweries. We are published by the Brewers Association, the not-for-profit trade group dedicated to promoting and protecting America's small and independent craft brewers. Stories and opinions shared on CraftBeer.com do not imply endorsement by or positions taken by the Brewers Association or its members.