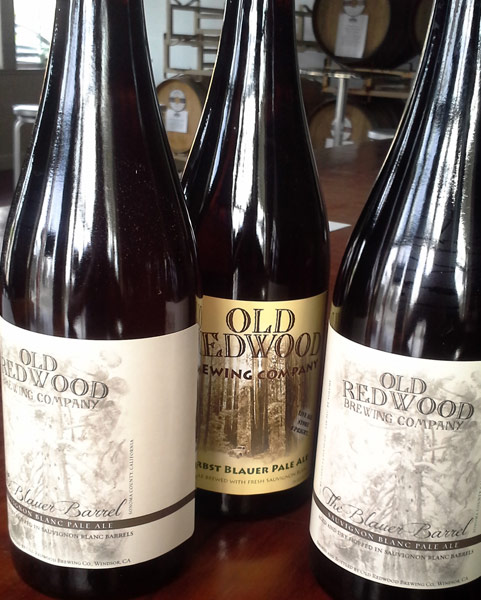 6 Breweries Going Uber Local with Ingredients
For a long time, craft brewers have been at the forefront of the locavore movement. Many breweries use hops or malts harvested from nearby farmers—and occasionally grow them on site—as well as various other local ingredients including fruits and vegetables. With the rising popularity of sour beers, many breweries are also harvesting proprietary wild yeast to provide that extra connection to their home terroir.
However, some breweries are going even further and infusing a healthy dose of regional pride and local tradition into their beers by using ingredients with cultural and even historical ties to their community.
Here are six craft breweries that are not only producing unique, high-quality beers and celebrating their locale but they're actually working to preserve local flavors.
Piney River Brewing Co. | Bucyrus, MO
Piney River Brewing Co., Joleen and Brian Durham's award-winning brewery, is dedicated to making distinctive craft beers that celebrate the region and traditions of the Ozarks.
Black Walnut Wheat
Black Walnut trees abound in the Midwest but are especially prevalent in Missouri. Since the 1940s, children in the Ozarks have made extra money in the fall by gathering black walnuts and selling them to Hammons Products Co. in Stockton, the largest black walnut producer in the world. To this day, Hammons sets up hulling stations around the Ozarks where people take their buckets, bags and pickup truck beds full of black walnuts to be hulled and sold.
To honor this regional tradition of picking black walnuts, Piney River owners Joleen and Brian Durham first brewed their Black Walnut Wheat as a seasonal in the fall of 2011. It became so popular that it is now available year-round and is their best-selling beer.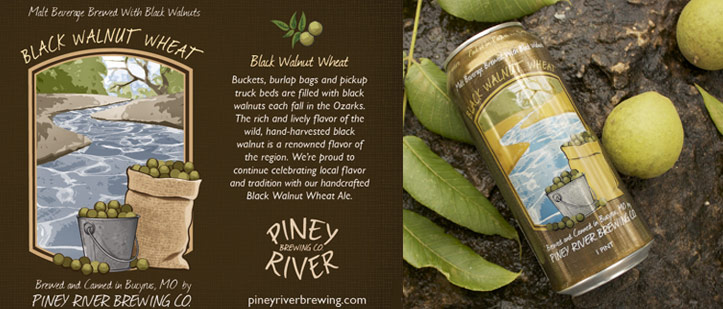 While conceptualizing the original recipe, Brian thought that a wheat-based beer would best highlight the flavor of the black walnut, and so Midnight Wheat Malt is used—both to make the beer dark, as well as play on the name of "black" walnut.
Joleen notes that the black walnuts actually produce a "fruitiness," and says that the beer is "a good crossover beer for those that aren't accustomed to drinking craft beer, and craft beer drinkers enjoy it because this dark wheat has unique flavors from the black walnuts."
Pawpaw French Saison
Pawpaw trees, which are the largest, edible fruit trees native to North America, grow in river bottoms throughout the Ozarks. Pawpaw fruit is essential to the diet of local wildlife, and when it's ripe in the fall, people in the region use the fruit to make bread, pie, cookies and other foodstuffs. Due to its texture, it's sometimes called the "Ozark banana," however the fruit has flavors more similar to mango and passionfruit.
The French originally settled the Old Mines area of Missouri around 1723, and many people came from Canada and Louisiana to work in the mines. Thus, "Pawpaw French" was born as a dialect that blended a Canadian French accent with Louisiana French vocabulary. Today, less than 100 people in the world remain that speak Pawpaw French.
Pawpaw French Saison, brewed with a French saison yeast and pawpaw fruit, celebrates multiple facets of the region's history.
Old Redwood Brewing Co. | Windsor, CA
When a brewery is located in the middle of wine country, it's only natural that they draw inspiration from their neighbors, and Old Redwood Brewing takes full advantage of this relationship. They can often get freshly pressed grape juice from a nearby winery to use in their beer, and they also create several wine barrel-aged beers.
Says Head Brewer Manuel Mussen, "I have been lucky—I'm able to get barrels from the winery the day they are emptied, without the barrels being rinsed or washed before coming to me. This makes for various special releases throughout the year with distinct wine character to them."
At Old Redwood, you don't have to choose between a glass of wine or a pint; instead, you can enjoy a brew that results from a perfect marriage of grapes, hops and malt.
Here are three of Old Redwood's grape-infused brews:
Picker's Saison
This is a classic Belgian-style saison brewed with about five percent fresh-pressed Chardonnay. Old Redwood retrieves the grape must from a local Russian River winery the day they press the grapes and adds the juice to the beer just before fermentation. According to Mussen, "The Chardonnay does an excellent job balancing some of the esters found in Belgian ales with notes of fresh apple and pear."

Herbst Blauer Pale Ale
This light, fruity pale ale is named for the season of its release ("Herbst" = harvest, or fall) and the Blauer estate, where the grapes came from. This beer is brewed with ten percent freshly pressed Sauvignon Blanc and Galaxy hops, both of which add notes of passionfruit, guava and other tropical fruits.
The Commissioner
Mussen notes that this imperial porter has been his personal favorite beer since its release in November. "This beer blends beer and wine in wondrous ways. It is sinfully smooth and easy drinking with the alcohol well hidden. The nose is rich in notes of bittersweet cocoa, hints of dark roasted coffee, and blackberry jam. On the tongue this beer starts off dark and roasty, lots of coffee and chocolate that slowly fades into pure fruit brought forth from the Zinfandel."
Bloomington Brewing Co. | Bloomington, IN
This year, The Brewers of Indiana Guild has initiated the Bicentenni-ale Project (a nod to Indiana's 200th anniversary), which encourages local brewers to use ingredients sourced from their home state.
"We're seeing commercial traffic in local malt and hops that didn't exist even five years ago," says Jeff Mease, owner of Bloomington Brewing Co. and chairman of the Guild's Bicentennial Committee. "Indiana-grown fruits have lots of potential as inputs, too…we are in our third year of brewing a seasonal Persimmon Ale, and it gets more popular every year."
Persimmon Ale
Indiana can't claim many native fruits, but the American persimmon is one that Hoosiers don't take for granted. Bloomington Brewing Co. uses the fruit in their seasonal Persimmon Ale.
The beer's label states: "A ritual unique to the Hoosier fabric, Autumn brings the enjoyment of Indiana's native Persimmon. Our cool weather seasonal is brewed with harvested, local persimmons, cinnamon and a touch of nutmeg. This medium-bodied, malty ale is perfect for evenings with family and friends. It's our way of paying homage to this most Hoosier of fruit. Cheers!"
BBC sources their fruit from a nearby, small family-owned farm, where the fruit is grown organically on trees that have been on the property for up to 35 years. Persimmon Ale has been brewed for the past four years, and each year the recipe is tweaked, producing a successively better beer. In 2015, a processing change was made that procured so much more extraction from the fruit that the labels had to be reprinted due to the higher ABV!
"Our Persimmon Ale is one of my favorite beers, says Owner Jeff Mease. "It's slightly sweet with almost no bitterness and a caramel richness from the fruit. It's a great food beer."
Beaver Creek Brewery | Wibaux, MT
Chokecherries are wild, hardy plants that grow throughout a vast region of North America, but they're especially common in central Montana, and thrive in the moist soil near creeks.
Choke Cherry Wheat
Since 2009, Beaver Creek Brewery has been brewing their Choke Cherry Wheat, available each September. This seasonal brew doesn't just pay homage to a local tradition; the community is invited to take part in chokecherry gathering, and have a hand in brewing this popular beer!
"Some of our customers will pick the choke cherries, and we trade them for a gift certificate to the brewery," says Jim Devine, one of Beaver Creek's owners. "This gives our customers some ownership of this beer and they really like to be part of it."
According to the beer list on their website, customers can receive a free pint for each gallon of chokecherries they bring in, with a limit of up to 25 gallons. It just so happens that 25 gallons is the amount of chokecherries needed for their recipe, which creates 310 gallons of beer.
Cape May Brewing Co. | Cape May, NJ
Beach plum trees grow wild on the dunes of local beaches and yield a sweet, tart fruit. Named the official fruit of Cape May County in 2010, the beach plum is used to make wine, jams, jelly—and at Cape May Brewing Co., beer.
The fruit has obtained an almost fanatical following, with Rutgers University sponsoring beach plum tours throughout the area. However, some fans choose to keep their foraging spots secret. Notes Cape May's marketing guru, Alicia Grasso, "By Davy's Lake, the town's most storied swimming hole, playing hooky to go skinny dipping and search for beach plums among overgrown holly and sassafras bushes is considered a rite of passage."
The Queen Street Beach Plum Ale
Cape May's Queen Street Beach Plum Ale is brewed with wild yeast that's harvested from grapes growing behind the brewery. The wild ale is then infused with pomace—crushed skins and seeds—of the local beach plums.
Santa Fe Brewing Co. | Santa Fe, NM
Adobe Igloo
While brainstorming a new winter seasonal recipe, Brewmaster Bert Boyce wanted to create something traditional—but with a decidedly New Mexican twist. He settled on the winter warmer style, but instead of balancing it with the traditional winter spice blend we've all come to expect, he channeled the state's culinary heritage and flavored his brew with red chile flakes and cacao nibs, "to create something both complex and nostalgic."
Explains Luke Macias, Craft Crusader and Event Coordinator at Santa Fe Brewing, "Something you'll find when traveling to the Land of Enchantment is that we love our chile and practically put it on everything. [In Adobe Igloo,] the red chile flakes are present enough to give a subtle flavor of our home, without alienating those who aren't here for the heat. The dusty cocoa flavor reaches back to the Mexican inspiration of pairing chocolate with chile, a favorite of many New Mexican families."
CraftBeer.com is fully dedicated to small and independent U.S. breweries. We are published by the Brewers Association, the not-for-profit trade group dedicated to promoting and protecting America's small and independent craft brewers. Stories and opinions shared on CraftBeer.com do not imply endorsement by or positions taken by the Brewers Association or its members.