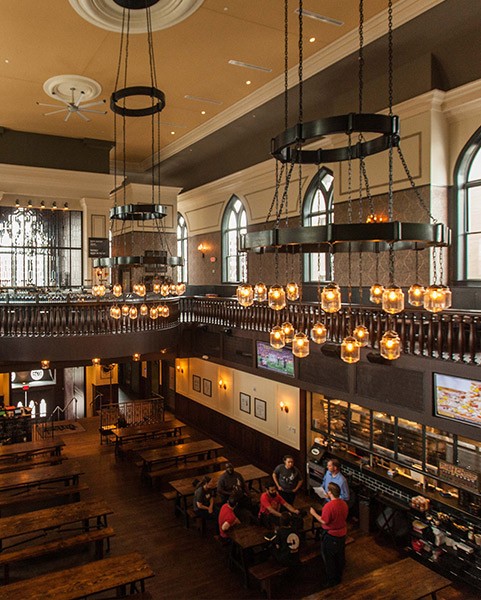 6 Churches Turned Craft Breweries
With the number of American craft breweries at an all-time high and an average of two new breweries opening each day, you're bound to find beer being served in some unusual settings:
Yes, you read that right—a church. In fact, there are several craft breweries that have found homes in now-defunct religious institutions, and these holy taprooms are serving up a whole lot more than meager sips of wine on Sundays.
---
Six of America's Most Beautiful Church Breweries
The Church Brew Works | Pittsburgh, PA
St. John the Baptist Church lay dormant for three years until 1996, when The Church Brew Works reopened its doors. The new owners lovingly and painstakingly restored the 1902 building, reshaping the original pews to better fit the new tables and using the extra oak planks to build the bar.
The original Douglas fir floors, which had been hidden beneath plywood for 50 years, were carefully refinished, and the eight original lanterns in the central bay were repainted and re-installed. The stained glass windows remain, and the brewhouse stands on the original altar.
To accompany the stunning setting, The Church Brew Works offers several award-winning brews, including Pious Monk Dunkel and Mad Brewer Maibock, as well as an extensive food menu.
---
Taft's Ale House | Cincinnati, OH
Taft's Ale House occupies old St. Paul's Evangelical Church, once the oldest Protestant parish in Cincinnati. Unlike The Church Brew Works, Taft's doesn't focus on the building's prior use. Instead, their brewery centers around one of the city's most famous citizens—William Howard Taft, 27th President of the United States. The brewery's logo even pays homage to the well-known tale of Taft getting stuck in his bathtub, and the brewery's Tweets are from the former President's point of view.
BeerAdvocate recently named Taft's as one of the best new breweries to open in 2015. Their food menu revolves mainly around versions of tri-tip steak, while their taps boast brews like:
Nellie's Key Lime Caribbean Ale | American ale brewed with Key Lime juice
Strudelbock | bock brewed with local apple cider and cinnamon
Skronk Juice | rye IPA
Cincinnati Cobra | American pale ale

---
Urban Artifact | Cincinnati, OH
Another church-turned-brewery in the Queen City, Urban Artifact is a craft brewery boasting a taproom, full bar and live music venue. The taproom, with space for several hundred people, is housed in the lower level of historic St. Patrick's Church in Northside Cincinnati while the two-vessel, 30-barrel brewhouse is housed in the old gymnasium just behind the church.
With a focus on "wild, funky, tart, mouthwatering and gossip worthy" beers, all of Urban Artifacts' beers are made with wild yeast and bacteria. Their flagships run the gamut of sourness, offering something for everyone and include:
Finn | Berliner pale ale
Maize | Kentucky common
Cauldron | dry Irish stout
Phrenology | wild IPA
The brewery works to educate their customers on sour beers, understanding that some people need to be introduced to their beer more gently.
---
Salt Springs Brewery | Saline, MI
Salt Springs Brewery began operations in their upcycled church building in summer 2015. The interior is stunning—the original stained glass windows are intact, including a huge, central window that fills the main seating area with colored light. A large chandelier constructed of deer antlers is suspended over the taproom, adding to the ambiance.
Salt Springs offers locally sourced, seasonal food options, wine on tap and have installed a crowler system, which allows patrons to bring home 32-ounce cans of beer, which stay fresh much longer than their growler counterpart. Salt Springs has a variety of beer on tap, including:
3 Kids in a Candy Store IPA
Old Miner ESB
Big Brown Bunny Porter
---
McMenamins Old Church Brewery | Wilsonville, OR
McMenamins owns several establishments—pubs, breweries, historic hotels, movie theaters, concert venues—throughout Oregon and Washington, but the Wilsonville location is the only one housed in an old church.
This brewery opened in 2011, exactly a century after the building's inception as a Methodist church, and offers a family-friendly pub, a brewery and outdoor amphitheater. Their three standard beers include:
Hammerhead, a Northwest pale ale
Terminator Stout
Ruby, a light ale brewed with raspberry puree.
---
Father John's Microbrewery | Bryan, OH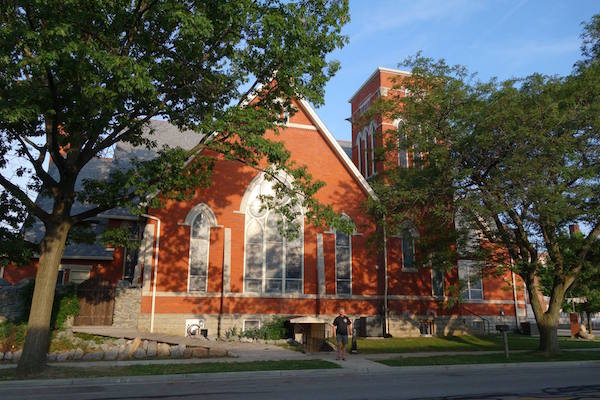 In 2013, Dr. John Trippy, a retired oral surgeon, opened Father John's—a "Heavenly, Devilish Brewing Company"—in a former Methodist church.
The original sanctuary was restored and is available for weddings and other functions. An upscale restaurant resides in the church's basement, boasting a large menu, including bison that's locally sourced from a nearby bison farm, also owned by Dr. John.
Outdoors is a beer garden surrounded by high stone walls, with paths winding through to peaceful seating areas. Unlike any of the other churches-turned-breweries on this list, Father John's displays a crypt that was found during the renovation. A piece of glass has been placed above it so that customers can view the coffin beneath.
Beyond the restaurant and brewing operations, Father John's also offers "brew your own" sessions, in which customers can brew their own beer with the help of brewery staff.
CraftBeer.com is fully dedicated to small and independent U.S. breweries. We are published by the Brewers Association, the not-for-profit trade group dedicated to promoting and protecting America's small and independent craft brewers. Stories and opinions shared on CraftBeer.com do not imply endorsement by or positions taken by the Brewers Association or its members.