At the top of a set of rickety black stairs, Carolina del Carmen Villatoro and Daphne Salinas haul a bag of pale malt over the edge of a silver vat and begin to pour. It's around 11 a.m. and nearly everyone in the crowd below — a group of about 40 women — is holding a donut and tasting glass filled with amber, stout, hazy IPA, or another style of beer. These women, some in bubblegum-pink rain boots, others wearing black hoodies emblazoned with "Galgo Beer," have traveled from the U.S. West Coast (San Diego, Los Angeles, and Seattle), and Mexico (Mexicali and Ensenada) to be at Lúdica Artesanal brewery in Tijuana.
With a mix of old friends and new faces, the event feels like a social gathering, albeit one that could only occur prior to COVID-19. Chatter echoes through the cavernous brewery and warms the space with laughter. At the top of those black stairs, perched to the right of the vat with a broad grin stretched across her face, is Jessica Guerrero, founder of The Mexicali HomeBrewers. With a mash shovel, she stirs the soupy malt constantly. The room smells like yeasty porridge. Villatoro and Salinas empty the last of the malt into the vat and toss aside the empty bag. The crowd below erupts into applause.
For the next hour or so, each woman at Lúdica — including myself — will climb to the top of the stairs and pour a portion of malt into the steaming stew. The beer of the day is an American-style brown ale, brewed with three kinds of caramel malt, a chocolate malt, and a blend of four different American hop varieties. It was a beer voted on by a group of female craft-beer enthusiasts from both sides of the border and a recipe developed by a mostly female student beer club in Tijuana. Both of these factors make the 10-barrel batch of "Dos Californias Brown" more than just a beer.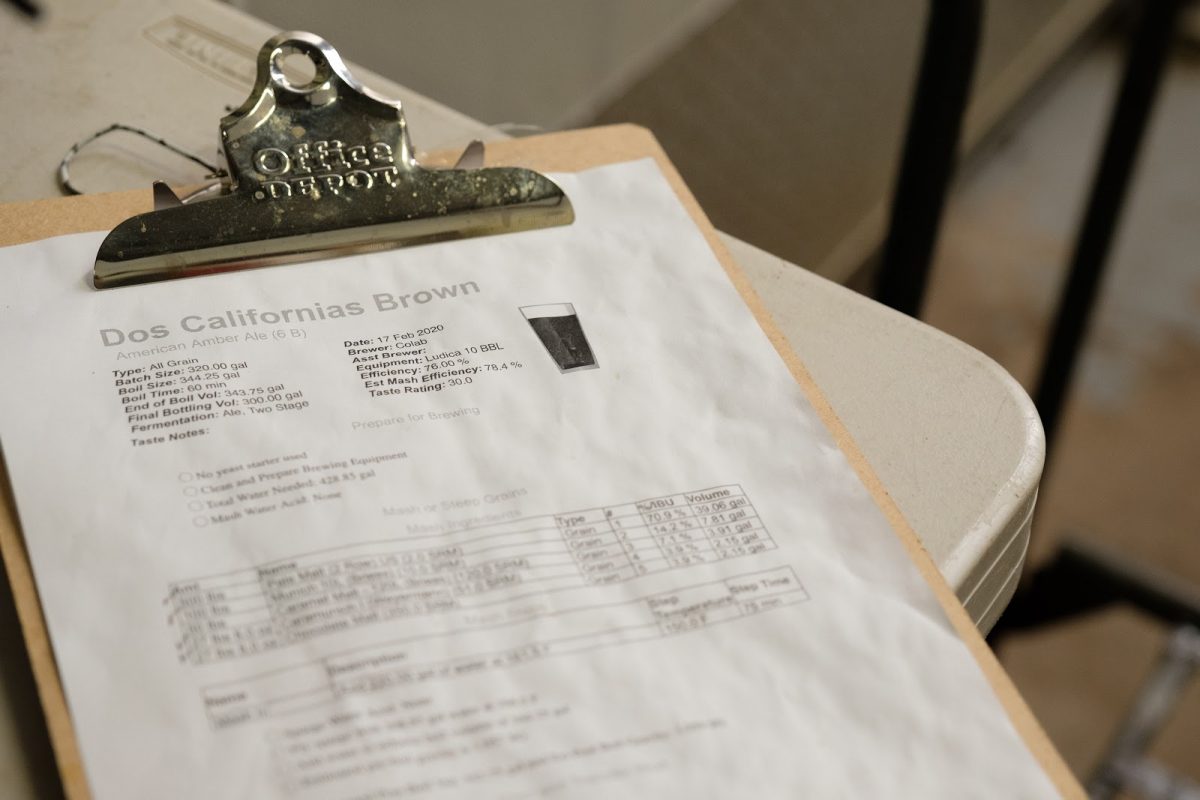 The recipe for the Dos Californias Brown Ale was developed by students from the Instituto Tecnológico de Tijuana who are part of a brewing club called Galgo Beer. The majority of the club's participants are female students. Photo by Alessandra Bergamin
In 2018, Melody Crisp and SouthNorte Brewery founded Dos Californias Brewsters, a female-led beer collaboration between the border cities of San Diego, California and Tijuana, Mexico. Over the last three years, with the support of the U.S. Consulate in Tijuana, women from both sides of the border gather for a brew day hosted at a local Tijuana brewery. The final product debuts each year at the annual Ensenada Beer Festival, via the SouthNorte brewery booth, and tapped at breweries across Tijuana. Beer sales fund scholarships for women studying biochemical engineering at the Instituto Tecnológico de Tijuana, a public university in the city. So far, twelve students have been supported by scholarships through the sale of the Dos Californias Brewsters beers.
This year, the spread of COVID-19 forced the cancellation of the 2020 Ensenada Beer Festival, so Dos Californias Brown has only been sold in to-go growlers at Lúdica. Crisp said Dos Californias Brewsters will rebrew the batch or host a fundraiser in the future to raise donations..
While the scholarships are the ultimate goal of the brew day, COVID-19 won't detract from what was still accomplished back in February: the collaboration is about more than just fundraising. It's a way to encourage women to be involved in craft beer, empowering those in the industry, and fostering cross-border friendships.
"Despite some language barriers, we can still come together over this common thing that is beer," Crisp said. "It's pretty amazing."
Brewing on Both Sides of the Border
On an unusually rainy day in late February, I waited for a U.S. Consulate bus outside the world's busiest land border crossing outside Tijuana. Pre-COVID, around 90,000 people would pass from one country to the other each day. It was around 8:30 a.m. and already families were greeting one another in a nearby parking lot outside, or waving goodbye to loved ones as they crossed from the U.S. into Mexico.
San Ysidro, the border crossing that divides San Diego and Tijuana, is a labyrinth of goods, cars, and people navigating the fences, barbed wire, and border patrol agents that divide one country from the other. On the U.S. side, the border is bound by shopping outlets, currency exchange stores, and a Coffee Bean and Tea Leaf which doubled as the brew day's meeting point. But this ordinary scene masks a greater truth — the U.S.-Mexico border represents so much more than just the end of one country and the beginning of another.
Over the past four years, U.S. immigration policies have largely centered on the border and the influx of migrants fleeing violence and poverty in Central America. As a result, President Donald Trump has made repeated calls for a border wall, the enforcement of a "Remain in Mexico" policy for those awaiting immigration proceedings, and the tear gassing of migrants — including children — by border patrol agents near the San Diego and Tijuana crossing.
In this light, it's difficult to reconcile the reality of a brewing day sponsored by the same U.S. government that has enforced these policies. But border cities and the people who reside in them also exist beyond the politics that may try to define them, and Tijuana's female brewers, as well as the students from the Instituto Tecnológico de Tijuana, are good examples of that.
"It's one thing when you read the national headlines but it's another to actually be here on the border where everything happens," said Sue Saarnio, the U.S. Consul General in Tijuana, on the brew day. "People don't let the fact that there's a border stop them."
While this sentiment is refuted by much of America's restrictive border control policies, it's most applicable to the people, such as those from San Diego and Tijuana, who routinely cross the border for work, school, and travel. Paulina Villalobos is one such person, and sees the initiative as a natural extension of the flow of people, ideas, and goods between Southern California and Baja Mexico. More so, she said, Mexican breweries import brewing ingredients from the United States, binding the two craft beer industries together.
"We don't feel like we don't belong on either side of the border," Villalobos said. "It's just that wall that separates us — that's it."
Just after 9 a.m., five of us boarded the consulate bus to Lúdica. We moved quickly through the car lanes that bridge the U.S. and Mexico and snaked through the drizzle and traffic of Tijuana. Lúdica's taproom and brewery are about five miles from Avenida Revolución, Tijuana's main tourist drag, complete with zebra-painted donkeys, billboards advertising discount pharmaceutical drugs, and bars selling ice-cold Coronas by the bucket. Partly influenced by San Diego's robust craft beer scene, Tijuana has seen an explosion of breweries over the last decade, said Villalobos. While the country has fewer than 1,000 craft breweries in total, in 2015 more than 20 opened in Tijuana alone. One of the more recent breweries to open was SouthNorte.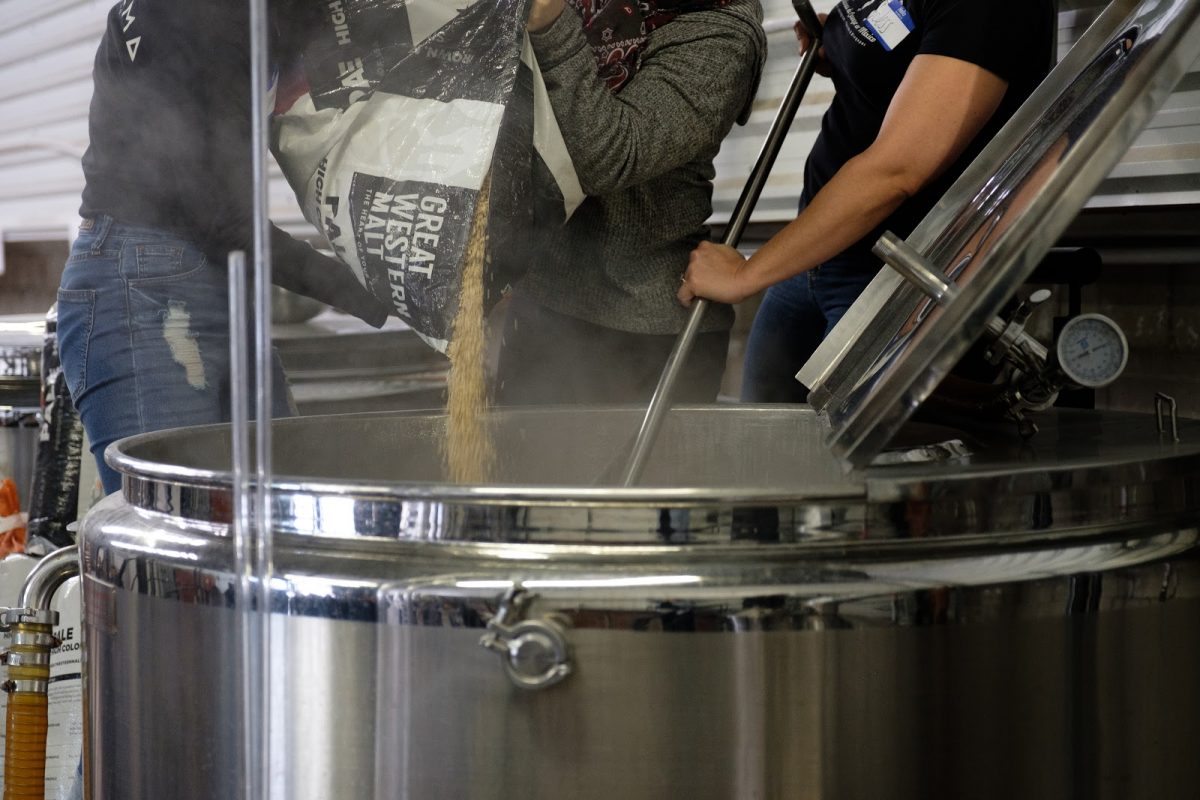 Jessica Guerrero, founder of The Mexicali HomeBrewers, took the lead as participants added three kinds of caramel malt and a chocolate malt to brew the Dos Californias Brown Ale. Photo by Alessandra Bergamin
Founded by Ryan Brooks, the former head brewer at San Diego's Coronado Brewing Co., SouthNorte is the first independent American brewery to have a permanent presence in Mexico while also selling their beer in the U.S. Because of this, the brewery played a role in the creation of Dos California Brewsters. Until recently, Melody Crisp was the vice president of marketing at Coronado, where she met Brooks and began working with SouthNorte. (Crisp was laid off due to COVID-19.)
Because of cross-country travel pre-COVID, Crisp would travel into Mexico three or four times a month as part of her work with SouthNorte, and in part to enjoy Tijuana and its surrounding areas. That helped her become well connected to the craft beer scene in Baja, California and meet Preeti Shah, the former Public Affairs Officer at the U.S. Consulate in Tijuana. Shah was familiar with SouthNorte's cross-border brewing and thought there was potential for a similar collaboration catering to women. Shah invited Crisp to a meeting of GalgoBeer, a brewing club at the Instituto Tecnológico de Tijuana. Crisp was surprised when she arrived: the majority of participants were women. More so, these women wanted to work in brewing production and were learning the full gamut of skills from management and sales to the brewing itself.
"In San Diego there's a lot more women today in brewing than there were 15 years ago but there's a lot of room for improvement, especially on the production side," Crisp said. "Seeing women in Mexico pursuing a brewing career on the production side was very eye-opening."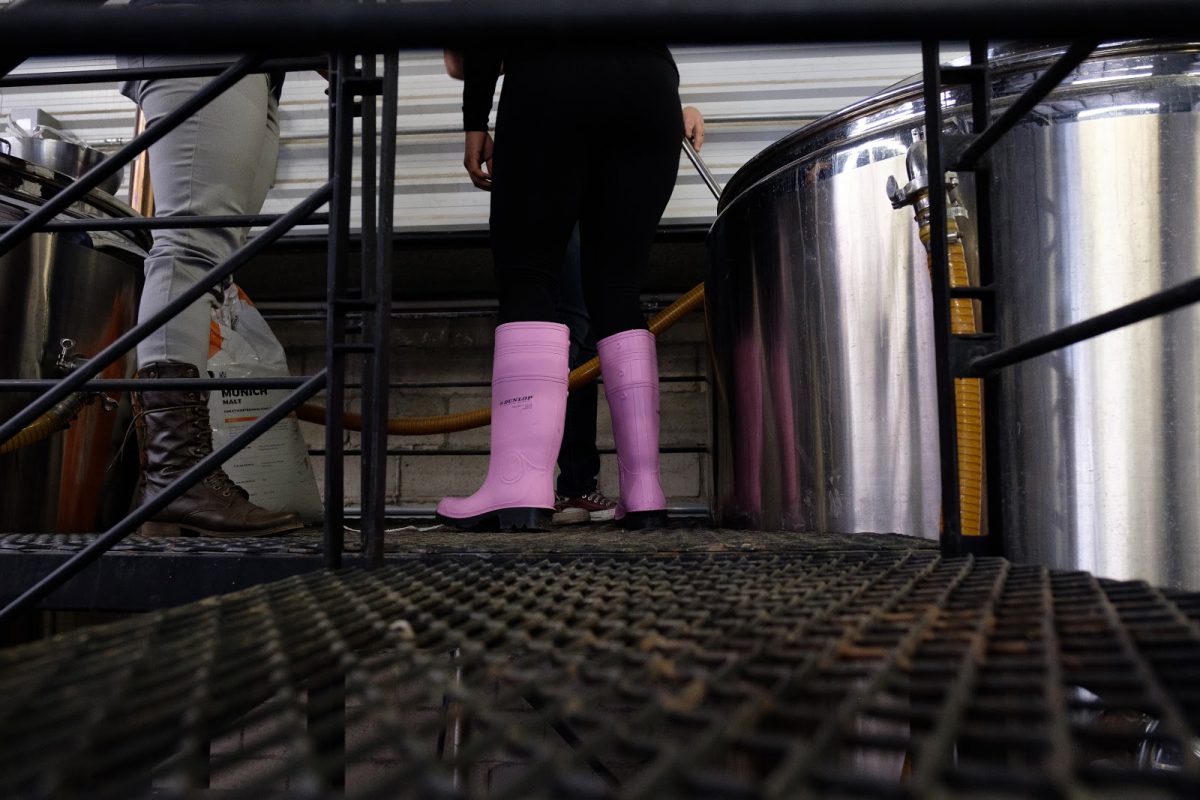 Each year, more and more women across Mexico are getting involved in different aspects of craft beer from tasting and appreciation to the brewing itself. "If I can't count the number of women [involved] — it's a good sign," said Kathy Pedrín the co-founder of Mujeres Catadoras de Cerveza en México, a national women-led beer club. Photo by Alessandra Bergamin
At the 2020 Dos Californias brew day, many of the U.S.-based women described how the Pink Boots Society — a club that promotes, supports, and encourages female beer professionals globally — had connected them to events, scholarships, and, most importantly, one another. No chapters have popped up yet in Mexico, largely because the country has its own locally-grown women's beer club. Eight years ago, Yadira Espinoza — who now lives in Germany — and Kathy Pedrín founded Mujeres Catadoras de Cerveza en México, a women-led beer club with a focus on education, appreciation, and promotion of the country's craft beer industry.
When the club was founded, Pedrín explained, there were only eight breweries in Ensenada and 20 to 30 women working in the industry across Mexico. When asked if she could estimate how many women are involved in some capacity of brewing across the country now Pedrín was stumped. Catadoras alone has grown to include about 20 cities across Mexico, including those along the border such as Tijuana and Mexicali.
"Each year, more and more women are getting involved," Pedrín said. "If I can't count the number of women, it's a good sign."
Women of the Galgo Beer Club
Just after midday at Lúdica, the rain had eased and cars began filling the small lot in front of the brewery as locals stopped by for a Saturday drink. The morning's chatty hum had become a deafening roar as people ordered tacos, sampled beer from both sides of the border, and accidentally smashed a glass or two.
Switching between Spanish and English, a group of nervous but enthusiastic GalgoBeer club participants described how each of them had decided to join the club. For some, especially when there were few female participants, it was a matter of "if you join, I'll join," explained Ivette Aramburo Zepeda. For others who noticed the growing number of female members, the club was a path into a world they had always assumed was male dominated. Given Tijuana's burgeoning craft beer industry — and the city's close ties to the United States — the decision to join the club was also an enterprising one.
"I saw a growth opportunity, you could say, as an entrepreneur, to get my foot in the door and enter the beer-making world," said Johana Lizeth Amaya Ramos. "I was excited about that and it motivated me to join."
While the brew day scholarships have eased the financial pressure of paying for college — some of the recipients have spent summers working to pay for tuition or spread themselves thin and work part-time throughout the school year — the connection between Galgo Beer and the Dos Californias Brewsters has also inspired the students to radically rethink what a career in the craft beer industry could look like. Even though Tijuana has a growing thirst for craft beer, the fact that men dominate the city's best-known breweries is not lost on the female students. Many of them prefer the idea of creating a female brewers association rather than pursuing a career at a traditional brewery, where many of them have already gained production experience. Through a collective such as Adelitas Cerveceras Mexicanas — a group of more than 150 Mexican women who have launched craft beers under their own brand — there is the potential for women to brew distinct beers while supporting one another.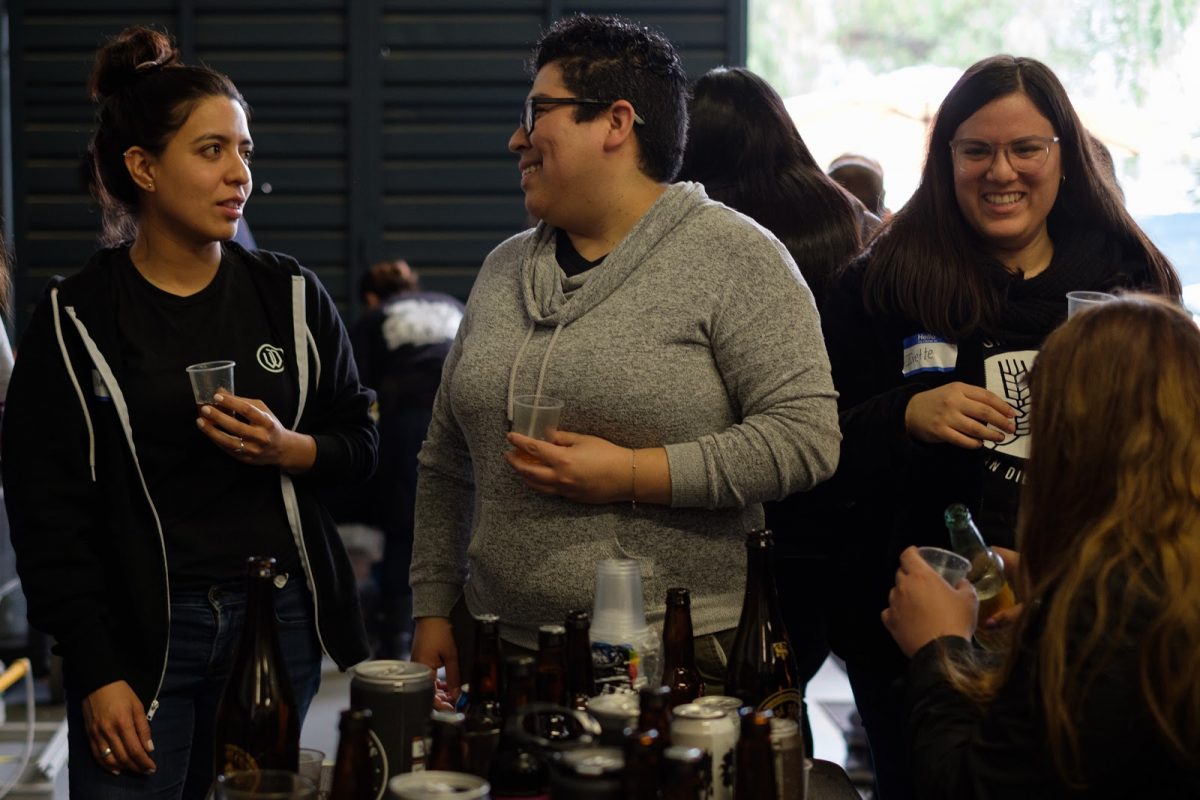 With so much down time, the Dos Californias brewing day is as much about connecting with other female brewers as it is about the beer itself. Photo by Alessandra Bergamin
"When you're in an industry that's dominated by men, it's cool to see women who aren't afraid to get into any and all areas of the industry and do what needs to be done," said Diana Ivette Pulido Villarreal.
Amid the hubbub of the brew day, I had forgotten about the steaming malt mixture in the silver vat. Then, all of a sudden, a loud hiss cut through the noise of the brewery. Once again, the room erupted in hoots and hollers. "Holy shit, we did not want that to happen!" said Betty Lopez, former head brewer at Tres Fuegos Cerveceria in Tijuana, as she laughed. The silver vat of soupy mash had overflowed and a light brown liquid seeped across the floor. Without missing a beat, Jessica Guerrero — who had been mixing the mash earlier — began sweeping the liquid with a bristled broom. With the lengthy downtime of brewing, it was easy to forget that we had gathered together to brew a beer. But, in another sense, the overwhelming camaraderie of the day had superseded the beer itself.
"This day is really about having the time to connect with one another and the act of just being here is the most important thing," Crisp said. "It all starts with being present."
This story was made possible by the Diversity in Beer Writing Grant, established by the North American Guild of Beer Writers in partnership with CraftBeer.com. Additional support for the grant comes from Allagash Brewing Company.
CraftBeer.com is fully dedicated to small and independent U.S. breweries. We are published by the Brewers Association, the not-for-profit trade group dedicated to promoting and protecting America's small and independent craft brewers. Stories and opinions shared on CraftBeer.com do not imply endorsement by or positions taken by the Brewers Association or its members.