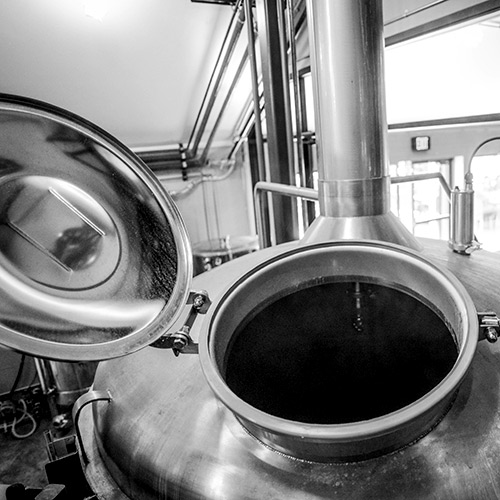 Before They Were Professional Brewers
Heading behind-the-scenes at Denver Beer Co., you'll likely find brewmaster Patrick Crawford milling about with co-founder Charlie Berger, meticulously checking temperatures and ensuring all is well with their 10 fermenters and eight brewing tanks.
Anyone who has caught a glimpse at how their favorite craft brews are made knows production more closely resembles a rocket scientist's laboratory than a bar. Coincidentally, that's exactly the field Crawford comes from. At first, one might think a beer brewing rocket scientist is out of the ordinary, but looking at other modern professional brewers, we see our favorite masters of barley, yeast and hops are coming from all walks of life.
Unlike the days before Prohibition when brewing was largely a family enterprise, there's no one-track path to becoming a professional brewer. Fact is, you don't need to be a rocket scientist to make it happen—although as we see with Crawford, it certainly doesn't hurt.
Professional Brewers: Jacks of All Trades
The Rocket Scientist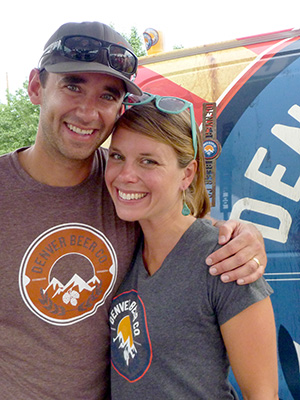 While raking in homebrew awards, Crawford was paying the bills as a physicist and engineer at Lockheed Martin, a global aerospace company and one of the world's largest defense contractors.
"I worked in satellite operation," Crawford recalls. "I had security clearance and worked on top secret satellites." Crawford's past life sounds like something out of a movie, but it was in fact his reality. "Everyday was a little different," says Crawford. "It was our job to make sure if something went wrong that we had the resources needed to fix it."
Crawford and his Denver Beer Co. brewing comrade, Charlie Berger, met years earlier at Colgate University where he majored in physics. After graduation, Crawford found his way into the Lockheed Martin fold where his official title became Assistant Engineer of Satellite Systems.
Of course, Crawford admits, "The term rocket scientist is more fun to throw around."
The Clarinetist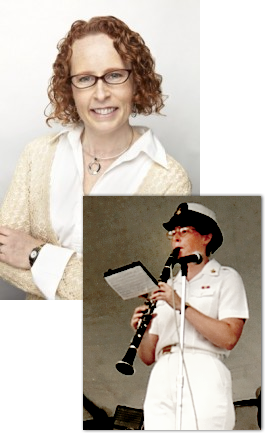 There's a formula and rhythm behind brewing craft beer, so perhaps it wasn't an incredible stretch when Megan O'Leary Parisi changed career paths from marching in the United States Navy Band to eventually becoming the brewmaster of the recently launched Bluejacket Brewery in Washington, D.C .*
*Parisi helped launch the much anticipated Bluejacket, but recently announced that she  is now pursuing new opportunities in the craft brewing community.
Parisi began studying clarinet at nine, eventually leading to a Master of Music degree in performance from Boston University. At 23, she won an audition with the U.S. Navy Band and completed her basic training in Great Lakes, Ill., before returning to Washington, D.C., in June of 1995.
"I never dreamed I would be in the military, but performing honors at Arlington National Cemetery, as well as ceremonies for various heads of state and political figures was an amazing opportunity that could only have been afforded to me by serving," Parisi explains. "As a young performer, I really wanted a gig, and in the end, I had a far more rewarding experience than I ever could have hoped for."
But on the side, like most professional brewers, Parisi had been an avid homebrewer. By late 2003, she decided to use her VA benefits to take math and science classes through Harvard's extension school to prepare her for "tackling the advanced brewing science" she knew she would need to master in order to be a successful brewing professional.
Her studies landed her an apprenticeship at Cambridge Brewing Company scrubbing floors, washing kegs, filling growlers and anything else she was asked to do.
"Eventually, that evolved into a paid position, and I've kept on working my way up since then," said Parisi.
Parisi finds quite a few similarities between the two arts.
"As a musician, you perform for an audience, and preparing beer for people's enjoyment is not that much different," she says. "You pour your heart and soul into your interpretation of something that you hope people will enjoy and appreciate. In music, that is your performance, and in brewing, it's the beer you make. It is very rewarding when people respond positively."
The First Responder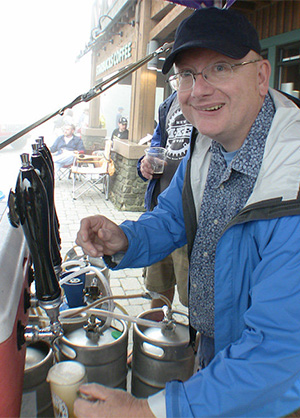 The magical combination of beer and pizza is well known across the country—everyone loves a slice with their beer. That's precisely why Ken Linch began selling his beer out of Fayetteville, W.V.,  Pies & Pints—a mere three-minute walk from Bridge Brew Works headquarters. However, 12 years ago Linch wasn't walking down the block to deliver another batch of Long Point Lager, he was in New York City responding to a call 10 days after the terrorist attacks of 9/11.
Then an officer with the U.S. Public Health Service, Linch was responsible for taking air samples in at-risk areas to determine if there was a contamination. He was already on assignment just outside Carlsbad, N.M., working in a mine when he heard about the terrorist attack. Confusion ensued as Linch and his colleagues were glued to their television like the rest of the nation. He had no idea at the time that he would be called the next week to serve at Ground Zero.
Linch returned to his home base of Morgantown a few days later, resuming his everyday life until the higher-ups told him he would be sent to New York City the following morning to assist a team who had been there since the day of the attack.
"It was still smoldering hot underneath the pile," Linch recalls during one of his 18-hour shifts. "We weren't looking for any one thing. We just tried to sample as much as we could for all sorts of contaminants."
For Linch, the experience was overwhelming. He describes a "tremendous" pile of rubble the size of most West Virginian downtowns. "It was hard to grasp that it was that wide. Blocks wide and long. There was nothing identifiable," he explains.
Linch continues, explaining the difficulty in being embraced as a hero by New Yorkers. The hard hats made him and his colleagues stick out from the locals. When shifts changed, "the people would cheer and clap when you went by," he says. "That was the hardest part. We were just doing our job."
CraftBeer.com is fully dedicated to small and independent U.S. breweries. We are published by the Brewers Association, the not-for-profit trade group dedicated to promoting and protecting America's small and independent craft brewers. Stories and opinions shared on CraftBeer.com do not imply endorsement by or positions taken by the Brewers Association or its members.